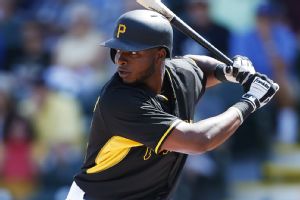 Joe Robbins/Getty ImagesExpectations are high for the 23-year-old Gregory Polanco, who played in 89 games for the Pirates last season.
BRADENTON, Fla. — Gregory Polanco says he doesn't feel he has anything to prove this season.
Still …
"I know I am a better player than I showed last year," the Pirates right fielder said. "People are going to see that this year."
The 23-year-old did not say that with arrogance. It comes from a quiet confidence of having logged nearly four months in the major leagues last season and undergoing an offseason conditioning program that enabled him to add 15 pounds to his long and sinewy frame.
Polanco arrived in the major leagues last June to quite a bit of fanfare as he was considered the Pirates' top prospect and one of the best in the game. However, he fizzled after a hot start in which he began his career by hitting in 11 straight games.
By the end of the season, Polanco's batting average had fallen to .235. However, he showed flickering flashes of potential stardom by hitting seven home runs and stealing 14 bases.
Polanco was nothing more than a bit player during the homestretch as the Pirates rallied to make the postseason for a second straight year. Travis Snider made the majority of starts in right field.
However, the Pirates gave Polanco a vote of confidence three weeks before the start of spring training when they traded Snider to the Baltimore Orioles for left-handed pitching prospects Stephen Tarpley and Steven Brault.
While disappointed to be traded, Snider understood the Pirates' rationale.
"He has so much potential that he hasn't even tapped yet," Snider said of Polanco. "He has a chance to be something special because he's really talented."
Polanco got caught up in the trappings of being in the big leagues last year, and some of his teammates were turned off because he did a TV commercial for a Pittsburgh-area jeweler less than one month after making his major league debut.
However, Polanco says he learned a lot from his rookie year.
"I know the pitchers now," he said. "I'm used to playing in the big stadiums in front of a lot of fans. I learned that I needed to get stronger so I wouldn't tire out during a long season.
"I wouldn't say anything that happened last year really surprised me. It was just a good learning experience, and now I'm excited to get started on this season because I understand things better."