By
Jerry Crasnick
| ESPN.com
http://espn.go.com/blog/sweetspot
July 31, 2013
Andrew McCutchen saved two runs in Game 1, then hit a two-run homer in Game 2. (Photo Credit: David Hague)
PITTSBURGH -- Baseball has too much on its plate these days to focus exclusively on the exploits of an inspirational team in Pittsburgh. The trade deadline is coming to a head Wednesday.
Brian Wilson
-- aka "The Beard" -- is about to pitch his way to Chavez Ravine. And there's still the little matter of that Biogenesis situation left to resolve. According to reports, multiple PED offenders are lining up to accept their suspensions and take a baseball sabbatical for the foreseeable future. They're the luncheon meat in the middle of a
Ryan Braun
/
Alex Rodriguez
contrition sandwich.
Thank goodness for feel-good stories. While
Nelson Cruz
,
Everth Cabrera
and
Jhonny Peralta
prepare to hoist the white flag, the Buccos remain insistent on waving the Jolly Roger.
[+] Enlarge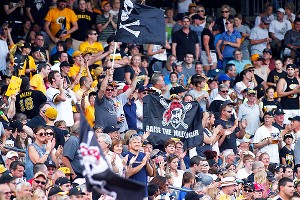 Justin K. Aller/Getty ImagesPirates fans are seeing something they've been waiting 21 years for.
If the
Pittsburgh Pirates
keep playing this well, they just might outgrow the adjective "pesky." Early Tuesday evening,
Alex Presley
hit a ricochet job off reliever Kevin Siegrist's glove in the 11th inning to give Pittsburgh a 2-1 victory in the opening game of a doubleheader with the
St. Louis Cardinals
. After grabbing a sandwich and a beverage and changing their jerseys, the Pirates came out and beat St. Louis again, 6-0, to stretch their lead over the Cardinals to 1½ games in the National League Central.
The crowd had thinned considerably by the time
Jeanmar Gomez
retired
David Freese
on a routine grounder to shortstop for the final out of the second game. But "Let's Go Bucs" chants still reverberated through the stands, as a reminder that Pittsburgh fans have overcome their reticence and embraced their team entering its dog day push for the playoffs.
Consider: In their past 17 dates at PNC Park, the Pirates have averaged 33,764 fans. The crowd of 32,084 for the opener of the St. Louis series set a record for a Monday night at PNC.
"We've had fans come in drove on the weekends," second baseman
Neil Walker
said. "But it's something else for them to come out for a doubleheader at 4 o'clock on a workday. We've always seen what it's like in places like San Francisco and Philadelphia. It can really be imposing when you go on the road and the place is packed. Now we have that here."
[+] Enlarge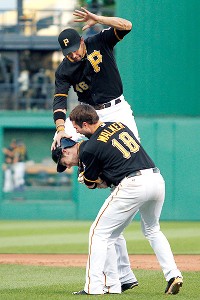 Justin K. Aller/Getty ImagesPirates players have already celebrated more wins than recent Pirates teams have notched in entire seasons.
The Pirates haven't been in first place this late in the season since they won their most recent division title in 1992. They're 34-18 at PNC and 29-17 versus the National League Central this year. They win when
Pedro Alvarez
hits home runs, and when
Andrew McCutchen
makes sliding catches, hits home runs and gracefully and breathtakingly covers the 270 feet from first base to home plate on doubles in the gap.
Most of all, the Pirates win when they pitch well -- which is most of the time. In the first three games of a five-game series against St. Louis, the Pirates have outscored the Cardinals 17-3. Manager Mike Matheny's lineup is batting .155 (16-for-103) with two extra-base hits thus far in the series.
If it's not
Francisco Liriano
dealing for the Pirates, it's
A.J. Burnett
or
Jeff Locke
or (feel free to take a break and consult Baseball-Reference.com)
Brandon Cumpton
.
When Tuesday's makeup game created the need for an emergency starter, the Pirates recalled Cumpton, a former ninth-round draft pick out of Georgia Tech, from their Triple-A farm club in Indianapolis. He throttled the Cardinals on three hits over seven innings to earn his first major league victory.
Cumpton collaborated with catcher
Tony Sanchez
, whose main claim to fame to this point in his career was going No. 4 overall in the 2009 draft -- 21 spots ahead of a New Jersey high school outfielder named
Mike Trout
. Sanchez, a Miami native and Boston College product, has been a disappointment in the minor leagues and admittedly wondered when this day would ever come. He appeared for two games as Pittsburgh's designated hitter in June, but made his first career start behind the plate against the Cardinals on Tuesday.
"I'm coming out of the bullpen and I have people fist-bumping me and saying, 'We love you Tony,'" Sanchez said. "For the last few days, everybody back home in Miami kept telling me, 'This is the biggest series the Pirates have played in the last 20 years.' I've got my uncle telling me, 'It's going to be a playoff atmosphere there.' Like I need that.
"When I came out of the dugout, it was nerve-wracking, overwhelming, all of those things. You feel like all the eyes are on you, because I'm the guy who has struggled the most and this has been such a long road for me. It doesn't help that you read Twitter and you know people are anticipating your first start."
By the end of the night, when Sanchez was hugging manager Clint Hurdle and coach Jeff Banister in celebration of the shutout, he got borderline misty. "I didn't even care that I went 0-for-3," he said.
The Pirates will get back to the grind Wednesday night when Locke takes on
Adam Wainwright
. At some point in the day, they can expect GM Neal Huntington to emerge from his bunker with a trade to report or a "stand pat" proclamation. Will Huntington add a reliever to take some of the burden off a bullpen that has logged the sixth heaviest workload in the majors, or a bat to supplement an offense that's 11th in the NL in runs scored? The Pirates have been linked off and on with the likes of Houston pitcher
Bud Norris
and Chicago outfielder
Alex Rios
. But you have to wonder how motivated Huntington is at this point to trifle with what his team has going.
Whatever moves he does or doesn't make, the fans in Pittsburgh are finding it progressively harder to remain disengaged -- recent late-season fades notwithstanding.
"I just tell them to keep coming out," said Hurdle, who celebrated his 56th birthday Tuesday. "We love the support. We love the colors. We love the flags. We love the chants."
Most of all the Pirates love the winning. That feeling is becoming contagious in Pittsburgh.