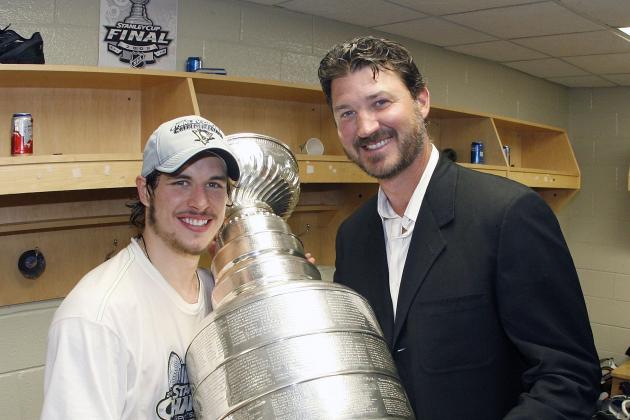 Sidney Crosby and Mario Lemieux in 2009. (Gregory Shamus/Getty Images)
Here come the Penguins.
And, maybe, there they go, too.
"To be honest, until you brought it up, I hadn't thought about it that way," captain Sidney Crosby said Wednesday after a practice at
Consol Energy Center
.
Neither had I, but then
he
appeared Tuesday night.
It occurred to me then that we might be watching the end of Mario Lemieux's time with the Penguins.
As this version of the team continues one of the most unlikely in-season turnarounds in nearly a half-century of NHL hockey in Pittsburgh, it's almost been forgotten that the franchise is on the sales block.
Lemieux and majority partner Ron Burkle put it there last summer.
Sales of franchises usually don't take this long.
The NHL commissioner usually doesn't take unannounced visits to NHL cities this late in the hockey season, either.
Well, not unless there's something significant to discuss.
Gary Bettman was in Pittsburgh on Tuesday, multiple sources confirmed.
Nobody would say Bettman wasn't here to discuss the possible sale to a person/group that would assume controlling interest.
So, I'm thinking that something is up.
If nothing else, that something is likely time on the Penguins' Mario Years (1984 to ???).
So, what's the way to play this out, Sid?
"I mean, if that's the case, you want to make sure you make it as good as you possibly can," Crosby said Wednesday, taking five full seconds — and a deep breath — before answering.
"I mean, thinking about it just now, as you asked the question, if that is the way it works out, there's no better way for it to end than to win it all. That would be great.
"I mean, I haven't thought about it a ton. But the fact that you're bringing it up makes me think about it."
Tucked into a corner at Consol Energy Center is a picture from a moment late on June 12, 2009.
It was taken in Detroit, on the ice at Joe Louis Arena. Crosby had handed the Cup to Lemieux (dressed similarly as he was Tuesday: dark blazer, crisp white shirt, darker jeans) After a couple of pumps, Lemieux handed the chalice back to Crosby.
Lemieux is smiling, as Mike Lange would say, like a butcher's dog.
Crosby is sporting the grin of a Lost Boy who is taking Captain Hook's hook from Peter Pan.
"That's definitely one, looking back, that's really special," Crosby said. "But so was the opportunity (of) getting to play with Mario, getting to really
know
him.
"His family took me in, you know? Their kids, I saw grow up."
At 18, Crosby moved into the Lemieux mansion in Sewickley. A bit later he moved out, but only as far away as the family's guesthouse in the backyard.
Sid The Kid became the oldest Lemieux child.
With Lemieux's children now out of the house, Crosby is essentially the last kid left for otherwise empty-nesters Mario and Nathalie.
He paused again, for only a couple of seconds.
"Yeah," Crosby said. "I mean, I don't know what to say. It's been ..."
From the beginning, because they each arrived as No. 1 overall picks to a Penguins franchise that appeared to have flatlined, Crosby and Lemieux were presumed to have had a special relationship.
It's not a hockey relationship.
It's not a Canadian relationship.
It's not a father-son relationship.
It's theirs, and it's private, and it's still tough to get too much about it out of either Lemieux or Crosby.
"Obviously when I was younger and I was there, I saw him a lot more," Crosby said, noting the only difference he has noticed from Day 1 to Year 11.
"We never did talk a lot about (hockey). I don't think it was ever stated. We just never did. It just kind of worked out that way. I'm sure both of us had seen it or been around it enough all day.
"When there would be games or something like that, we'd talk about it sometimes. But it definitely wasn't something — despite what you'd think or people would think — that dominated our conversations."
The conversation people are having about these Penguins has changed a lot over the past three months. Once slow, the Penguins are fast. Once unable to score, the Penguins are pinball wizards.
A big reason for the transformation from also-ran to contender is that because Crosby, once thought to be finished, is flourishing as a likely MVP finalist.
He's back to being best in the world.
The Penguins are back to being dangerous.
And, so, once perhaps unattractive, the Penguins are now possibly the hottest of commodities for anyone interested buying a pro sports franchise.
A decade ago, Bettman showed up in Pittsburgh to privately put the kibosh on any plans prospective Penguins buyer Jim Balsillie had to move the franchise into Canada.
As much as anybody, Bettman helped Lemieux keep the Penguins where they belong.
It's not a stretch to think he'd be just as secretive, and no less authoritative, to help Lemieux move the sale of the Penguins along.
If so, at some point over the next few weeks, Crosby might have to borrow a page from the owner's manual of the club's owner. The night before Crosby's Penguins won the Cup in Detroit, Lemieux authored a text message for the players.
"This is a chance of a lifetime to realize your childhood dream to win a Stanley Cup. Play without fear and you will be successful! See you at center ice."
What could Crosby say to these Penguins if he knew the upcoming playoffs would be Mario's Last Shot?
"It'd be pretty easy, let me tell you," Crosby said.
"As a player, all you can ask for is the opportunity to be pretty successful. I mean, we all love to compete. We all love the game. When you're given every opportunity as a player — whether it be facilities or how you're treated, or the little things that come with it here — I mean, it really goes a long way. And as a player that's all you can ask for.
"As a player, the best way you can give back is by doing your best.
"And winning."
The Cup.
One more time.
For Mario.
Is that what this is going to be about, Sid?
"For guys who have been here longer, that absolutely would motivate us," Crosby said.
"For me? To get it for Mario ...
"Yeah. Definitely. It would be the only way that's right."