March 24, 2016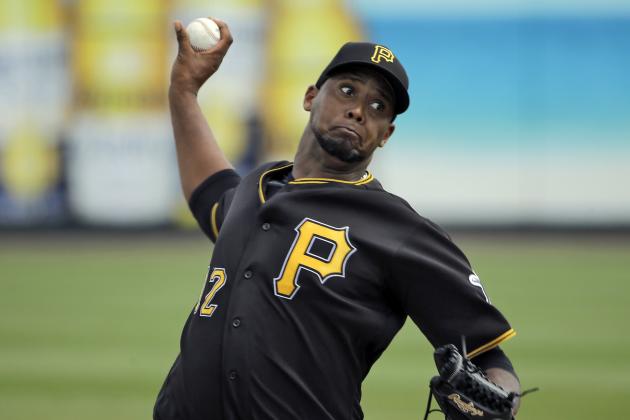 (Chris O'Meara/AP)
BRADENTON, Fla. -- Juan Nicasio may begin the season in the Pirates' starting rotation or the right-hander might work out of the bullpen as a middle reliever.
Nicasio will learn his fate relatively soon because spring training is winding down. The Pirates beak camp April 1 then open the season two days later by hosting the St. Louis Cardinals at PNC Park.
Nicasio isn't sweating the decision.
"I've been a starter and I've been a reliever in my career," Nicasio said. "I know I can do a job and help the team win however they want to use me. They have been a winning team here the last three years and I just want my new teammates to have confidence that I can help win games."
The 29-year-old also has quite a bit of perspective on the game.
While pitching for the Colorado Rockies as a rookie in 2011, he was struck in the head by a line drive off the bat of the Washington Nationals' Ian Desmond. The impact of Nicasio's fall after being knocked unconscious resulted in a broken C-1 vertebra, the type of traumatic injury usually associated with a severe automobile accident.
Doctors initially feared Nicasio would be paralyzed but he battled back to resume his career the next spring.
"I don't really like to even talk about it," Nicasio said politely. "I never think about it anymore. When I go to the mound, I think about the hitter and stopping him. I don't think about getting hit. You can't think that way. I'm just thankful to God that I am still pitching."
The Pirates signed Nicasio to a one-year, $3-million contract as a free agent in December with the idea that would serve as a middle reliever. However, the Pirates also decided to use him a starter in spring training to assure they had depth in case someone in their projected rotation suffered an injury during Grapefruit League play.
While the starters have stayed healthy except for right-hander Gerrit Cole's delayed start to the spring because of a ribcage injury, Nicasio has forced his way into the rotation picture. He is now competing for two open spots with left-hander Jeff Locke and right-hander Ryan Vogelsong behind Liriano, Cole and lefty Jon Niese.
With the caveat that spring training statistics are often meaningless because of the varying levels of competition, Nicasio has not allowed a run in 15 innings over five appearances. If the Grapefruit League had a Cy Young Award, Nicasio would be a strong contender.
He was most impressive March 18 when he struck out 10 in just four innings while facing the Baltimore Orioles. No Pirates pitcher has recorded that many strikeouts in that few innings during a regular-season game since at least 1913, according to baseball-reference.com.
Nicasio has made 71 relief appearances and 70 starts during his five-year career with the Rockies (2011-14) and Los Angeles Dodgers (2015). His 3.74 ERA pitching out of the bullpen is more than a run lower than his 5.12 ERA while working in the rotation.
However, 37 of Nicasio's starts came at the mile-high altitude of Coors Field when was with the Rockies He has a 5.23 career ERA in Denver and a 4.19 mark everywhere else.
Nicasio posted a 3.86 ERA in 53 games, including one start, last year in his lone season with the Dodgers. Most notably, he allowed only one home run in 58 1/3 innings after serving up 19 in 93 2/3 innings in 2014 during his final season with the Rockies.
"You look at a man's stats who pitched at Coors Field and somewhere else and it's almost like a disclaimer," said Pirates manager Clint Hurdle, who held the same job with the Rockies for eight seasons from 2002-09.
"To be a starter in Colorado the numbers can be skewed. You have to look deeper."
Related: