By Jamison Hensley
ESPN.com
October 12, 2012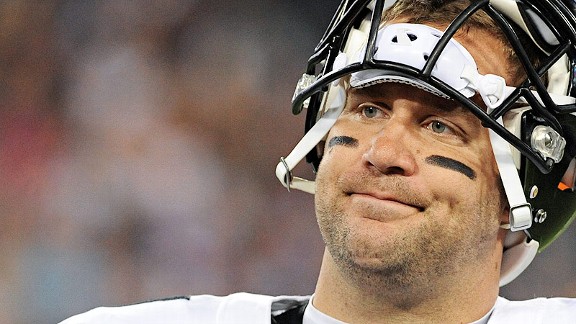 Al Messerschmidt/Getty Images
Ben Roethlisberger set a Steelers passing record, but he and his team suffered another road loss.

NASHVILLE, Tenn. -- As the Steelers packed their bags after another stunning loss on the road, no one was searching for any panic button to push. But the 26-23 loss to the Titans is a clear indication that they might want to learn where it is.

It's easy to chalk up Pittsburgh's sloppy play to injuries. The reality is that it's painful to watch the Steelers on the road, especially in the fourth quarter. The Steelers should beat a Raiders team that has lost its other three games by an average of 20.3 points. They should beat a Titans team that gives up more points than my 8-year-old cousin on Madden. But Pittsburgh (2-3) failed to finish two struggling teams on the road and has more worries than falling two games behind the AFC North-leading Ravens (4-1).

If the Steelers can't beat the Titans (2-4) and Raiders (1-3), how can they have any confidence in going on the road against the Bengals, Giants and Ravens? Is winning at Cleveland even a lock anymore? You think I'm joking, but the Titans ranked 26th on offense and 29th on defense. They're only the second team in NFL history to give up 30 points in their first five games. The Titans are a bad team. So, what does that make the Steelers at this point? A flawed team any time it steps outside of Heinz Field.

"Are we overly concerned? No," Steelers cornerback Ike Taylor said. "But concerned, yeah."

On the night when Ben Roethlisberger became the Steelers' all-time passing leader, the Steelers set a team record in self-inflicted wounds. Give coach Mike Tomlin and his players credit for not using injuries as an excuse. Three projected starters aren't on the offensive line. Their top two running backs got hurt (Rashard Mendenhall injured his Achilles and Isaac Redman hurt his ankle), which is why Baron Batch scored the go-ahead touchdown in the fourth quarter. There was also no Troy Polamalu or LaMarr Woodley on defense.

The problem is the starters who are out there aren't getting the job done. Taylor is getting beat in coverage or getting penalized -- and sometimes both. Cornerback Keenan Lewis dropped an interception that could have ended the Titans' touchdown drive that tied the game at 23 in the fourth quarter. Roethlisberger, who carried the Steelers to victory five days ago, was throwing behind his receivers and overthrowing them at times. The special teams handed the Titans a touchdown when it allowed a punt to get blocked deep in Pittsburgh territory.

Even Tomlin has to shoulder the blame. With the game tied at 23, he decided to go for a 54-yard field goal with 54 seconds remaining instead of punting to pin the Titans offense. If it was my call, I would've kicked the field goal as well because Shaun Suisham had nailed a career-long 52-yarder less than eight minutes earlier.

"He banged the other one before that pretty clean, so I decided to give him a shot at it," Tomlin said. "I take the responsibility for the miss."

The one mistake was Tomlin calling a timeout before the kick to think about his options. He essentially iced his own kicker. Tomlin, though, doesn't second-guess the decision.

"It was a clock stoppage," he said. "Shaun's a mentally tough guy. I didn't want the play clock to run down."

Taking over at the 25-yard line, the Titans only needed a 25-yard pass to Jared Cook, who outran linebacker James Harrison, to put them in field goal range. Rob Bironas' 40-yarder as time expired completed the upset and added another chapter to the Steelers' fourth-quarter flops.

The Steelers held a five-point lead in the fourth quarter at Denver and lost 31-19. They were up by 10 points in the fourth at Oakland and fell 34-31 on another game-ending field goal. Andon Thursday night, they led by seven points with eight minutes left and lost 26-23. In total, Pittsburgh has been outscored 40-16 in the fourth quarter on the road this season.

[+] Enlarge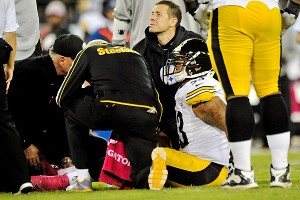 Jim Brown/US PRESSWIRE
Maurkice Pouncey was the latest key Steeler to go down with an injury.
The only fingers that are being pointed are at themselves.

"(The offense is) going to say it's a team game and they should have made one more play, but it's not true. It's not. It's the defense," safety Ryan Clark said. "They gave us enough points to win. They made enough plays to win the game. We had the lead in the fourth quarter. We need to keep it and we didn't do it."

Roethlisberger produced a lot of yards (363) but wasn't sharp at crucial times. On passes to the end zone, he threw behind tight end Heath Miller and sailed one too far outside when Mike Wallace got behind the defense.

Then on Pittsburgh's final drive, the Steelers moved to Tennessee's 35 before Batch lost a yard on second down and Roethlisberger's pass to Miller fell incomplete on third down.

As a result, the Steelers managed 23 points against a defense that had been giving up 36.2 points per game.

"We didn't score enough points," Roethlisberger said. "We put Suisham in such a long field goal. I have to complete one more pass just to make it easier on him."

Even if the problem is injuries, no one knows when the Steelers will get healthy. The only positive coming from this game is they have 10 days before playing at Cincinnati. Who knows if Mendenhall or center Maurkice Pouncey will be ready by then?

Perhaps the biggest question surrounds the return of Polamalu, who is week-to-week with a calf injury. The Steelers are 7-9 since the start of 2009 without him. The defense doesn't look the same without its quarterback on the field.

"I want him out there, don't get me wrong. But we've lost games with Troy playing, too," Clark said. "We've lost games with Troy and I out there at the same time. Last I remember, we lost the Super Bowl that way. That's no excuse. We can't sit there and cry because we don't have Troy out there. We have to go out there and make plays. If you can field a team, you can win a football game. We're fielding a team and we're just losing."

The Steelers are a strong team at home. They can get in the head of Mark Sanchez and take out a potential playoff team like the Eagles.

It's a different Pittsburgh team on the road. The Steelers make too many mistakes. They can't make the plays at the end of games to beat the teams they're supposed to beat. The Steelers have now lost four in a row on the road. This marked the second time they started 0-3 on the road in the past 20 years (also 2006, Bill Cowher's final season).

"We are not doing enough to finish games in hostile environments," Tomlin said. "That's just the reality of where we are right now. Hopefully, it's just right now."

If not, the Steelers had better keep that panic button close by.