By
Scott Brown
http://espn.go.com/blog/pittsburgh-steelers
September 28, 2014
Sep 28, 2014; Pittsburgh, PA, USA; Tampa Bay Buccaneers wide receiver Mike Evans (13) catches a seven yard touchdown pass against Pittsburgh Steelers cornerback Cortez Allen (28) during the first quarter at Heinz Field. (Charles LeClaire-USA TODAY Sports)
PITTSBURGH – The smile that comes easily to
Maurkice Pouncey
was nowhere to be found as the
Pittsburgh Steelers
center sat in a hushed locker room late Sunday afternoon at Heinz Field.
"This one hits you," Pouncey said after the Steelers couldn't protect a fourth-quarter lead in a
27-24
loss to the previously winless
Tampa Bay Buccaneers
.
The loss particularly weighed on Pouncey, as he committed a costly penalty with the Steelers needing just a lone first down to close out the Bucs.
It came with the Steelers nursing a 24-20 lead with 1 minute, 40 seconds left in the game and facing a second-and-8 at their own 16-yard line.
Pouncey was flagged for an illegal snap, and the 5-yard penalty resulted in a punt two plays later and placed the onus for closing out the Buccaneers on the defense. It couldn't do it.
Head coach Mike Tomlin said he never received an explanation for why Pouncey was hit with the Steelers' 13
th
and final penalty of the game. Pouncey said he was told he had moved the ball too much before snapping it to
Ben Roethlisberger
.
"That's on me," the three-time Pro Bowl center said. "As a center you can't have that, and I take full responsibility."
Pouncey's accountability was refreshing.
And it had better resonate with his teammates if the Steelers want to avoid a third consecutive 8-8 season.
[+] Enlarge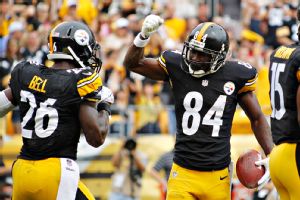 Justin K. Aller/Getty ImagesLe'Veon Bell and Antonio Brown each were flagged for post-play penalties in the Steelers' loss to Tampa Bay.
No one, it seems, is taking enough accountability for the penalties that have plagued the Steelers. It cost them dearly in a game they should have won.
The Steelers piled up 125 penalty yards, and six of their flags were of the 15-yard variety. Two of those penalties were for taunting and unsportsmanlike conduct by running back
Le'Veon
Bell and wide receiver
Antonio Brown
, respectively.
Another unsportsmanlike penalty was called on defensive end
Cameron Heyward
, who took issue with a missed holding call on Doug Martin's 3-yard touchdown run early in the third quarter.
The Steelers are averaging 11 penalties per game, and Tomlin acknowledged after a 37-19 win at Carolina last Sunday that the rash of flags would become "problematic" if his team didn't start playing smarter.
That explained why Tomlin was so upset and called his players "undisciplined."
"The defining factor in determining the outcome of that football game is that we were way too highly penalized," Tomlin said. "It's ridiculous."
His players largely agreed with him.
But they also said the usual after a loss, that they have to watch the film from the game and make the necessary corrections.
That translates to blah, blah, blah, blah for frustrated Steelers fans, because some penalties don't need film to correct.
"Post-play penalties are ridiculous," Tomlin said. "That we have full control over."
The players would do well to follow the lead of Pouncey and hold themselves more accountable for penalties.
"It's all on the players," Pouncey said, "It's not like [coaches] are calling like, 'Hey, hold on this play' or 'hit the guy late.' They coach us the right way. We've got to play the right way."