When 'brothers' called, intense LB ended brief retirement to bail out defense
PITTSBURGH -- Mike Tomlin knew Deebo wasn't done.
Sure,
James Harrison
had retired. He had filed his paperwork with the National Football League, ending an 11-season career that included the 2008 NFL Defensive Player of the Year award, two first-team All-Pro honors and five Pro Bowl selections. Harrison said that he wanted to spend more time with his two young sons and that his 36-year-old body didn't need any more unnecessary punishment.
But after his retirement news conference at the Steelers' practice facility in September, Harrison joined Tomlin and the team's rookies for dinner at Eddie Merlot's in Pittsburgh. It's a Tomlin tradition to take the Steelers' rookies out to dinner before the season opener, and he always asks a couple of alumni to come and "educate them to what professional ball is all about," Tomlin said.
As Harrison addressed the rookies in what Tomlin describes only as "a James kind of way" that was "not something I'm sure you'd be interested in printing," Tomlin was certain Harrison still wanted to play.
"I knew he wasn't done after dinner," Tomlin said. "He's a competitor. The fire burns, and that's part of what makes him who he is."
What Tomlin did not know that night was that three weeks later the team would desperately need its former stalwart outside linebacker. Tomlin would eventually capitulate to players and assistant coaches who had campaigned for Harrison's return to the team, some going as far back as before training camp.
Tomlin would have no choice. He had to bring Deebo back.
---
Deebo is the bully in the 1995 comedy "Friday," and Harrison bears a resemblance to actor Tommy Lister, who plays the character -- hence the nickname. However, two people inside the Steelers' organization simply refer to Harrison as "Jimmy."
[+] Enlarge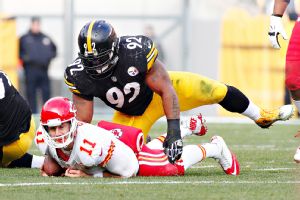 Justin K. Aller/Getty ImagesJames Harrison can still win physical battles at 36, and his intense attitude rubs off on his teammates.
"I think it's me and Mr. Rooney," said Tomlin, referring to owner Dan Rooney.
Harrison's teammates also call him something else: Fearless.
"That's how we feel about Deebo," cornerback
Ike Taylor
said. "Man, it's just his presence in the locker room and on the field. When you see that [No.] 92 walk on the field, man, you know something is about to go down."
That's why, on the flight home after a Week 3 win at Carolina, Taylor and defensive end
Brett Keisel
went to Tomlin with a request. Taylor had broken his forearm in the game; second-year outside linebacker
Jarvis Jones
had seriously injured a wrist; and rookie inside linebacker
Ryan Shazier
had injured a knee. The defense was in disarray.
"Coach T," Taylor said to Tomlin. "We need Deebo."
"Not right now," Tomlin said.
"You know, Coach T had a lot on his mind," Taylor said, "but we just had to put that on his mind."
Taylor and Keisel weren't the only ones.
For months, linebackers coach Keith Butler considered what bringing Harrison back would mean to the Steelers' younger defensive players. Butler knew Harrison could still play. He saw glimpses of it last season, when Harrison was playing out of position in Cincinnati's 4-3 defense under then-coordinator Mike Zimmer.
"

He's going to fight you and fight you and fight you, and if you beat him, you've got to play the best game you've ever played.

"

- "Mean" Joe Greene, on James Harrison
The
Arizona Cardinals
had pursued Harrison last offseason and offered him a one-year deal, but Harrison didn't want to spend another season away from his kids in Pittsburgh.
Butler wanted to see what some developing players, including Jones and
Arthur Moats
, could do in training camp and the preseason. If the Steelers had brought Harrison in for camp, he could have indirectly stunted those players' growth because, Butler reasoned, Harrison would deserve a starting spot.
"I was looking at it from the perspective of trying to develop younger players," Butler said, "because you bring back Deebo, and he's going to take up somebody's snaps."
Nevertheless, even before the regular season started, Butler and defensive coordinator Dick LeBeau began preaching to Tomlin that they wanted Harrison back.
After the Carolina game, Butler and LeBeau agreed: It was time.
Shortly after 4 a.m. that Monday, Keisel sent Harrison a text. Keisel mentioned to Harrison, who hadn't seen the game, that Jones was injured and would probably be out for a while. He also told Harrison the team needed him.
Harrison was awake and heading to the gym.
"I'm good," Harrison told Keisel. "I'm not coming back."
Later that day, after Taylor had surgery to repair his broken arm, he got a call from Harrison. Even though Taylor was groggy and medicated, he answered.
"When Deebo calls, you've got to pick up," Taylor said.
Harrison told Taylor: "If you say yeah, you want me to come back, I'll come back. All right?"
"Nah, we don't need you," Taylor replied, goading his good friend. "We won the game anyway."
"F--- you," Harrison said and hung up.
"I was like, 'Yeah, he's back,'" Taylor said. "What you've got to understand about Deebo is he likes for us to beg him."
By the time Tomlin called to ask Harrison to rejoin the franchise he helped win two Super Bowls, Harrison had already made up his mind. He had the support of his sons. Harrison's retirement lasted all of 18 days. He signed a one-year deal.
"To be honest with you, I wouldn't have come back if it wasn't for Keisel, Ike and [safety] Troy [Polamalu]," Harrison said. "That's like my extended family. Those are my brothers. So I felt an obligation to come back. When they wanted me to come back, I didn't want to let them down. I didn't want to let the team down.
"So if your brother asks you to do something, and you have the ability to do it, then you're going to try to do it. That's what it really came down to."
---
Harrison is in football shape now, but he certainly wasn't when he rejoined the Steelers in September. He hadn't played a snap in a game or a practice in nine months. He was at least 10 pounds overweight.
At his first practice, Harrison looked "big and slow," Butler said, laughing. "He'll tell you that."
"He don't like when you tell him he don't look good," Taylor said.
Afterward, Harrison didn't feel good. His body ached. Aside from 2010, when he played 10 games with a herniated disk in his lower back, Harrison had never hurt so much.
"It was serious pain to where you want to go upstairs [to Tomlin's office] and go, 'Uh, I don't know if I want to do this,'" Harrison said.
[+] Enlarge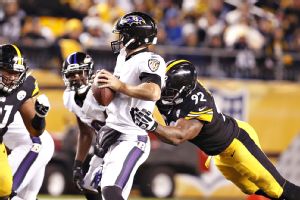 Charles LeClaire/USA TODAY SportsHarrison, who sacked Joe Flacco twice in Week 9, finished with 5½ sacks in 11 games this season.
"Yeah, it looked like he was hurting pretty good," Tomlin said. "I didn't make myself available for a lot of conversation with him after that first one."
But Harrison shed the weight quickly, going from 280 pounds to around 260.
"His work ethic is second to none that I've ever been around," Butler said.
The early plan was to give Harrison 15 to 20 snaps a game, knowing that he would need probably four games to get back in football shape. The Steelers, however, were in desperate need of help rushing the passer and defending the run -- Harrison's specialties. In his first four games, Harrison averaged 28 snaps.
In Week 8 against Indianapolis, in his fifth game back, Harrison sacked Colts quarterback
Andrew Luck
twice. The next week against Baltimore, Harrison played 59 percent of the defensive snaps and sacked Ravens quarterback
Joe Flacco
twice. It was the second time in Harrison's career that he had consecutive games with multiple sacks.
With Harrison back, the Steelers' run defense greatly improved. In Week 13 against New Orleans, Harrison started and played 53 of 56 defensive snaps. He missed the next two weeks with a knee injury but started the last two games of the season, against Kansas City and Cincinnati, playing nearly 92 percent of the snaps.
"If somebody's hungry, you don't stop feeding them," Butler said. "He really played well, and so we left him in there."
Pittsburgh finished the regular season on a four-game winning streak to capture the AFC North title. The Steelers play host to Baltimore in a wild-card game Saturday.
"He's a professional and a football lover," Tomlin said. "There's a lot to be learned from just simply watching him go about his daily routine, and I think that the young guys are learning that about him. He has power in what he says, but I think they also realize it goes much more beyond what he says. It's really more about what he does than how he does it."
Said Taylor: "If you see him now, he's looking like a stud."
Hall of Fame defensive tackle Joe Greene knows greatness when he sees it, and the Pittsburgh legend said there's something else Harrison has brought to the Steelers this season.
"James is not going to lose any physical battles," said Greene, a member of Pittsburgh's famed Steel Curtain that helped the Steelers win four Super Bowls in the 1970s. "Football is a game of hitting. That's what we learned in our day. James is not going to lose any of the battles of the hitting. To me, that's his strong suit. He battles every play. Win or lose, he's competing.
"I would say James would fall right in with our group from the competitive level. He's going to fight you and fight you and fight you, and if you beat him, you've got to play the best game you've ever played. That's the attitude he takes. I can read it, and I can feel it. I'm just proud to watch him wear the black and gold and bring back to this team this year what I thought was kind of missing."
Harrison was deferential when asked where he fits in the pantheon of Steelers defenders.
"I don't want to be one of the guys that they say, 'Well, the Steelers had a good group of linebackers until James Harrison came; then it was a letdown,'" Harrison said. "I don't want to be in that group, but I don't feel like I'm nowhere near the other guys like [Jack] Lambert and [Jack] Ham and all those boys.
"I'm fine where I'm at. Average is good. Average is fine for me. I can take that. I'm good with that."
Harrison has at least one more game to add to a Steelers career that has been far better than average. After that, Harrison will see what the future holds. Maybe he will retire again. Or maybe he will delay the inevitable for another year -- if the Steelers will have him.
"I'm not going to do the Brett Favre and retire and come back, retire and come back," Harrison said. "I'm going to wait until the end of the year comes and make a decision from there.
"If you had asked me this 10-12 weeks ago, I'm like, 'Hell, yeah, this is it,' the way my body was feeling then. But right now, I feel good. I probably feel better than I have the last two or three years, way better than I was at the beginning of this year. So I don't know. We'll see."
Deebo still might not be done.