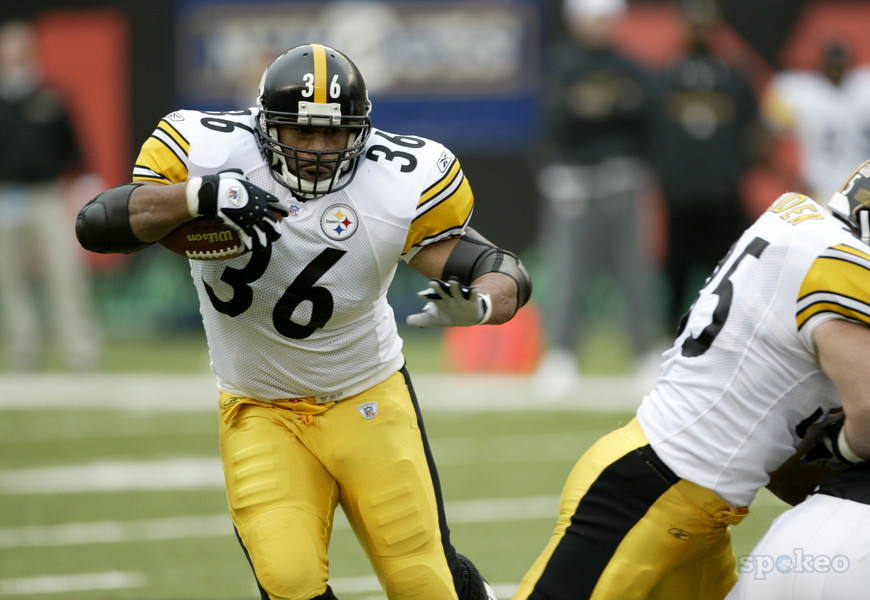 The Bus pulled in as Hot Rod was pulling out, but Jerome Bettis said he couldn't conceive taking the torch from Rod Woodson on arriving at St. Vincent College in July 1996.
For his first training camp with the Steelers, Bettis could only hope to take the starting halfback job that belonged to Erric Pegram.
"I can appreciate it now," Bettis said of the beginning to the best years of his life. "I knew Rod was a big star when I played against him in the Pro Bowl. But when I got to Pittsburgh, he had a restaurant, and I remember thinking I would be playing in a city where the fans cared about their football team maybe more than anything else — and to them, Rod was The Man."
Bettis became The Legend, and he's about to become immortalized.
On Saturday night, he becomes the 17th former Steelers player enshrined into the Pro Football Hall of Fame. It is almost as though the fates conspired to make this moment.
The galvanizing figure for the Steelers squad that delivered "One for the Thumb," Bettis is entering the Hall in his fifth year of eligibility and nine years since he retired as the National Football League's then-fifth-leading rusher.
He's quite familiar with the color of that famous jacket this Hall of Fame class's headliner will wear on the stage in Canton, Ohio.
"Hey, I'll take fate," Bettis said, laughing. "After all those years of black overshadowing the yellow — sorry, I mean
gold
— my favorite color is getting its due, its time in the sun."
RUNNING TO ESCAPE
One of the most recognizable nicknames in Pittsburgh's rich sports history, "The Bus" was the brainchild of a student at Notre Dame. Writing for the campus newspaper, the student offered that Bettis reminded him of a bus when plowing over defensive players. A week later, a chant emerged from the student section at Notre Dame Stadium. "Nobody stops The Bus!"
Bettis needed only to look in the mirror to see someone who could.
The Bus almost never made it out of Detroit. His city broken, his parents broke, his faith breaking while the Motor City rusted, Bettis took to selling crack cocaine alongside his brother and shooting at members of a rival gang. His famous bright and wide smile disappeared when he recalled the "bad choices I made, decisions I regret."
Learning from mistakes can make a man of the boy. Bettis' missteps convinced him how to escape the ghetto that firmly held his friends in its grip.
He ran.
At Notre Dame, he ran for 1,912 yards from 1990-92.
In Los Angeles, he ran for 2,454 yards from 1993-94.
In St. Louis, he ran into a coach who wanted to move him to fullback after Bettis had run for only 637 yards in 1995.
And finally in Pittsburgh, he ran for 10,571 yards over 10 tough-as-steel seasons, a franchise total eclipsed only by Franco Harris.
At his lowest point since those days of drugs and guns, Bettis believed everybody had written him off when the Steelers traded for him at the 1996 NFL Draft. However, a new spin on an old story was about to be written in a town that longed to reclaim the great football team and a running back Pitts-burghers could back.
NAMES & GAMES
Jay Hayes took his children to see their uncle Jonathan, a Steelers tight end, midway through the 1996 season. By then, Bettis had beaten out Pegram for a starting role and started beating down opposing defenses. Pittsburghers liked his bulldozing, bowling ball style, but they had been fooled before into believing the next great back had arrived: Walter Abercrombie. Tim Worley. Barry Foster. Byron "Bam" Morris.
"Hey, Bus!" Jay Hayes called out on seeing Bettis at the Steelers team hotel during a midseason road game. "Jerome Bettis, The Bus. Nobody stops The Bus!"
Steelers radio voice Bill Hillgrove overheard Hayes and the next day referred to Bettis as "The Bus" during the broadcast. That was all the late Myron Cope, who had coined "The Terrible Towel," needed to tout the Steelers' big, bruising back.
And because when Cope spoke, all Pittsburghers listened, belief in Bettis grew, and his No. 36 jersey became high fashion in the city of three rivers.
"It added to the allure. It was such an identifiable nickname to our fans," Bettis said. "A bus is yellow. The Towel is yellow. One of our colors is yellow — sorry,
gold
— so it all went along together.
"It was one of those things where I wasn't able to get anybody to stop calling me The Bus. When that became the case, I trademarked it. I might as well own it, right? I created a logo and kind of ran with it."
For the better part of the next decade, the Steelers ran their way into annual Super Bowl contention.
They rode The Bus to three AFC championship games between 1997 and 2005. They lost each time, each defeat at home, and the third one proved too much for Bettis, whose wheels were worn and fuel tank was emptied.
"He told us he was done," Ben Roethlisberger said of a drubbing handed to the Steelers by New England on Jan. 23, 2005.
"At first, I couldn't believe it. Then I wouldn't. Everybody on our team knew we were close. The next day, somebody realized the next Super Bowl was in Detroit. And that's when we all started begging him, 'Bussie, give us one more year.' "
GENERATIONAL STEELER
In Pittsburgh, Bettis' name belongs to a North Shore restaurant, a WPXI weekly television program and enough endorsements to keep him from ever having to work another day. A fifth Lombardi Trophy in the championship display window of the Steelers' South Side offices is Bettis' legacy.
"In many ways, it was like winning the Super Bowl again for the first time," Steelers President Art Rooney II said of the 21-10 victory over Seattle in Super Bowl XL on Feb. 5, 2006, at Ford Field.
"It was a whole new generation of people experiencing that, and it was pretty special. And honestly, I'm not sure we'd have done it without Jerome. He was the heart and soul of our team. He'd been so great for us for so many years, it really felt fitting that he finally be part of it when we finally made it back to the top."
Bettis ended his Steelers career the way it started: as a backup. Willie Parker played the role of Pegram, but Bettis never tried to take the starting halfback job. He accepted his reduced role as a close-yardage specialist — because even a battered, old Bus could still make short trips.
He settled for moments. Some, such as plowing over Chicago's Brian Urlacher on a snowy Heinz Field, harkened to his glory days. Others, such as his fumble at Indianapolis that nearly cost the Steelers an AFC divisional playoff victory, threatened to overshadow all of that past glory.
For playing his final season in a reduced role, Bettis witnessed his career yards-per-carry average fall below the 4.0-yard standard for Hall of Famers. One last run at a championship meant running the risk of harsh judgment from Hall of Fame voters.
Maybe that explains his five-year wait.
Or maybe it never really mattered when the call came. Bettis belongs to the finest football fraternity, and it doesn't gather every summer in Canton.
The Steelers have their own Nation, composed of people who view Bettis the way their parents and grandparents did Joe Greene: as a face of the franchise.
Still, after taking his Hall call inside a room in the Phoenix Convention Center, Bettis fell into a hug from Harris. He couldn't have conceived of that moment any more than he could have imagined taking the torch from Woodson almost two decades ago.
"The Hall of Fame is the ultimate honor," Bettis said. "But you know what? I won a Super Bowl as a Steeler. I'm a Hall of Famer as a Steeler. To be in that group is incredible. Think about that group. I do, and I don't take it lightly.
"I'm next to Franco, (Terry) Bradshaw and 'Mean' Joe. Man, I mean, I'm Jerome Bettis from Detroit."
But Bettis was so much more than that. He was the Steeler for a new generation. And a whole lot of Pittsburghers are headed to his Hall of Fame celebration Saturday in the most complementary form of transportation.
The Bus is pulling out for one last ride.


Read more: http://triblive.com/sports/robrossi/8833115-74/bettis-bus-steelers#ixzz3iDt8c3SN
Follow us: @triblive on Twitter | triblive on Facebook