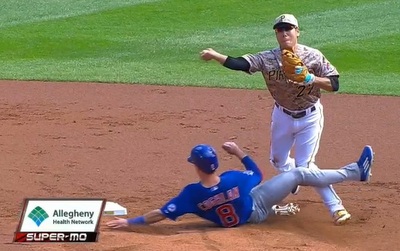 Chris Coghlan slides into second base on the play that injures Jung Ho Kang's knee.
He kept seeing the flags. The Jolly Rogers. The Bat symbols.
Nobody told Jung Ho Kang about the flags Pittsburghers bring into PNC Park. Then, one day in August, he looked toward the Pirates' dugout while standing at first base.
There were Korean flags.
"I noticed," Kang said through his interpreter, H.K. Kim.
"I never expected it. I felt pride."
The Summer of Kang shouldn't have ended with Pittsburgh's favorite South Korean being dragged through the infield grass on his way to a hospital for season-ending surgery on his left knee.
The argument about what differentiates
hard
from
dirty
when it comes to slides intended to break up double plays is better suited for another day. Though there is no debating that one of those slides by Chicago's Chris Coghlan did in Kang on Thursday afternoon.
"I remember more like an, 'Ahhh,' " Coghlan said.
"It just stinks because ..."
It stinks because Kang had become the Pirates' best infielder, but his was not only a baseball story. He was a flesh-and-blood advertisement for this region to another part of the world.
Jacob Young, a native of Jeon-Joo City, South Korea, has lived in Squirrel Hill for many years. Kang frequented his restaurant, Green Pepper, and most often ordered one of two meat dishes (barbecued ribs and marinated beef slices) or an entree known as "Bibim-Bop."
"His first words to me were, 'This is delicious,' " Young said. "He had a rather shy expression. He was not loud enough."
Young is not alone among those who describe Pittsburgh's Korean community as "not that big." There are mostly academics and physicians, but a majority return to South Korea or move onto bigger cities like Los Angeles, Young said.
But don't take one man's word for it.
Hines Ward — one of two Steelers of whom Kang knew before signing with the Pirates — called Pittsburgh's Korean community "small."
His mother, Kim Young He of Seoul, spoke broken English. Ward translated for her when she visited Pittsburgh. That gesture won him support.
"Respect is the big thing within the Korean culture," Ward said. "Respect and hard work are very important. So is baseball."
On Wednesday night, Jaeho Han and his girlfriend, Hanseul Cheong, attended their first American baseball game. They arrived the day before from Vancouver, where the Seoul natives are enrolled in college.
"In Seoul, Pittsburgh is known precisely because of Kang," Han said. "To see him in Pittsburgh is the unique experience."
And to not see him until next summer stinks.
We'll never know what more from Kang there was to come as these days shortened, this air chilled, and that baseball stage grew while summer transitioned to autumn.
Kang spent most of his days at PNC Park working with an English-language tutor for an hour. He was a quick learner, Neil Walker said.
"And, like you've probably seen on TV, when he's goofing around in the dugout, he's this great, funny guy," Walker said.
"He works hard, takes his job seriously and has fun playing a game. If you show all of that to people from around here, we'll absolutely love you forever."
Leave it to Pittsburgh's Pirate to knock out of the park what worked about our summer romance with Kang.
"I think people were wary because of the Walker stuff," Ross Brown said. "You know, how Kang was being brought here to replace Walker, who is one of us.
"That made Kang really have to prove himself."
Proof was in the purchase.
Last week at his home in Green Tree, Brown opened a package that contained a white replica Pirates jersey. It was Kang's No. 27.
"I don't think I could bring a Korean flag to the park," Brown said. "But I wanted his jersey. A lot of my friends ordered his jersey. How can you not love Kang?"
Summers always end, and our Summer of Kang is over.
But there's always next year.


Read more: http://triblive.com/sports/robrossi/9105444-74/kang-pittsburgh-korean#ixzz3mBYM4TA9
Follow us: @triblive on Twitter | triblive on Facebook