Jeremy Fowler
, ESPN Senior NFL Writer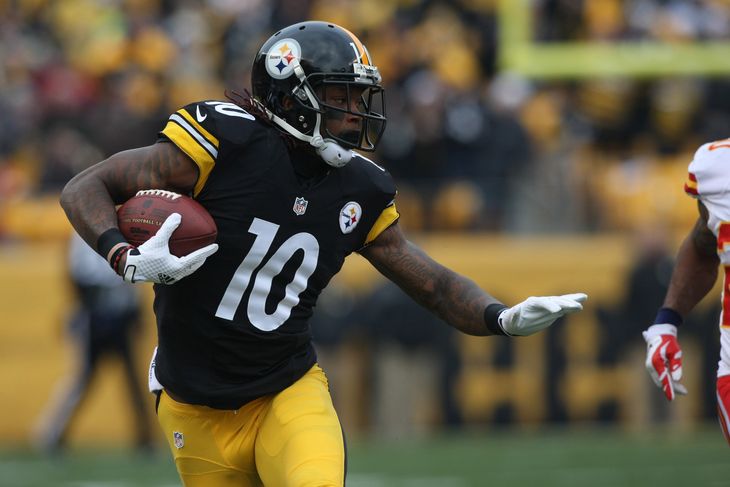 PITTSBURGH -- We've gotten to the bottom of
Martavis Bryant
's home-run-hitting receiving ability. In 12 career games, he's scored on 11 of 35 catches. Three of those scores came with
Landry Jones
at quarterback.
Surely algorithms and calculus-based equations will solve this for us!
Let's consult
Pittsburgh Steelers
offensive coordinator Todd Haley for more information. He'll get straight to the math.
"He's really big and faster than most everybody else on the field," Haley said.
Wait a minute, that's hardly scientific. Well, maybe that's because it's blatantly simple.
Bryant is really fast and really big.
Usually that prevails in the NFL.
There's more to it, of course, but at his core Bryant is a 6-foot-4, 225-pound receiver with a sub-4.4 time in the 40-yard dash -- shades of
Calvin Johnson
.
Having added 10-plus pounds, Bryant can go on a tear if he stays clean after failing multiple NFL drug tests since being drafted in the fourth round in 2014.
Cincinnati Bengals
defensive coordinator Paul Guenther told me this summer Bryant is a "speed-builder," and Haley would agree with that. As Guenther vividly remembers, Bengals defenders couldn't catch Bryant down the sideline for a 94-yard touchdown in last season's meeting in Cincinnati.
"He gets to speed fast," Haley said. "It's not a combination you see, a big guy who's also a build-to-speed guy. He's able to get to speed in a couple of steps and he has legit speed. Combine that with big, he's got good ball skills, he'll have a chance for big plays."
The excitement about
Ben Roethlisberger
's return is about more than Big Ben. It's about what he can be, and what the Steelers offense can be, with a full arsenal.
Le'Veon Bell
,
Antonio Brown
, Bryant and Roethlisberger will take the field together at home Sunday against the Bengals for the first time all season. Even if the Bengals win, the Steelers are well-positioned for a big second half.
Bryant is the perfect complement to Brown, who will rack up catches and has chemistry with Roethlisberger but doesn't have Bryant's size.