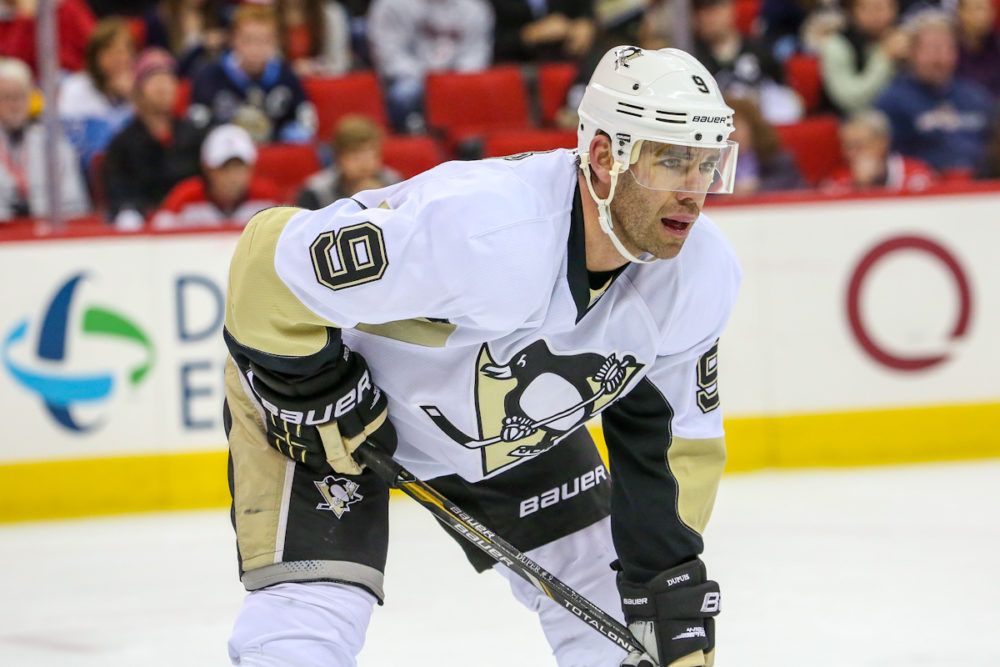 Can you get up?
Claude Dupuis asked that question of his boy some 30 years ago. Had he not, the man that boy became probably would have stayed down a long time before Tuesday.
Pascal Dupuis isn't a hockey player anymore.
If I'm lucky enough to have a boy of my own someday, Dupuis will be the first hockey player I talk to him about. And I'll start that story a few days after June 12, 2009, when Dupuis raised the Stanley Cup.
He sat in the Mellon Arena office that belonged to Dan Bylsma. Though everybody with the Penguins was nursing a silvery hangover, Dupuis was about to receive some sobering news.
The coach was not impressed.
Perhaps that should have been obvious to Dupuis. He had played in only 16 of the Penguins' 24 postseason games, never matching the 14 shifts he skated in the playoff opener. He was the only Penguin to play in a game and not score.
A fourth-liner when he met with Bylsma, Dupuis was not guaranteed any role for the next season by his coach. He was told, flatly, to arrive at training camp in better shape.
The guy who walked out of Bylsma's office never returned to Pittsburgh. The guy who showed up at camp would become to Sidney Crosby's Penguins what Bob Errey was to Mario Lemieux's Penguins: indispensable, inspirational and irreplaceable.
He turned his body into one that won the annual camp speed test. He won over Bylsma, who turned to Dupuis to reclaim the momentum on the first shift after a failed Penguins' power play.
He became the Penguin who did all the dirty work and thrived for it. Dupuis hunted pucks for Crosby on the top line. He also hawked puck carriers as the top penalty killer.
He went from unimpressive to unmistakably important. The room became his, and he ran it by picking on stars and picking up role players.
Maybe the Penguins would have lost to the New York Rangers each of the last two postseasons with Dupuis. I would have liked their chances had Dupuis wore hockey gear instead of a suit for those series.
He was the best player in the playoffs the last time the Penguins stuck around for a while. In the 2013 postseason, he matched Crosby's seven goals. His nine points were second only to Evgeni Malkin's 10 at even-strength. He was the only top-six forward who wasn't a minus.
From 2011-13, Dupuis never missed a game when it seemed like every other Penguin did. Somebody was always hurt, or missing, or something. Dupuis was the constant. Dupuis was the glue.
Dupuis also was really good. He produced 54 goals and 60 assists and a plus-66 rating.
Remember him a warrior, leader, family man, funny man, and a proud man.
But, please, do remember Dupuis as one heck of a hockey player.
It's an apt description, one he earned. It also would mean an awful lot to my friend, "Duper."
A few minutes before midnight on July 2, 2013, my phone rang. Dupuis had promised to call when he signed a new contract. I had hoped — but also doubted, because he was 33 and coming off two fantastic seasons — the call would come.
I'm thankful it did. Lately, more than I was even then.
That call helped me make sense of (even if I didn't agree with) with Dupuis' decision to play hockey this season while still using blood-clot medication.
Claude Dupuis played a few professional seasons but never in the NHL. He worked hard, at both ends of the ice, and put the team first. By no accident did his son come by the intangibles the Penguins will miss dearly without Pascal Dupuis.
"He had this thing about 'getting up,' " Dupuis said of his father. "It stuck with me more than anything. 'Can you get up? If you can get up, get up, even if you broke your legs.' "
The summer his teammates spent celebrating a championship, Dupuis spent attempting to break a version of himself he didn't all that much like. Changed his training, diet and lifestyle.
"Living right," he called it. Family. Faith. Hockey. Build a better man to become a better player.
"I had to get up," Dupuis said.
And he did.
Seemed unfair that Dupuis had to get up again when a blown out knee — and blood clot — wiped out his season two years ago. Was downright cruel when another blood clot ended his attempted comeback last season.
To be forced into retirement, as Dupuis was Tuesday, because of something in his blood. That is not the way it was supposed to go for the player who became the lifeblood of these Penguins.
Didn't go that way, either.
Blood clots didn't knock down Pascal Dupuis.
He got in 18 more games.
He got up.


Read more: http://triblive.com/sports/robrossi/9593009-74/dupuis-penguins-hockey#ixzz3tve0fBAP
Follow us: @triblive on Twitter | triblive on Facebook