February 6, 2016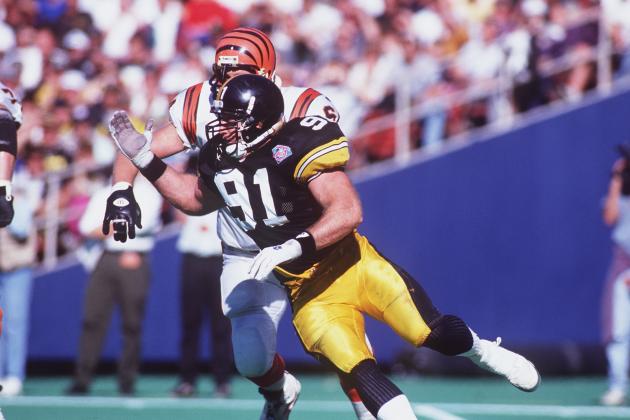 SAN FRANCISCO — Kevin Greene has been through the routine before and he knows exactly how it works.
If he hears a knock on his hotel room door during from Pro Football Hall of Fame president Dave Baker the day before the Super Bowl, it's good news — it means you are a Hall of Famer.
Greene finally heard that knock.
"It was a very large knock," Greene said.
And it ended a long wait for the former Steelers linebacker.
Greene was one of eight who were elected to the Pro Football Hall of Fame during the NFL Honors award ceremony at Bill Graham Civic Center. Greene, who played for the Steelers from 1993-95 and was part of the famed "Blitzburgh" defense, has been eligible for the Hall of Fame the past 12 years and was a finalist the past four.
"I was bouncing off the wall," Greene said. "I was excited. There were a wide variety of emotions that were going through my body and mind. I had my wife and kids there to sit me down and calm me down."
Greene joins Brett Favre, Marvin Harrison, Orlando Pace and Tony Dungy along with senior members Ken Stabler and Dick Stanfel. Former 49ers owner Eddie DeBartolo was elected as a contributor.
Former Steelers guard Alan Faneca was eliminated in the first round of cuts from 15-10 in his first year of eligibility. Faneca played 10 of his 13 seasons with the Steelers making nine consecutive Pro Bowls and six All-Pro honors in seven years.
As for Greene, he had a stellar career the spanned 15 years that included stops with the Rams, Steelers, Panthers and 49ers. He accumulated 160 sacks in his career, which are third most behind Hall of Famers Bruce Smith (200) and Reggie White (198).
"I always felt that I belonged," Greene said. "(Rams) Coach (John) Robinson put me in the mold of Lawrence Taylor and asked me to do the things that L.T. did, and I did my best to do it."
It wasn't always smooth for Greene.
He was a fifth-round pick out of Auburn by the Rams in 1985 but didn't break into the starting lineup until four years later. Greene put together back-to-back 16
1
⁄
2
-sack seasons.
"I had to pay my dues for the first three years," Greene said. "I had to run down on kickoff team and punt team, punt return and kickoff return and all that stuff. I did it all. I was begging for an opportunity. John Robinson threatened to send my butt back down to Alabama one more time asking him for playing time."
Greene went on to post 10 sacks in different 10 seasons. He made five Pro Bowls and was an All-Pro three times, but his career seemingly hit its stride when he joined the Steelers in 1993 as a free agent.
Greene collected 35
1
⁄
2
sacks from 1993-95 as he joined Greg Lloyd to form a pair of dynamic pass rushers and help the Steelers reach Super Bowl XXX.
"If a tackle wanted to bail back and deal with his speed rush, Kevin was strong enough to run over him," former teammate Chad Brown said. "If the tackle wanted to get in a physical fight with Kevin, Kevin was quick enough to run around him. If a guy had some strength and speed, Kevin had some shake and bake to get by him. He understood what he needed to do and what skill set he needed to beat them."
Others selected:
• Favre played 19 seasons and finished with three straight league MVP awards, 297 consecutive regular-season starts and a Super Bowl title. Favre made 11 Pro Bowls. He passed for 508 touchdowns and 71,838 yards — both behind only Peyton Manning.
• Pace played 13 years in the NFL, 12 with the Rams, and was a prototypical left tackle. Pace made seven straight Pro Bowls from 1999 to 2005 and was voted to the All-Pro team three times in a five-year span.
•Harrison had four straight years of 100-plus catches, culminating with 143 in 2002. Harrison caught 1,102 passes for 14,580 yards and 128 touchdowns.
• Dungy played for the Steelers in 1977-1978 and returned three years later as their secondary coach before serving as their defensive coordinator from 1984-88. Dungy was a head coach for 13 years with the Buccaneers and Colts and won 139 games, including Super Bowl XLI.
• Stabler got in as a senior candidate after being a finalist in 1990, '91 and 2003. Stabler played 15 years in the league, the majority of that with the Raiders. Stabler died of colon cancer in July.
• DeBartolo was selected to the Hall of Fame as a contributor. DeBartolo, a Youngstown native, owned the 49ers for 23 years and won five Super Bowls in a 14-year span.
• Stanfel played offensive line for the 49ers and Lions.