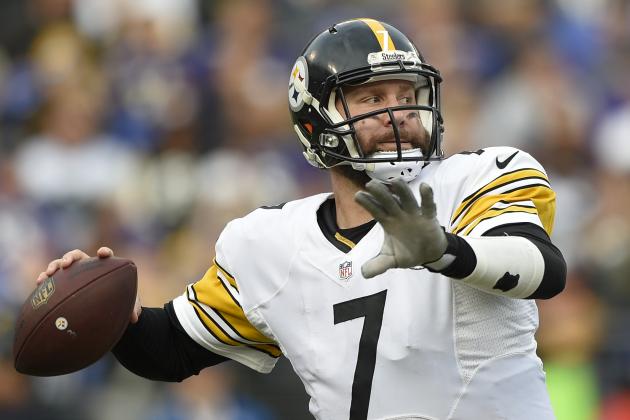 Nick Wass/Associated Press
Since coming into the league in 2004, Pittsburgh Steelers quarterback Ben Roethlisberger has had an impressive career.
After a Tommy Maddux injury, Ben Roethlisberger was thrust into the fire as a rookie in only the second week of the season against the Baltimore Ravens. Roethlisberger would go on to start the remainder of the 2004 season and win every regular season game.
Roethlisberger would be the youngest quarterback to win the Super Bowl at 23-years-old in his second season with the Steelers.
It would be one thing if Roethlisberger had these few good years and then fall away into irrelevancy. Roethlisberger has made two more trips to the Super Bowl and winning one.
With two rings under his belt and great statistical seasons in his time playing, why is it that Roethlisberger is hardly in the conversation of the NFL's top quarterbacks? I see lists every year and Ben Roethlisberger seems to get the honorable mention every time.
I have heard experts talk at length at how Roethlisberger is the best in the game at extending plays and avoiding sacks. Roethlisberger is also known as one of the toughest players in the NFL. With all that in mind, people still leave him off the lists of the NFL's best.
With Payton Manning retiring, times may be changing.
ESPN writers have been having Q&A sessions
within each division and this very question was asked to the AFC North writers. Some of the answers are surprising, but they share the same sentiment.
"It would be difficult to argue against Roethlisberger being in the conversation," wrote Baltimore Ravens reporter Jamison Hensley. "In my mind, he is the third-best quarterback currently, behind Aaron Rodgers and Tom Brady. Ben Roethlisberger is primed to put up career numbers because of all the weapons around him (Antonio Brown and Le'Veon Bell) and an offensive line that can protect him."
"Some will suggest Drew Brees, Cam Newton or Russell Wilson should be in the top-three debate, Hensley continued. "One of the biggest factors in evaluating quarterbacks is how they come through when it matters the most. Roethlisberger ranks third among active quarterbacks with 34-game winning drives, trailing only Brady (48) and Brees (38). Ravens players and coaches have told me for years that they would prefer to face Brady than Roethlisberger in the final minute of a game because he can shake off tackles and beat you with his strong arm. That's why he should be considered among the best in the NFL."
That's a pretty strong argument for Roethlisberger, especially coming from the team's biggest and most bitter rival.
"Isn't he already?" penned Coley Harvey, the reporter for the Cincinnati Bengals. "I mean, yes, there's Tom Brady, Aaron Rodgers and Cam Newton, but wouldn't Roethlisberger be considered better than one of the two not named Brady? After all, you're talking about one of the toughest players in the league, and a man who seems to always invent new ways to win. "
"This question is really intriguing to me, though. I find myself answering it under the assumption we're weighing the totality of the careers of each of the NFL's 32 starting signal-callers. That's why I feel Roethlisberger is up there. Having said that, will he remain among the elite for long? I don't think so."
I can't argue with that logic that Roethlisberger is a fantastic player, but is on the downslope of his career. I think Roethlisberger has three maybe four years left in the tank. Other players will be hitting their prime around that time and will knock Roethlisberger out of elite status.
Lastly, the Browns reporter Pat McManamon had some interesting insights about the native Ohioan Roethlisberger.
"Start with Tom Brady, the best playing right now, McManamon wrote. "Drew Brees is in the conversation. Philip Rivers is a dark horse. Eli Manning has had his moments. Tony Romo is a very good player — when healthy. Cam Newton was outstanding last season and has grown every year he's been in the league. Russell Wilson wins games for Seattle. And Aaron Rodgers is a great player. "
"For my money, the top two from that group would be Brady and Rodgers. Is Roethlisberger as good as Brees? Yes. Better? Yes. Roethlisberger has a career rating of 94.0 and has thrown for just short of 43,000 yards. Last season he averaged 328 yards per game. Ben Roethlisberger has gotten to the point where he runs the Steelers offense, often from the line of scrimmage; as he goes so goes Pittsburgh. Is Big Ben in the Big Three? Yes, for good reason."
The interesting thing about all of theses takes is that none of the reporters took in an account of Super Bowl victories. That in itself is what sticks out in people's mind of who is elite and who is not. Some say Matt Ryan is a great quarterback, but he has yet to win a playoff game. Philip Rivers has a great arm, but has only made the playoffs a handful of times.
Stats are great to have, but having that killer instinct as a quarterback is what gets you in the upper echelon. Roethlisberger has that killer instinct and is the third-best quarterback in the league behind Brady and Rodgers.
The post
Ben Roethlisberger ranked among NFL's best
appeared first on
Cover32
.