Jeremy Fowler
ESPN Staff Writer
http://www.espn.com/blog/pittsburgh-steelers/
November 14, 2016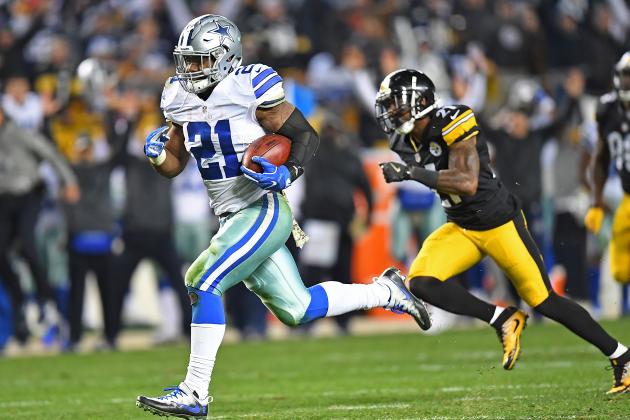 Ezekiel Elliott scores on a 32-yard run with 9 seconds left to give the Cowboys a 35-30 win in Pittsburgh (Joe Sargent/Getty Images)
PITTSBURGH -- Punch, respond. Punch, respond. Punch, respond.
Bursting through the Cowboys line for a 32-yard score with nine seconds left, he led the Cowboys to a
35-30 win
that shook the Steelers at their core as their season cracked at the seams.
A major defensive breakdown by the Steelers defense at a crucial moment sort of embodies this 4-5 season: Inspired and physical play can't overcome costly mistakes, including unnecessary roughness and face mask penalties late in the fourth to set up the Cowboys' offense.
On Elliott's touchdown, nobody touched him. The Cowboys' line flushed tackle Javon Hargrave and linebackers Lawrence Timmons and Ryan Shazier out of the play and the Steelers didn't have adequate help behind them.
After the game, players had trouble describing why those holes were so wide open, attributing the problem to the vague 'doing too much' cliché.
"That's getting your heart ripped out," said safety Mike Mitchell about the loss.
Steelers quarterback
Ben Roethlisberger
wasn't letting his team lose. He just ran out of time.
Roethlisberger -- who publicly told teammates earlier in the week to "follow me" -- walked calmly onto the field with his eyes fixated on a 75-yard, game-winning drive.
Letting Elliott score a 14-yard touchdown with 1:55 left wasn't exactly a bold strategy -- the defense was trying to hold Dallas to a field goal -- but at least the score gave Ben Roethlisberger the ball with two timeouts and a 29-24 deficit.
Missing three two-point conversions hurt the Steelers, but they regained an advantage with Roethlisberger's brilliant 75-yard drive on five straight completions, including a fake spike, Dan Marino style, to set up a lob pass to Antonio Brown over the top for a 15-yard score. This caught Dallas sleeping with 42 seconds left. Roethlisberger threw for 191 yards in the fourth quarter alone.
Everything was set up beautifully for the desperate Steelers. Desperation was almost enough. The margin for mistakes in this game was so tight.
And Dallas moved downfield as if the game was never in doubt. Rookie Sean Davis said his facemask of tight end Jason Witten with 15 seconds left was accidental, but these are the mistakes that have haunted the Steelers all season. On the next play, Zeke was loose.
"Forty-two seconds shouldn't be enough time for them to go down the field," said defensive end Cam Heyward of the Cowboys' 75-yard drive. "We knew what they had, they had three timeouts, but we have to keep them in bounds, make good tackles, we had to get a pressure. That's just unacceptable by the defense. Falls on me, goes all the way down."
Overheard several times in the Steelers press box before the game was this simple message: These are the games Pittsburgh always finds a way to win.
But this year hasn't followed that script. This team couldn't seem to dig deep for the difficult win after Prescott helped seal the game with touchdown passes of 83 and 50 yards.
Late in the third quarter, Prescott reached back on third-and-11, with the Steelers bringing defensive pressure yet again, and launched a dime to
Dez Bryant
for a 50-yard score. The Steelers' aggressive defensive plan worked for much of the game but finally got burned, leaving Burns all alone as Bryant got away with multiple push-offs.
Calls weren't friendly to Pittsburgh, who watched Dallas get away with several holds on defense, but the Steelers tried to overcome them. They didn't matter on a big drive by Roethlisberger early in the fourth, going 46 yards thanks to a strike to the sideline to Brown squeezed between two zone defenders.
"We obviously are making costly mistakes, and they hurt us," said running back Le'Veon Bell, who had 134 total yards and two touchdowns. "We need some more detail and we're going to keep falling short until we get that."