By Chris Bradford
http://www.timesonline.com/sports/
January 8, 2017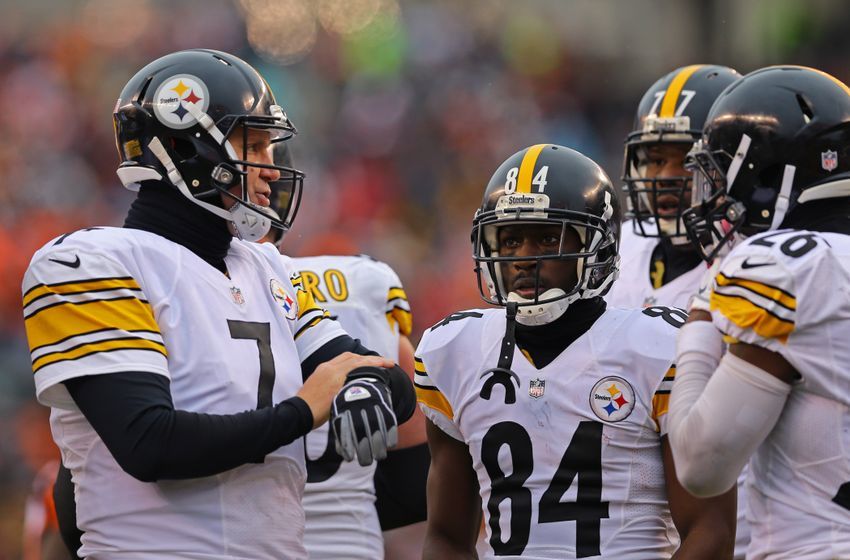 Dec 18, 2016; Cincinnati, OH, USA; Pittsburgh Steelers quarterback Ben Roethlisberger (7) leads wide receiver Antonio Brown (84) and Le'Veon Bell (26) in a huddle in the first half at Paul Brown Stadium. Mandatory Credit: Aaron Doster-USA TODAY Sports
PITTSBURGH – The final act in Stephon Tuitt's first two NFL seasons has played out in much the same sad scene: Teary-eyed locker rooms as the massive defensive end and his Steelers teammates were left staring into space, wondering 'what if?'
What if Le'Veon Bell had been healthy for the 2014 wild-card loss against the Baltimore Ravens?
What if Bell or Antonio Brown or DeAngelo Williams or Maurkice Pouncey were available for the 2015 divisional round loss against the Denver Broncos?
"We've been there and done that," Tuitt said in a hushed tone this week. "We experienced that. It was not a pretty feeling at all. Not at all."
Well, when the Steelers host the Miami Dolphins in their AFC Wild Card matchup on Sunday afternoon, there are no question marks, no more excuses. But there is a feeling of resolve from the disappointment of the past two seasons and a quiet confidence born from their current seven-game winning streak.
All things considered, the Steelers enter the postseason as healthy as they're going to get or, at least, as healthy as any NFL team can hope to be in the second weekend of January. For the first time in a playoff game, the Steelers will have a healthy Ben Roethlisberger, Brown and -- most noteworthy -- a healthy Bell, the catalyst to their seven-game run, all available to them Sunday at Heinz Field.
That, in itself, is no small victory. Now comes the hard part: The actual winning of games.
No more talk of perfecting crafts, honing skills or wanting to be great. Want to be great? Win. Four victories in five weeks is what separates Pittsburgh from a record seventh Super Bowl championship.
On both sides of the ball, with perhaps the NFL's most dynamic offense and a rebuilt defense with a bevy of budding stars, the Steelers appear poised for a lengthy playoff run.
"Obviously, we have to take it one step at a time," Bell said. "The Miami Dolphins are the first brick in the road. We have to handle those guys and handle the rest as it goes. But sense of urgency or focus? We don't know if we'll be in this situation ever again."
Roethlisberger, who will turn 35 in March, isn't getting younger.
Brown, the NFL's most prolific receiver over the last four seasons, isn't going to get better than he's been.
James Harrison can only beat up Father Time for so much longer.
Thirtysomethings DeAngelo Williams and Lawrence Timmons are free agents at season's end.
Whether his contract is extended or he's franchise tagged, Bell is sure to be back in 2017, but his history of injury and/or suspension suggests it could be interrupted again.
At this level, winning a championship is a combination of hitting the Lotto, solving a Rubik's Cube and having the stars aligned precisely. So far, the Steelers got the last part right.
"You always have to capitalize on it when you can, especially with Ben and how many years he has left," said guard David DeCastro, who in five years with the Steelers has just one playoff win. "I think we're in a pretty good spot."
No, the window to win another Lombardi Trophy won't be closed shut on the Steelers if they fail, but it won't get much more wide open than this year.
It's not every year that half the AFC playoff field is down to its backup quarterback, including the Dolphins. Or in No. 2 seed Oakland's case, a No. 3 QB. It's not every year that the New England Patriots, a prohibitive favorite, will be without Rob Gronkowski, arguably the most dominant force in the NFL.
"Everybody is picking the Patriots to be the team to win the whole thing, it just adds more to it," said guard Ramon Foster, one of eight holdovers from Pittsburgh's last Super Bowl team in 2010. "Why not us? We have the capability. Sure enough the Patriots are damn good, they're damn good. There's no easy teams in this playoff. We just have to be pros and capitalize. (It's) more opportunity than anything."
This season, the Steelers qualified for the playoffs for a third straight year, a first under coach Mike Tomlin. That is the franchise's longest run of consecutive postseason appearances since the first five seasons under his predecessor, Bill Cowher, from 1992-97. That's good, but not good enough in Pittsburgh if it doesn't end with a parade down the Boulevard of the Allies.
"Any time you are part of the Steelers organization, you understand that it's about being a champion," Brown said. "It is a championship culture, a championship atmosphere and a championship team. All you have to do is walk in here on the second floor and you see those guys' legacy on the wall, you see what it's about."
For Tomlin, Roethlisberger and Harrison, this playoff run, wherever it takes them, will only pad their legacies. For Brown and Bell, it's a chance to define theirs.
"We have to embrace it," Bell said. "We're in the playoffs, we're all healthy. We have four more games to win
.
"