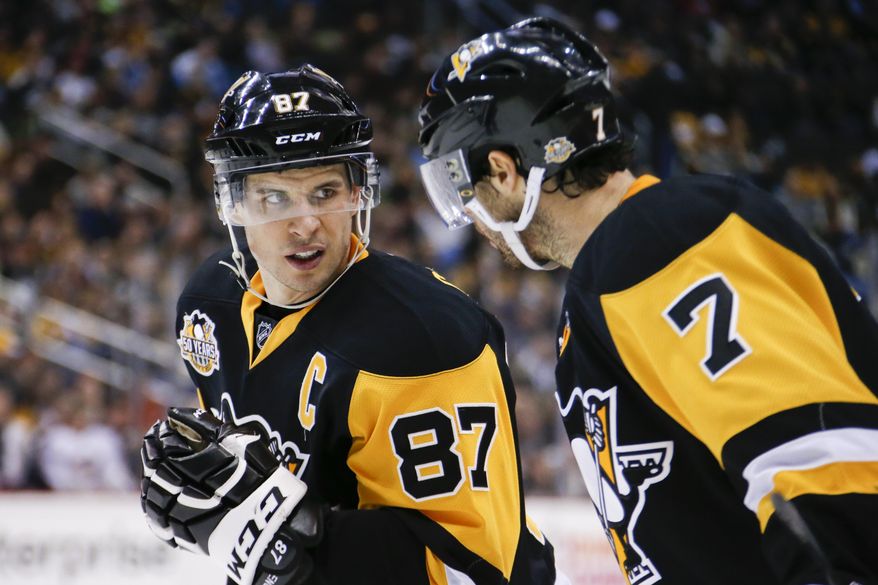 In this Friday, Feb. 3, 2017, photo, Pittsburgh Penguins' Sidney Crosby (87) prepares for a face-off during the second period of an NHL hockey game against the Columbus Blue Jackets in Pittsburgh. . (AP Photo/Gene J. Puskar)
The Penguins have one big problem: There is no big problem.
That's certainly not the preferred method of the talk show industry.
While Washington again tries to win the Stanley Cup in February and Columbus' players foolishly (but accurately) say their coach is a big meanie, the Penguins lose a few but win a few more (8-3-2 since the season's halfway point) and bide their time until the games again mean something.
The Metropolitan Division is loaded, so seeding won't matter. Home ice won't matter, though the Penguins' 22-3-3 mark at PPG Paints Arena is impressive. Unless one of their myriad of injured forwards doesn't return at 100 percent, no gaping hole must be filled via trade beyond a legit seventh defenseman.
Matt Duchene is linked to the Penguins, but he's mostly a center, they don't need one, and he's a $6 million cap hit through 2019. Duchene is a fit stylistically, but the return paid to Colorado would be high.
The Penguins don't need to trade for a big name. Carl Hagelin wasn't. Trevor Daley wasn't.
Since the Penguins have no issues, they have to be invented.
*"Fleury let in a bad goal at Arizona! Trade him immediately!"
True, Connor Murphy's OT winner Saturday was a clanger. But when the goalie is playing his second game in a month, goals like that happen.
Marc-Andre Fleury has never really been a backup. Staying sharp through prolonged inactivity is a nuance he may not immediately master. Fleury needs to. It's part of his new job, at least until he departs Pittsburgh.
But the Penguins don't want to remove Fleury from their dressing room until this summer, when it's empty. Chemistry is overrated. But even as the No. 2 goaltender, Fleury is a glue guy.
If Matt Murray gets hurt and Fleury has to play a string of games, he'll respond, like he did at season's start. That's the main reason for keeping Fleury through the playoffs. He won't forget how to be a starting goalie.
*"Olli Maatta is too slow! His speed keeps getting exposed!"
Maatta is plus-15. So, define "exposed."
Maatta is no burner, especially compared to Daley, his current partner, or Kris Letang, with whom he's often played in tandem. Maatta has been stricken with a parade of maladies over the past three years, from cancer to two shoulder surgeries to mumps. If he's not at his absolute peak, consider those factors. Also consider that he's just 22.
Offensive defensemen need defensive partners. The Penguins have three such clearly-defined tandems. If Maatta is the Penguins' sixth defenseman -- which he may be -- he's much better than most NHL teams have at that spot. He's good enough for now, and he's going to improve.
*"The Penguins need to get tougher! Brandon Dubinsky is going to cross-check Sid in the head!"
If the Penguins play Columbus in the playoffs, Dubinsky probably will cross-check Sidney Crosby in the head. In fact, Dubinsky will likely attempt to do so when the Penguins visit the Blue Jackets Friday. Beat the rush.
But few teams dress enforcers, and none do in the playoffs. The era of the deterrent is over. Dubinsky and his ilk will take liberties regardless.
The Penguins need to do what helped win a Stanley Cup last year, and maintain their identity by playing through any opposing shenanigans. The Penguins rank fourth among NHL power plays with a conversion rate of 22.2 percent. They have 41 power-play goals, second-most in the league. That does more to quell a foe's mayhem than any goon could.
The Penguins have one legit concern: They have allowed 155 goals in 54 games. That's an average of 2.87, and that's too high.
That level of defending won't hold up in the playoffs. Goaltending isn't the problem. The defensemen aren't the problem. It's sloppy transition, and mistakes made at both blue lines. It's easily solved. The Penguins just need to.
Mark Madden hosts a radio show 3-6 p.m. weekdays on WXDX-FM (105.9).