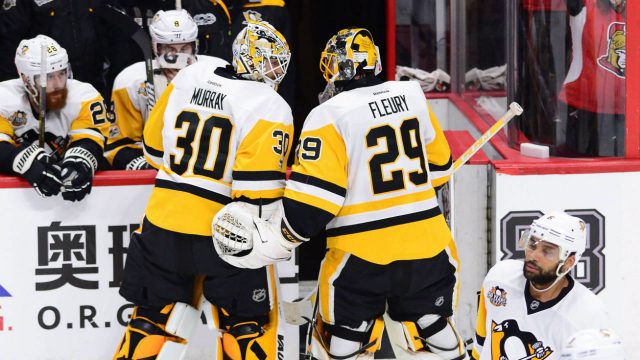 If you've been put to sleep by the 1-3-1 trap, refreshing Penguins playoff notes will slap you awake. Just don't allow four goals in 13 minutes.
-- The goaltending debate isn't about who "deserves" to start Game 4 at Ottawa. That's Marc-Andre Fleury. It's about who gives the Penguins the best chance. That's what coach Mike Sullivan has to decide, and he's got to be right.
Sullivan thinks Murray is better. Always has. But, before Wednesday's disaster, Fleury had two shutouts in three games, including Game 7 at Washington. His postseason performance provides a compelling argument on his behalf.
-- Goaltending is the sexiest topic, but lack of goals is the Penguins' problem. The Penguins have just three goals in this series' three games, and are lucky to not trail three games to none. If the Penguins can't do better than a goal per game, GM Jim Rutherford can play goal and it won't matter.
-- Before electricity, Rutherford was a good goalie. In 1971-72, the Penguins had a goaltending controversy: Young upstart Rutherford, 22, vs. 37-year-old incumbent Les Binkley. Rutherford won, playing all the playoff games. (There were only four. The Penguins got swept in the first round by Chicago.)
-- Right now, the Penguins' defensive corps is that of a marginal playoff team. Their transition game hovers between clumsy and non-existent. Ian Cole and Justin Schultz were the bottom pair when the Penguins won the Stanley Cup last year. They entered this year's postseason as the top pair.
-- There's nothing for the coaches to "fix," unless they can fix Kris Letang's neck, Justin Schultz's shoulder, Bryan Rust's brain and Patric Hornqvist's wrist. Hockey's playoffs are a war of attrition that the Penguins are losing. To act like adjustments can conquer all is fanboy ignorance.
-- Washington and Columbus tried to punish the Penguins. Ottawa just gets in the way every time. The Senators are much more effective at playing big.
-- Jake Guentzel and Conor Sheary generally do well as Sidney Crosby's linemates but have trouble dealing with the Senators' traffic because of their slight size. But who is a more effective alternative in that regard until Hornqvist returns?
-- Chris Kunitz should skate on a line with Evgeni Malkin and Phil Kessel only if he tempers their freewheeling by playing Hockey 101, forcing the play down low occasionally. But Kunitz is trying to make too many plays up high instead of providing a counterpoint. Again, however, alternatives are few. Carl Hagelin is playing hurt and has never shown true top-six proclivities.
-- After his team scored four times in the game's first 13 minutes Wednesday, Ottawa defenseman Chris Wideman said, "Hopefully, we put that 'boring Senators' thing to bed." Ironic turn of a phrase. OK, so the Senators bored for 47 minutes instead of the usual 60. The way they play is nauseating and does anything but sell hockey's grace and speed. Problem is, it's working.
-- This series reminds me of two prior: 2015 vs. the New York Rangers in the first round, when most of the Penguins' puck-moving defensemen were injured, and the 2013 Eastern Conference final against Boston, when the Penguins scored two goals in four games. Neither ended well.
-- The New York Rangers scored 20 goals in six games against Ottawa in the second round. So the Senators are hardly impenetrable.
-- If freshly-replaced TV play-by-play announcer Paul Steigerwald had a number, the Penguins should retire it. Steigerwald is a Pittsburgh hockey legend. He picked up Mario Lemieux at the airport. He drove Jaromir Jagr around town. Steigerwald has been involved with the Penguins for almost four decades. A job well done, and not yet finished.
Mark Madden hosts a radio show 3-6 p.m. weekdays on WXDX-FM (105.9).