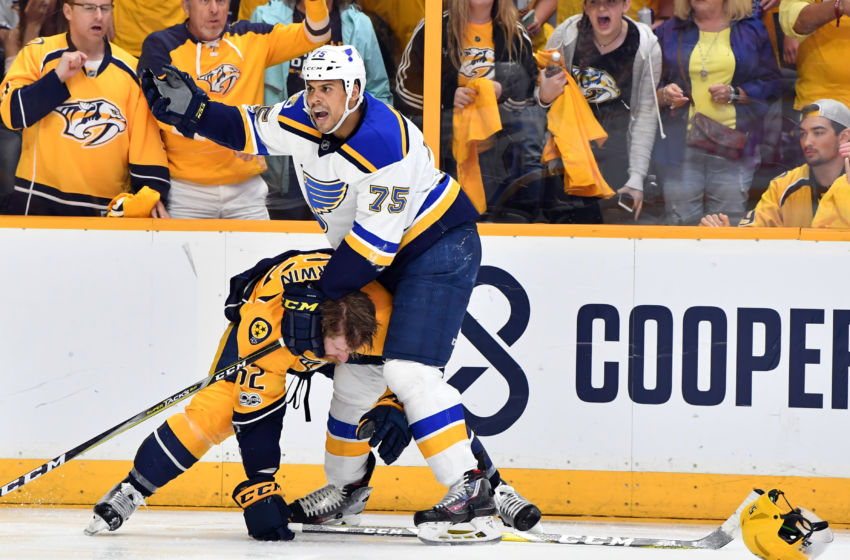 Apr 30, 2017; Nashville, TN, USA; St. Louis Blues right wing Ryan Reaves (75) calls for a whistle after a play on Nashville Predators defenseman Matt Irwin (52) during the second period in game three of the second round of the 2017 Stanley Cup Playoffs at Bridgestone Arena. Mandatory Credit: Christopher Hanewinckel-USA TODAY Sports
The last time imposing winger Ryan Reaves played at PPG Paints Arena, he scored a pretty second-period breakaway goal in January to help his St. Louis Blues beat the Penguins.
When he got home from the road trip, he shared a thought with his wife.
"I keep having good games against Pittsburgh," Reaves recalled saying. "They're probably going to trade for me one day."
"I was literally just joking, but here we are."
Here we are, indeed. Reaves was traded to the Penguins on Friday night for prospect Oskar Sundqvist and a swap of draft picks.
Reaves said the news shook him emotionally. The 30-year-old from Winnipeg worked his way up through the ranks in the Blues system, starting in the ECHL in Alaska and spending four long years in the AHL in Peoria before establishing himself as an NHL player in 2010-11.
The blue note on his chest had become part of his identity.
"I call St. Louis home now," he said Saturday. "It was a little shocking to be traded."
Now, when the shock wears off, Reaves' identity will be formed by protecting some of the game's greatest stars.
General manager Jim Rutherford said the acquisition of Reaves was in large part a response to seeing players such as Sidney Crosby getting manhandled over the past two seasons.
The chiseled, tattooed, 6-foot-1 right wing figures he can help with that.
"I'm always playing physical. I play physical before anything else," Reaves said. "I think that buys guys on my team a little extra room, maybe a little more security on the ice, knowing that if you go run one of our guys, I'm coming and I'm 230 pounds coming at you. Maybe think twice."
In the early days of his NHL career, Reaves might have gone about playing his role by simply asking the toughest player on the other team to fight. That's how it was usually done back then. From 2010-14, he fought 38 times.
Lately, though, he has refined his approach. Over the past three seasons, he has recorded only 19 fighting majors.
"I think I do it more with my presence on the ice," Reaves said. "I think everybody knows that when they come after guys on my team, that wakes me up instantly and it makes me go after their guys. I've changed my game to the point where I can catch those guys. I can catch guys who play big minutes or are the superstars in this league. I'm not just trying to run a guy who can't turn.
"I think I'm more of a presence than a guy who's just going to go beat up somebody if something happens, but that's also sometimes part of the game."
As his time in the penalty box has decreased, so has his time in the 40-yard dash. Two summers ago, Reaves said he refocused his offseason training regimen on improving his footspeed. It was a necessity in the modern NHL.
"They were telling me I needed to get faster to keep up with the pace of the game and the pace of the NHL, so that's what I did," Reaves said.
He posted career highs with seven goals, 13 points and almost nine minutes of even-strength ice time per game last season.
As such, he doesn't think he will be left behind when he joins a Penguins team that makes playing with pace a top priority.
"I know the East is a little more wide open," Reaves said. "I know Pittsburgh plays with a lot of speed. Obviously I'm going to have to adapt a little bit more, so I'm going to be on it this offseason, trying to get a little faster."