By Henry Shulman
https://www.sfchronicle.com/giants/article/For-Giants-McCutchen-a-hero-s-welcome-12905030.php
May 10, 2018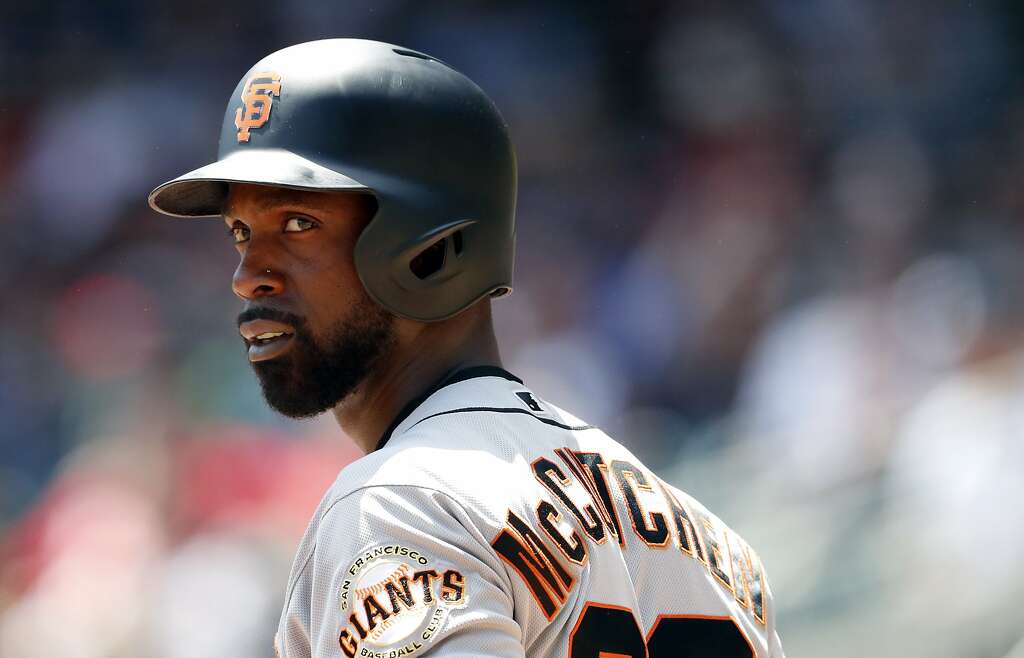 (John Bazemore/AP)
PHILADELPHIA — During Andrew McCutchen's painfully slow start with the Giants, Pirates fans flooded social media begging San Franciscans to be patient because "Cutch" usually has bad Aprils.
Pittsburghers love McCutchen the way a parent loves a child. Their heartache upon his trade to San Francisco was matched by the angst they felt for him having to leave his beloved home and move across the country.
No one need wonder how Pittsburgh fans will react Friday night when McCutchen returns to PNC Park. It will be a lovefest with tears on all sides.
Before the Giants concluded their four-game series against the Phillies on Thursday, McCutchen said he knows he will get a great reception, but has no idea how he will feel when it happens.
"I didn't know how I was going to feel before I got married as my wife's walking down the aisle," he said. "I didn't know how I was going to feel when my wife was having that child and I saw him for the first time. You can ask how you think you're going to feel. I don't know. I never experienced it before.
"I'll be there, be in the moment and let the emotions be what they are. I try to live in the moment of everything. It's newfound to me."
To understand the significance of this homecoming, Giants fans would have to imagine Buster Posey being traded to the Pirates, then returning to AT&T Park for the first time.
Reliever Tony Watson, a longtime McCutchen teammate in Pittsburgh, said the comparison is not quite apt because of the three championships Posey helped bring.
"For Pittsburgh, more than anything, it will be about the man he is," Watson said. "It says a lot, what he did, what he still does. He'd go to the children's hospital. Every kid's favorite player was Cutch. The parents love Cutch.
"He's a great human being. That more than anything is what you'll see when they come out and show their respect. I think that first (at-bat) will be pretty cool. I don't know how he'll do with the emotions. Hopefully, he can keep them in check and get us a big knock."
Pittsburgh fans can breathe easier knowing the San Francisco faithful have begun to see their McCutchen. He has hit .394 over the past 11 games since batting .198 over his first 25. Even as he slumped, he gave Giants fans a glimpse of his 2013 MVP self with two walk-off hits.
McCutchen said it "definitely" would have been worse to return to Pittsburgh in a slump.
The 31-year-old right fielder opened a window into his emotions during his 10-minute interview with Giants beat reporters, which is good, because he has been hard to read.
McCutchen has had his share of laughs on the field and in the clubhouse, but also seems reserved much of the time. He acknowledged how hard the transition has been, not so much on the field, but off of it.
He and his wife, Maria, had to uproot themselves and their newborn son, Steel, to a different spring training in Arizona and new home in San Francisco.
"It's hard for me. It's even harder for my wife," McCutchen said. "She was in Arizona by herself. She's in San Francisco by herself trying to raise a little baby, and most times, she's doing it on her own. That's a toll.
"She's been adjusting well. I commend her for that because it's not easy."

The Giants acquired McCutchen for one guaranteed season hoping he would fall in love with the team and city and consider re-signing as a free agent. That will not happen if he does not have a fun year.
Is he having one so far?
"
Fun is fun, man. I always
have fun," he said. "That never changes. The cameras catching me smiling, laughing, whatever, that's what I do. You might change where you are, something that you're used to, and go somewhere where you're not quite used to it. I treat the game the same way. I go out there, play it, play it hard and have fun doing it. That never changes."
What changes Friday is McCutchen happily sleeping in his own bed and awaiting an ovation from fans who will stand and cheer unabashedly.
"I'll do my best to be in the moment and cherish it," he said, "because it's not going to last very long."