By Mark Maddden
September 6, 2013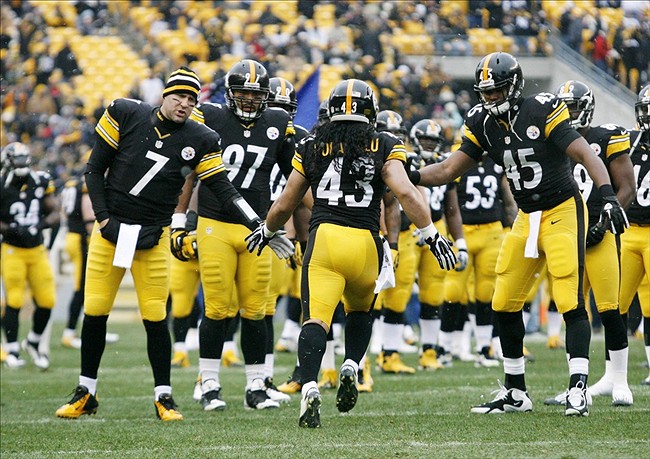 Bob Pompeani of KDKA-TV says that the Steelers could win 10 or 11 games given the right circumstances.
That's true, if the "right circumstances" include Isaac Redman developing the ability to levitate. Even then, Redman might fly the wrong way. Or straight up. That would certainly maximize possession.
So, I made a bet: If the Steelers win 11 times, Pompeani wins $1,000. If the Steelers win 10 times, it's a push. If the Steelers win nine games or less, I win $250.
The odds I provided are too generous. But they could be 10-1. 50-1. 1,000,000-1. It doesn't matter.
What evidence suggests the Steelers can win 11 games?
They could get lucky. Sixteen games is a small sample. Pompeani is hoping that Ben Roethlisberger and Troy Polamalu play every game. But even if Roethlisberger does, the Steelers haven't put him in a position to succeed. Not personnel-wise, and not via game plan.
Consider Sunday's opponent, Tennessee.
The Titans have a top running back, Chris Johnson. So they drafted a stud guard in the first round, Chance Warmack. They signed the best guard available in free agency, Andy Levitre. They signed an excellent blocking tight end, Delanie Walker.
The Titans made three moves that help maximize what Johnson does.
The Steelers let Roethlisberger's deep threat and top pass blocker both walk. Mike Wallace went to Miami. Max Starks got cut by San Diego, but the Steelers won't re-sign him. Starks is no All-Pro, but he started 16 games at left tackle last season and allowed just three sacks while taking just three penalties. How long before Mike Adams tops both figures?
The Steelers went 8-8 last year. They went 0-4 in the preseason.
It's a team that desperately needs a victory. Sunday's opener takes on added significance. It's as must-win as an opener can be.
To national experts, Tennessee is perceived to be at roughly the same level as the Steelers: Hovering near .500 and on the edge of the playoff picture. The Steelers are at home and favored by 7. It's a matchup the Steelers need to win. People will wonder what happened if they don't.
The Steelers will wonder what happened if they don't.
If the Steelers beat Tennessee, it's easy to see them going to Cincinnati and pulling the upset, or at least losing a tight game. If the Steelers lose Sunday, it's easy to see them going to Cincinnati and getting crushed.
Winning has to start somewhere. Confidence has to start somewhere.
It's easy to underestimate the Bengals. But they may have the NFL's best defensive front seven, and the Steelers' offensive line is a work in progress. James Harrison will be motivated. But if Harrison should be mad at anyone, it's himself. Pride kept him from taking a pay cut to remain in Pittsburgh, yet he took even less to go to Cincinnati.
Optimists peruse the Steelers' schedule, which they consider weak, and dare me to pick out a losing season: "A lot of those teams stink!"
That's true. But maybe the Steelers stink, too. Maybe they stink worse.
Roethlisberger has not been put in a position to succeed but will be blamed if the Steelers lose, which is likely fine by the Steelers. Besides Roethlisberger, do the Steelers have a tangible strength?
The Steelers have a stats defense: It doesn't get takeaways or win games in the fourth quarter. The offensive line has potential: It might be good, but maybe not. The rookies are talented, but how much will they play? How can the Steelers make up for the early absences of Heath Miller and Le'Veon Bell? The special teams look like the same old fiasco.
Seven wins, nine losses. Take it to the bank. I will.
Here's the worse news: The Steelers are a lot more likely to go 5-11 than they are 11-5.
Mark Madden hosts a radio show 3-6 p.m. weekdays on WXDX-FM (105.9).