March 9, 2014
Mendenhall wrote that he wasn't going to hold a news conference or announce his retirement, but after telling those close to him, there was a general sense of surprise, which led to his explanation.
Reports began to surface Saturday that Mendenhall, who would've been an unrestricted free agent come Tuesday afternoon, was planning on retiring.
"I just kind of wanted to disappear," Mendenhall said. "The fact that I was done playing would've been clear once some time had passed, and I hadn't signed back with the Cardinals or any other team. Maybe people would've thought I couldn't get another job. Either way, I was okay with the idea of fading to black, and my legacy becoming, 'What ever happened to that dude Rashard Mendenhall? He was pretty good for a few years, then he just vanished.' "
Mendenhall played six years in the NFL, five with the
Pittsburgh Steelers
, the team that drafted him, and with the Cardinals in 2013. The University of Illinois product finished his career with 4,236 yards on 1,081 carries, an average of 3.91 yards per carry, and 37 touchdowns.
Injuries plagued Mendenhall throughout his career. He suffered a shoulder injury his rookie season, a torn ACL in 2011 and turf toe in 2013.
[+] Enlarge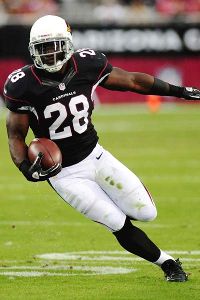 Jennifer Hilderbrand/USA TODAY SportsRashard Mendenhall, 26, explained his decision to retire from the NFL in his most recent blog for Huffington Post.
He joined the Cardinals last offseason because of his relationship with Arizona coach Bruce Arians, Mendenhall's offensive coordinator in Pittsburgh. Last season was Mendenhall's first full year playing on a healthy right knee since 2011 and he turned it into 687 yards and eight touchdowns on 217 carries.
But it wasn't the football that drove Mendenhall out of the locker room. He explained that his passion for the game was still alive and well, but his retirement was due to a combination of a few things -- having his life dissected under a microscope, wanting to live the rest of his life without the potential physical limitations that come with years of football, and his dislike with how the game has shifted toward more entertainment than fundamentals.
"Imagine having a job where you're always on duty, and can never fully relax or you just may drown. Having to fight through waves and currents of praise and criticism, but mostly hate," Mendenhall wrote. "I can't even count how many times I've been called a 'dumb n-----'."
Mendenhall said he'll travel the world and write, a sentiment he echoed to Arians after the season, according to ESPN NFL Insider Adam Schefter.
"As for the question of what will I do now, with an entire life in front of me?" Mendenhall wrote. "I say to that, I will LIVE! I plan to live in a way that I never have before, and that is freely, able to fully be me, without the expectation of representing any league, club, shield or city.
"I do have a plan going forward, but I will admit that I do not know how things will totally shape out. That is the beauty of it! I look forward to chasing my desires and passions without restriction, and to sharing them with anyone who wants to come along with me! And I'll start with writing!"