By
Scott Brown
http://espn.go.com/blog/pittsburgh-steelers
March 7, 2014
Troy Polamalu
has long been a fan favorite in Pittsburgh.
[+] Enlarge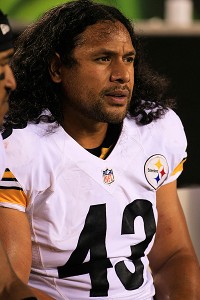 AP Photo/Tom UhlmanTroy Polamalu may have lost a step, but it was a no-brainer for the Steelers to bring him back.
However, it is anything but unanimous among Steelers fans that the team made the right move in signing the strong safety to a three-year contract, according to an ESPN Sports Nation poll.
Among the more than 23,000 people who voted earlier this week on whether the Steelers should release Polamalu or retain the eight-time Pro Bowler, 39 percent opted for the team cutting ties with him. More telling is 76 percent of more than 31,000 voters in a different poll think that Polamalu will play at an elite level for one more season at most with half of those saying Polamalu is no longer a premier player.
Steelers president Art Rooney II made no secret of his desire for Polamalu to play his entire career in Pittsburgh, and that surely contributed to the new contract that will likely make that happen.
But much more than nostalgia drove the deal between the Steelers and one of the most iconic players in their illustrious history.
Polamalu signed a cap-friendly contract that allowed the Steelers to lower his cap number by $4.5 million in 2014, according to ESPN roster management, without saddling them with much onus should they part ways with him after next season.
The Steelers are only on the hook for $4.5 million in salary-cap money -- Polamalu's signing bonus of $6.75 million is spread out over the life of the three-year contract -- if he doesn't play in Pittsburgh beyond 2014.
Aside from the financial ramifications of the deal, the Steelers had to bring Polamalu back for at least one more season. With the team unlikely to re-sign
Ryan Clark
, there is no way that the Steelers could into next season with two new starting safeties, especially if one of them is second-year man
Shamarko Thomas
.
And yes, Polamalu turns 33 next month, but he has tapped into something with a training regimen that allowed him to hold up remarkably well last season.
Polamalu played every snap in 2013 after missing nine games the previous season because of a recurring calf injury. A significant number of those snaps came at inside linebacker, which Polamalu played when the Steelers used six defensive backs.
Polamalu may have lost a step and is susceptible in coverage, particularly against good quarterbacks who exploit his propensity to gamble. But he has never been an
Ed Reed
-type safety anyway.
Polamalu remains what he has always been at his core: a playmaker who always seems to be around the ball.
He recorded 85 tackles last season, and his five forced fumbles were only two less than what he produced in his first 10 NFL seasons. Polamalu also intercepted a pair of passes, returning one of them for a touchdown.
Given his willingness to accept a contract that helps the team now and doesn't hamstring it in future years as well as his value to a defense that needs all of the playmakers it can get, it turned out to be a no-brainer for the Steelers to re-sign Polamalu.