By W.g. Ramirez
http://triblive.com/sports/
Published:
Tuesday, June 24, 2014, 10:27 p.m.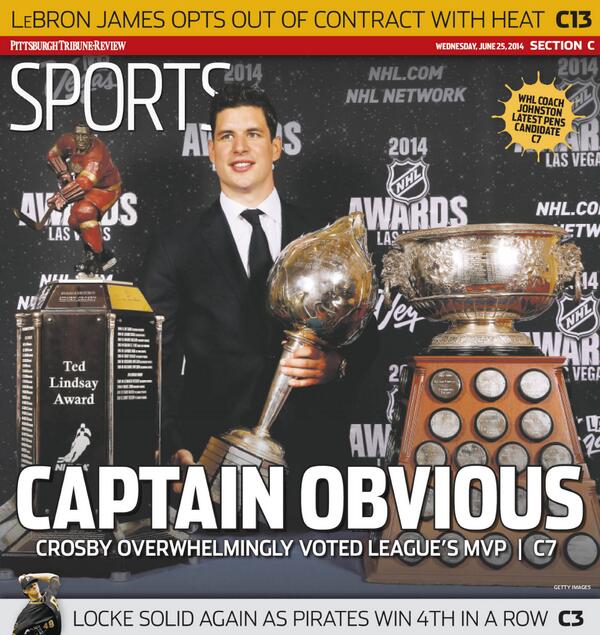 LAS VEGAS —
Penguins
star Sidney Crosby finally can bring closure the 2013-14 campaign.
Crosby collected three trophies, including his the Hart Memorial Trophy as league MVP, Tuesday night at the NHL Awards show at Encore Theater at Wynn Las Vegas.
It was Crosby's second league MVP as voted by hockey writers — he won after the 2006-07 season. He claimed 128 of the 137 first-place votes.
Crosby also won the Art Ross Trophy as the league's leading scorer, but he said winning the Ted Lindsay Award — given to the most outstanding player as voted by the players — for the second consecutive year carried special meaning.
"They're all special. I don't think you can put one ahead of the other," Crosby said. "Not to take anything away from the writers, (but) seeing those (players) every night, competing against 'em, I think it definitely means a lot to kind of get that recognition amongst the guys you play against."
Crosby also won the Art Ross Trophy in 2007.
"I think looking back at 19, I probably took it for granted," said Crosby, now 26. "When you win (the Hart Trophy) that young, you probably expect to win it maybe sooner. You might think it's a little easier than it actually is. You need a lot things to go right. You need to play with some good players. ... I'm happy to be able to do that this year."
Before the event, talk shifted to the state of the Penguins, Crosby's thoughts on a new coach and how new general manager Jim Rutherford has handled the search after three weeks on the job.
"I think it's something that hopefully will help us, give us a bit of a boost," Crosby said of Rutherford's hiring. "Sometimes changes need to be made.
"It doesn't make it any easier, but at the end of the day, maybe this is something that hopefully we can build from."
After the Penguins dropped to 2-7 all time at home in Game 7s — including three such losses in the past five seasons — while squandering a 3-1 series lead to the New York Rangers in the Eastern Conference semifinals, the team fired GM Ray Shero. Three weeks later, Rutherford fired coach Dan Bylsma.
"I've only talked to Jim a little bit, but he seems like a guy who's ... he's been around a long time. He's won a Stanley Cup. He's got a ton of experience," Crosby said.
Crosby said it's taken some time to move on from the team's disappointing exit from the playoffs.
"It stung, probably, the toughest after the season since probably the year we lost in the finals (in 2008), for different reasons obviously and probably even more than that," Crosby said. "But those challenges and that adversity is sometimes what you have to go through to be better, and hopefully that's something we can learn from as a group and personally I can be better for it."
W.G. Ramirez is a freelance writer.


Read more: http://triblive.com/sports/penguins/6332271-74/crosby-trophy-probably#ixzz35eDUwQ3i
Follow us: @triblive on Twitter | triblive on Facebook