June 25, 2014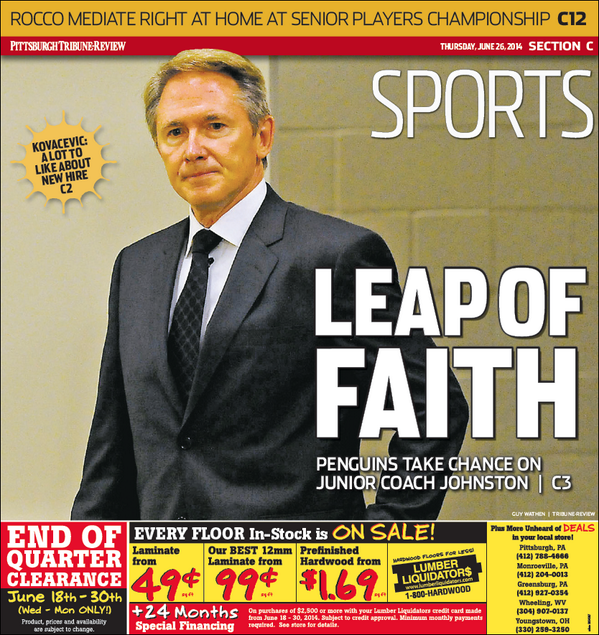 Mike Johnston's tenure as the
Penguins
' 21st coach won't be measured by his resume to date. Nor name recognition. Nor the respect he'll immediately command. Nor anything related to Jim Rutherford's farcical search that finally led to Johnston's introduction Wednesday at
Consol Energy Center
.
No, not even the new GM's face-palm line that "I feel very strongly that we got the right coach," this after his first two choices bolted, Bill Peters to Carolina and Willie Desjardins to Vancouver.
Man, couldn't that have come with a laugh track?
Ultimately, though, it won't mean a blessed thing. None of it.
Here's what will: "Once players understand their role and how they fit into the big picture, whether you're a 22-minute guy or a 16- or a 10-minute guy, you want to be part of it, to know where you fit in."
That, believe it or not, was part of Johnston's answer to my question about how a coach who has spent the past half-decade with the junior-level Western Hockey League's Portland Winterhawks will handle stars such as Sidney Crosby and Evgeni Malkin. There was more to the answer, of course, but I isolate on this slice for the simple reason that his system seemed to be the foundation for all his answers, whether about stars vs. slugs, regular season vs. playoffs, character, chemistry, talent, toughness, any issue that might concern the Penguins as presently constituted. It was all about the system.
And I'm not going to hold back: I really welcomed what I heard.
Listen for yourself: "My strengths have been building a program, building a template and building an identity so the identity is clearly understood by the staff, the players, and we're in sync. That's important in any line of work. From an identity, there are core things you're going to be able to see, and you're going to see that when the Pittsburgh Penguins play."
That's
what this team has lost, above all else, these past couple of years.
And yes,
that's
where Johnston could make enough of a difference that how he and the Penguins arrived at his hiring won't matter a whit.
See, when I pressed both Johnston and Rick Tocchet, the team's terrific choice for assistant coach, about their preferred style of play, what emerged most powerfully was that they want the team to get back to being a pack. No more of those high-risk 150-foot stretch passes that were at the core of Dan Bylsma's beautiful-when-it-worked but far-too-inconsistent system. No more wingers being caught flat-footed if they got the puck. No more Crosby and Malkin being first on the forecheck. This will be about playing sound defense then breaking out quickly, aggressively and, above all, by being there for each other.
"I prefer to come up together," Johnston said. "I think there are more options for the puck-carrier. Once you stretch the zone, if you do it too quick, the puck-carrier is often isolated, and he then has to chip the puck in, and there's no support."
Sound painfully familiar?
"I'd like to start it up the middle, if possible, then distribute to the sides as needed."
Because, you know, Crosby and Malkin.
"It's ideal for them, yes."
"We want to be a puck-possession team," Tocchet said to the same topic. "That's what the playoff teams are. The teams holding the puck are the ones getting power plays. They also don't have to play as much defense. We want guys who know how to support the play
and
can hold onto the puck themselves. Don't give somebody else your problem. You might have to take a check, but don't just get rid of it. We'll give you options."
I could get into more detail, but that alone already makes for a far better match for the personnel.
And don't dismiss what it might do for the team's personality: All that frustration, all that bad body language we saw from the Penguins in these past playoffs, don't think for a second that didn't have to do with a system that afforded almost no puck support. When they did fare well with possession, it was almost invariably due to some great individual dangling. When they didn't, it was every skater for himself. That can suck the life out of the best of them.
Look, there are legit concerns about Johnston. He's 57 and has achieved little in the NHL beyond eight years as an assistant or associate coach, he's coming back cold after a long time in the juniors, and he was suspended by the WHL for most of the 2012-13 season for rules violations as Portland's GM. The latter was minor stuff — plane tickets for parents, cell phones for players and the like — but it's hardly ideal.
At the same time, Johnston comes with pedigree. He's coached stars, including Wayne Gretzky, with the Canadian national teams. His Portland teams reached the WHL finals the past four seasons, no easy feat with constantly changing talent. He's co-authored two books on hockey strategy, a testament not only to his smarts but also his visible thoughtfulness in how he conducts himself.
For now, I like the plan, and I'm willing to trust the man.
Dejan Kovacevic is a staff writer for Trib Total Media. Reach him at
dkovacevic@tribweb.com
or via Twitter @Dejan_Kovacevic. Add Dejan Kovacevic to your
Google+
circles.


Read more: http://triblive.com/sports/dejankovacevic/dejancolumns/6344274-74/johnston-puck-penguins#ixzz35k6CztQV
Follow us: @triblive on Twitter | triblive on Facebook