By
Scott Brown
| ESPN.com
http://espn.go.com/blog/pittsburgh-steelers
February 3, 2015
PITTSBURGH -- Dick LeBeau is a Pro Football Hall of Fame player, one of the great innovators in NFL history, and a scratch golfer who regularly shoots south of his age.
As with football, he probably has forgotten more about history and music than most people will ever know, and the Renaissance man with the folksy touch displayed Tuesday morning his considerable skills as a storyteller.
With family, friends and two of his former players packed into the stately wood-paneled room where Pittsburgh City Council meets, LeBeau bid a poignant farewell, even if he stopped short of calling it that, right before he was presented with a symbolic key to the city.
[+] Enlarge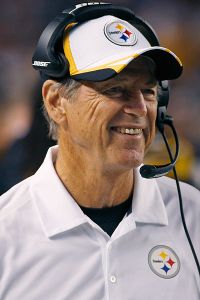 AP Photo/Gene PuskarLongtime Steelers defensive coordinator Dick LeBeau was presented with a symbolic key to the city on Tuesday, and City Council proclaimed February Dick LeBeau Month in Pittsburgh.
The longtime
Pittsburgh Steelers
defensive coordinator, who parted ways with the organization last month, paid tribute to the defense that might be the nearest and dearest to his heart. He did a Myron Cope imitation so spot on that the late Steelers broadcaster had to be waving a "Terrible Towel" somewhere.
And after City Council had officially proclaimed February Dick LeBeau Month in Pittsburgh, he neatly summed up the ceremony in four words.
"Pretty cool day, huh?" LeBeau said.
Yes, yes it was.
LeBeau added another honor to a lifetime that is full of them -- and one that is rarely bestowed upon an assistant coach.
Then again, LeBeau was much more than that during his two coaching stints in Pittsburgh.
He is the only coach or player to take part in all four Steelers' Super Bowls post 1970s. And his famed zone-blitz concepts helped make the Steelers' defense one of the nastiest ones in the NFL for almost a decade.
Indeed, LeBeau compared the 2008 defense that allowed the fewest yards (237.2 per game) and points (13.9 per game) in the NFL -- and led the Steelers to their sixth Super Bowl title -- to the Steel Curtain units that owned the 1970s.
In typical LeBeau fashion he downplayed his role in the success of the defenses that were the foundation of the teams that played in three Super Bowls from 2005-10 and won two.
"I got to ride along and I enjoyed it and I certainly enjoyed today," said LeBeau, 77, who coached the Steelers from 1992-96 and 2004-2014 and was their defensive coordinator for all but three of those seasons.
His players know better, which is why outside linebacker
James Harrison
and defensive end
Brett Keisel
attended the ceremony that officially honored LeBeau's contributions to Pittsburgh.
"Football-wise he'll go down as one of the greatest ever, but why James is here and why I am here is because of what he did for us off the field," Keisel said when the floor was opened for remarks following the proclamation of Dick LeBeau Month in Pittsburgh. "It was much-needed for a group of guys who were wild and crazy and could have easily went the other way. I'll forever be grateful for his influence in my life. I love you to death, coach."
Bill Priatko, who formed an enduring friendship with LeBeau when the two were rookie roommates at
Cleveland Browns
training camp in the late 1950s, said LeBeau has never changed despite his success.
"Everybody knows what he is as a coach, but many, many people have found out what kind of man he is," said Priatko, one of LeBeau's closest friends. "His loyalty, his love for people, his integrity. He made everybody feel like he was the most important person in the world. Like Brett and James and all of the guys who have played for him, I say the same thing: Coach, I love ya."
One of LeBeau's signatures while with the Steelers was his stirring reading of "'Twas The Night Before Christmas" every year at the team Christmas party. He borrowed from the last line of that timeless poem to close his 10-minute speech Tuesday morning.
"God bless you all, people of Pittsburgh," LeBeau said, "and to all a good night."