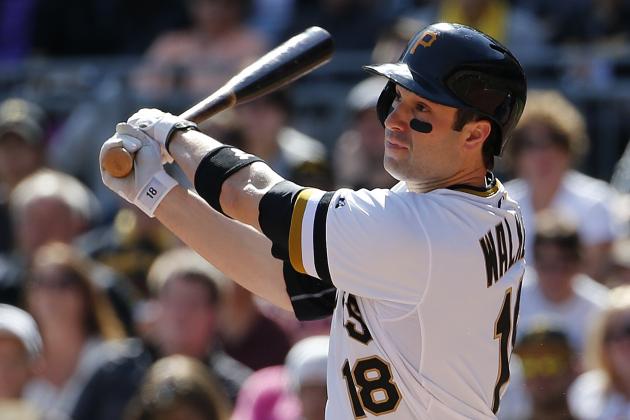 Photo: Gene Puskar/AP
BRADENTON, Fla. — It took four months of waiting, a few fruitless rounds of negotiations and finally a three-person board of arbiters to settle second baseman Neil Walker's contract for the upcoming season.
All the while, Walker watched as Pirates management stockpiled infielders. The new arrivals include Korean league MVP Jung Ho Kang, who spent a few weeks being tutored at second base after signing a four-year, $11 million free agent deal.
Walker, 29, a former first-round pick out of Pine-Richland, always has yearned to wear a Pirates uniform his entire career. He still wants that.
But there are no guarantees things will work out.
"This organization is all I've known, and hopefully it will be the only one I ever know," Walker said Tuesday in an exclusive interview with the Tribune-Review. "But it's an interesting part of my career right now. This offseason has been an emotional roller coaster with some of the things that have gone on."
Does Walker still have hope he can reach an agreement on a multiyear contract with the Pirates?
"I've bled black and gold my entire life. And I've always seen myself as about as optimistic a person as there is," Walker said, choosing his words carefully. "But ... that's a hard question to answer after this offseason. I am optimistic, but at the same time ... there are so many different factors that go into this."
Signing Walker to an extension likely would require a package of about four years and $54 million — about $3 million more than the Pirates have committed to All-Star center fielder Andrew McCutchen. From the team's standpoint, that's a risky proposition for an infielder in his late 20s with a history of back injuries.
General manager Neal Huntington declined to comment on the possibility of an extension for Walker.
"We typically save comment on any specific trade rumor or contract discussion for if and when we have something to discuss and/or announce," Huntington said via text message.
Walker has one year of arbitration eligibility left, meaning he will become a free agent after the 2016 season. If the chances of working out an extension are slim, the Pirates may opt to trade Walker before he hits the open market.
The Pirates discussed a long-term deal with Walker in August 2011, around the same time outfielder Jose Tabata agreed to a six-year, $14.75 million contract. When those talks with Walker stalled, sources say the Pirates essentially backed away from the table during the next three years.
During MLB's annual Winter Meetings in December, reports surfaced that the Pirates wanted to reopen negotiations. Huntington said he appreciates Walker's talent and local ties — and then added a caveat.
"There are two parties to a negotiation," Huntington said in December. "Sometimes those two parties find a common ground and a deal is struck. Sometimes they don't. If we get to that point, and hopefully we will, then we'll have an extension announcement for Neil. If not, we'll continue to do what we do behind the scenes and leave it at that."
Walker batted .271 with a career-best .467 slugging percentage last season. He hit 23 home runs, the most in a season by any Pirates second baseman. MLB Network recently ranked Walker the fourth-best second baseman in the majors going into the 2015 season. He was the top-ranked National League player on the list.
Unable to agree to terms for this season, Walker and the Pirates went to arbitration. Walker asked for $9 million, and the team offered $8 million.
Each side made its case during a bruising, five-hour hearing Feb. 7. The panel sided with the Pirates.
"As a player, you get older and start to learn the business side of baseball a little bit more, and you have to deal with that from an emotional standpoint," Walker said. "Certainly, the arbitration process is something nobody really wants to go through, but sometimes it goes there. It's not any easier if things happen good, bad or in between. It's part of the game. You learn from the experiences."
A six-year veteran, Walker was among the first players to check into Pirate City for spring training, which opens Thursday. He arrived weeks before the Feb. 25 reporting deadline for position players.
"I'm excited about this year," Walker said. "We've got a great team. All the contract stuff for this year is put aside, so I'm ready to go. But there's no telling what will happen."
Walker paused.
"My thought process now is helping this team win a world championship. We have the group to do it here. My role on this team is to be a leader, on and off the field, and to play hard and represent this team in the best way I can. I think we're going to have a good year, and I think I'm going to have a good year. We'll see how it plays out."


Read more: http://triblive.com/sports/pirates/7794292-74/walker-pirates-season#ixzz3S6IxUuE8
Follow us: @triblive on Twitter | triblive on Facebook