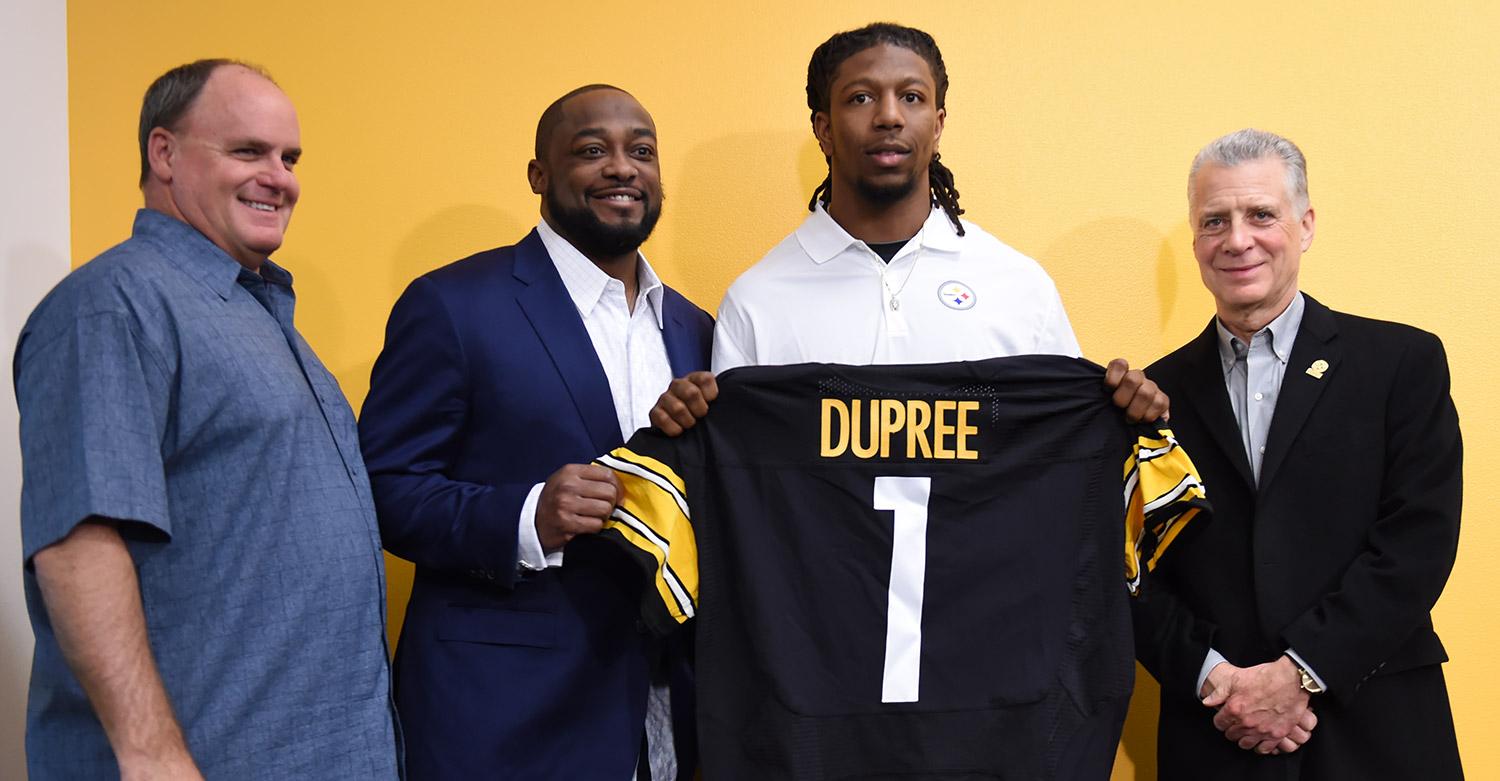 GM Kevin Colbert, HC Mike Tomlin, 2015 1st rd draft pick Bud Dupree and team president Art Rooney II.(Steelers)
Stay away from the eggnog. Apparently, it has been spiked. People actually believe the Steelers should fire Mike Tomlin.
I believe in the Rooney Way.
I don't believe Pittsburgh's best owners — if not the best owners in NFL history — are listening to the crazy talk calling for the Steelers to change coaches.
Dan Rooney turned the Steelers into
the Steelers
. He found Chuck Noll when Joe Paterno turned him down in 1969. When choosing Noll's successor 22 years (and four Super Bowl wins) later, Rooney picked Bill Cowher over Dave Wannstedt. After Cowher's 15-season run, Rooney shrewdly turned a ready-to-win-again team over to Tomlin instead of Cowher assistants Ken Whisenhunt or Russ Grimm.
If two out of three ain't bad, how long past all night will we need to talk about Rooney's perfection regarding coaching hires? His guys have combined for a 466-311-2 record, 20 division titles and six championships.
Maybe some of you don't trust Tomlin. I trust the track record of the guy who handed his Steelers over to Tomlin.
Even if we disagree on Tomlin's job performance, we should remember when a Steelers coach's job security last was a topic of debate. Then, as has been the case for the Steelers' best years, Rooney knew better than everybody else.
He stuck by Cowher when the Steelers went 22-26 and missed out on the playoffs from 1998-2000, but that faith was not blind.
Changes were demanded of the Crafton-born Cowher. And by listening to his boss, a pretty good coach became really, really good.
Over his final six seasons, Cowher delegated more authority to coordinators. Developing young players continued to be a priority, but trust in them improved because Cowher worked well with Kevin Colbert, Tom Donahoe's successor as director of football operations.
Cowher's run with the Steelers ended successfully and nearly legendarily. His teams won 63 of 96 regular-season games and a Super Bowl. If not for Bill Belichick's Patriots, Cowher might have won three championships from 2001-06.
Instead, he settled for the one he had promised Rooney when hired in 1992.
"When people ask me about why the Steelers' coaches work out, I always tell them the same thing: Dan Rooney," Tony Dungy said. "Dan knows what he's doing, especially with coaches.
"It's because Dan trusts his process to find the right person to coach his football team. And because he trusts that process, he trusts the coach to make it work.
"It doesn't always work in this league. Not every year. But when it doesn't work for the Steelers, the coach gets to work on fixing it with Dan Rooney instead of getting fired."
So, this offseason, Tomlin and Rooney will get to work fixing it and…
Only the Rooney he likely will work closest with is Dan's son, Art II, the Steelers president. Steelers fans should consider themselves fortunate that Art II shares his father's willingness to get involved and unwillingness to do something crazy like other owners.
If you like what Ben Roethlisberger has become as the Steelers' franchise quarterback, you should feel better about Art II.
Whatever anybody says otherwise, it was his call to bring in Todd Haley as offensive coordinator. The Chief's grandson made that call even though it wasn't popular with Roethlisberger, despite it looking as though the team president — not the coach — was dictating staffing decisions.
Art Rooney Sr. is beloved, but the Steelers never won until his son, Dan, assumed major decision-making responsibilities. Art Rooney II has proven himself a worthy successor.
If the Steelers aren't in the playoffs come Sunday night, or if they are yet fail to win a postseason game for a fifth consecutive year, Art II should sit Tomlin down and ask some hard questions.
Why are the Steelers, with 19 top-five scoring defenses since the NFL-AFL merger, about to go a third consecutive year outside the top 10?
Why have the Steelers, with an AFC North-leading six division titles, lost 8 of 11 to the Baltimore Ravens and gone 8-10 against Ravens coach John Harbaugh?
Why don't the Steelers beat up on sub-.500 teams instead of getting beaten by them?
And why aren't draft picks developing into better players or at least sticking around?
Tomlin needs to answer those questions. He also needs to find solutions. But Tomlin isn't a problem.
The Browns have problems. The Eagles have problems.
The Steelers have a coach who never has led them to a losing season.
Tomlin has led the Steelers during a transition from a franchise that wins with defense to one that wins with offense in a pass-happy NFL. He is leading the rebuilding of the defense.
At his current pace, Tomlin will be just 53 when he passes Noll for the most wins (193) in Steelers history.
But sure, fire the coach.
Next week, we can talk about cutting Big Ben. After that, we can explore putting decals on both sides of the helmet.


Read more: http://triblive.com/sports/robrossi/9716074-74/steelers-rooney-tomlin#ixzz3wBcxYjPC
Follow us: @triblive on Twitter | triblive on Facebook