By
Adam

Gretz
| Hockey writer
http://www.cbssports.com/nhl/
January 2, 2016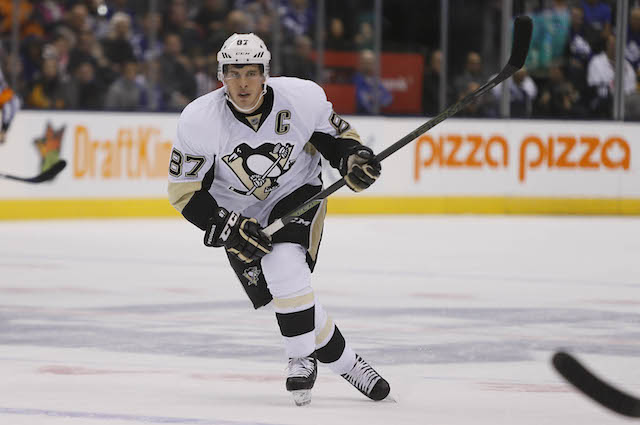 Pittsburgh Penguins forward Sidney Crosby is playing like Sidney Crosby again.
(USATSI)
After their 5-2 win over the New York Islanders on Saturday, they are right back in the thick of the Eastern Conference playoff race.
But all of those changes are secondary (and a very distant second) to the biggest factor in their improvement.
The fact that
Sidney Crosby
is starting to play like Sidney Crosby again.
Crosby's sudden drop in production over the first two months of the season was one of most stunning developments in the NHL. Nobody seemed to have a solid answer for why the player that was the most productive player in hockey for over a decade suddenly started scoring like a second-or third-liner.
Thanks to his two-goal effort on Saturday, Crosby has now scored a goal in four of his past five games and is quietly starting to pile up points at a more Crosby-like pace.
The turnaround seemed to start right around the time he made one small -- but also significant -- change to his game.
He started shooting more.
Back on Nov. 25, I looked at Crosby's struggles offensively to that point
and noticed that he was taking significantly fewer shots than he had in recent years
. The objective numbers confirmed the subjective eye test that seemed to suggest he was deferring too much to his linemates and defensemen and allowing
them
to take more shots. When you have the best player in hockey, you want
him,
and not anybody else
,
putting the puck on net as often as possible.
Before their game against the St. Louis Blues that night, Crosby had taken just 20 percent of the Penguins' 5-on-5 shot attempts when he was on the ice, by far the lowest mark of his career, and as a result was only averaging 2.6 shots on goal per game, also the lowest mark of his career.
That night he went out and put nine shots on goal, attempted two additional shots that did not reach the net, and scored a pair of goals.
He has been a different player ever since.
A month-and-a-half later and he is now taking more than 25 percent of the Penguins' shot attempts when he is on the ice for the season, the same level he was at during his peak years in 2010 and 2011 when he was scoring at a 50-goal pace every year. He has also averaged 3.5 shots on goal per game since Nov. 25. Those are significant changes, and it's not a coincidence that his overall production has skyrocketed since then. After Saturday's game he now has 18 points in the 16 games over that stretch, including eight goals (a 40-goal pace over 82 games).
His rediscovered shoot-first mentality has been on display over the past week, as his second goal against the Islanders on Saturday, as well as his goal against Toronto on Wednesday, were the type of shots he was not taking earlier in the year.
There is no doubt that the system the Penguins were playing under then-coach Mike Johnston played some role in that. Johnston was asking his centers to take on more defensive responsibility than they had in years past and it had to impact, at least a little, what they could do offensively. My guess is that change was partly related to Johnston not fully trusting his defense to make plays with the puck and instead asking his forwards to cover up for for that by coming back deeper into the defensive zone.
But part of it was the play of Crosby himself. Once he did get the puck into the offensive zone he seemed to make some bizarre decisions on a nightly basis and seemed to be hesitant to just let it rip when he had the opportunity. This especially seemed to be true early in the season when he was skating with
Phil Kessel
as his first instinct was almost always to try and get the puck to him as much as possible.
The fact that his shot numbers started to increase before the coaching change seems to suggest that it was not all system related.
An extra shot on goal per game might not seem like a big deal, but it is, and it adds up over the course of a season. One extra shot per game over 82 games at a 14 percent shooting percentage (Crosby's career average) is an extra 11 goals over a full season for him alone. And that doesn't get into the extra goals it might create that don't go in off of his stick (like rebounds and second-chance opportunities).
The Penguins still have some flaws on their roster that need to be addressed, especially on their blue line. But they do have a deeper group of forwards than they have had in years past, which should help them. But they still need Crosby and
Evgeni Malkin
to be their best players.
Malkin has been for most of the year. And now that Crosby is starting to join him, it could be setting the Penguins up for an improved second half.