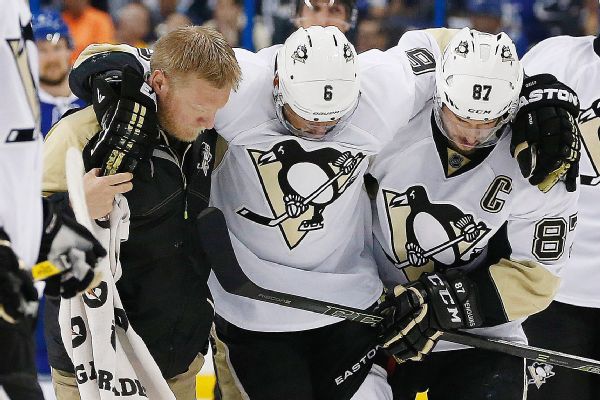 Trevor Daley exits Game 4 with a leg injury.

Kim Klement/USA TODAY Sports
The Game 4 snapshot I can't seem to shake: Trevor Daley, unable to stand after injuring his leg in the corner, crawling back into the danger area in front of his goaltender and positioning himself on all fours until the whistle blew.
How unbelievable was that?
This whole thing is unbelievable.
The Stanley Cup playoffs, I mean. If you're a fan and had forgotten what it's like to live and die with a team through all the insanity, given the Penguins' meager exits in recent years, this spring has provided one whale of a refresher course, hasn't it?
One minute it's a breath check. The next it's a gut check.
One minute, I would imagine, you're giddy because your team just rang up 48 shots, took a 2-1 series lead and invited a famous wrestler to what will absolutely, positively be a series-clinching Game 5.
The next you're hiding under a table, wondering who your goalie is and how your team is going to survive without a critically important defenseman.
Embrace it, I say. It's the ultimate sports fan thrill ride. The Thunderbolt and the Pittsburg Plunge combined. You're screaming in delight. You're shivering in fear. You're soaking wet. You're burning hot. You're breaking things. You're dishing high fives.
You're Phil Kessel belly laughing with Pierre McGuire.
You're Phil Kessel burying your head on the bench after a long shift.
The temptation, always, is to believe the tenor of one game will carry into the next. But that usually doesn't happen. Remember Game 3 against the Capitals, when Washington posted an 85-36 advantage in attempted shots and looked as if it would wrest control of the series even though it lost the game?
Everything changed. Nothing carried over.
A classic example from recent Penguins history was Game 5 against the Red Wings in the 2009 Stanley Cup Final. The Wings crushed the Penguins, 5-0, to grab a 3-2 series lead. Evgeni Malkin lost his mind, taking three penalties. Marc-Andre Fleury got pulled. The series was finished.
Except it wasn't.
I fell into the trap after Game 3 of this series. The Penguins appeared to be getting better with each game. I wondered if this would be a reprise of the 2009 conference finals against Carolina.
Silly me. The Lightning now have participated in 40 playoff games in the past year. They've tried all the rides.
Tampa Bay controlled much of Game 4 before nearly falling apart late, and now everybody is wondering whether the Penguins' dominant third period will carry over to Game 5.
They're also wondering whether Fleury, whose third-period presence seemed to spark his teammates, will at long last regain his net. Coach Mike Sullivan wouldn't say when asked Saturday morning, and that might be telling.
The last time there was such a clamoring for Fleury was after Matt Murray's Game 5 loss at Washington. In that instance, Sullivan broke with tradition and announced his starter the day before the game, strongly backing Murray.
There was no such statement Saturday.
Murray has not played poorly. I just think he's gone from special to good, and good might not be good enough when the other guy is great. Andrei Vasilevskiy has been the best goalie in this series, spectacular even in defeat.
"He's been our best player," Lightning defenseman Jason Garrison said.
Murray could have been pulled from Game 1. He was a shot away from getting pulled in Game 2. He was pulled from Game 4. No matter the circumstances, that is not an encouraging trend.
I'm guessing we'll see Fleury. The timing seems right, but there is risk. He hasn't started a game since March 31. The dynamic from the third period of Game 4 — Lightning in passive mode with a big lead — won't be the dynamic for Game 5.
Of course, goaltending is just one factor moving ahead. Sullivan also has a horrifying decision to make: Olli Maatta or Derrick Pouliot, or both, in for Daley.
Among the other myriad concerns, the Penguins need Kris Letang to stay composed, Malkin to stay awake and the bounces to go their way.
It's never easy. It's the Stanley Cup playoffs.
If your seat belt isn't fastened by now, by all means, buckle up.