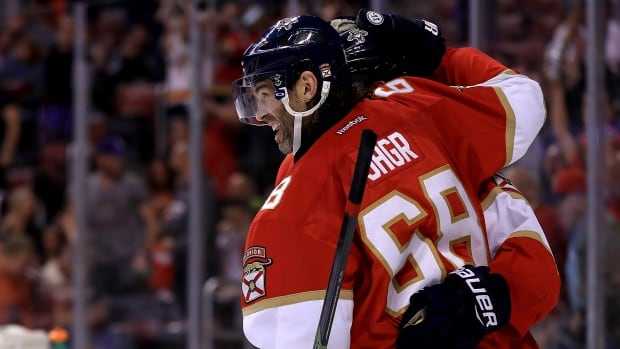 Jaromir Jagr celebrates after scoring his 750th career goal on Thursday. (Mike Ehrmann/Getty Images)
The Penguins (and their fans) started a long and tumultuous relationship with Jaromir Jagr on June 16, 1990. The young Czechoslovakian with the flowing mullet, great hands and whimsical -- and sometimes strange -- personality was selected fifth in the NHL Draft and almost immediately stole the hearts of all involved.
He was heard reading weather reports on the radio before he could fully grasp the English language. He was dubbed Mario (Lemieux) Jr. when people realized that shuffling the letters of his name spelled it out while he was lighting up scoreboards around the league.
Jagr joined Lemieux and many other future Penguins' Hall of Famers to win two Stanley Cups and was the clear heir to the hockey throne in Pittsburgh. He would ride sidecar to Lemieux until the latter moved on.
Unfortunately, it didn't play out as hoped.
The love affair burned white hot for more than a decade before fizzling into animosity and distain. There was a much-ballyhooed "he said, she said" situation that stemmed from Jagr saying that he was "dying alive," although many believe that comment to have been taken out of context. Lemieux had just returned to the ice and the team's financial issues at the time took their toll, making it difficult to maintain Jagr's contract.
It all resulted in a trade that sent the misunderstood superstar to the Washington Capitals in what now looks like one of the most lopsided deals in NHL history.
Jagr was just 29-years-old when his time in Pittsburgh ended, but he had accomplished more than most do in their careers. He had quickly become one of the most dangerous scorers in the game, producing highlight-reel plays on a nightly basis.
Between the lockout shortened '94-'95 and '00-'01 seasons, he won one Hart Trophy, five Art Ross Trophies (including four in a row from 1997 to 2000) and was an All-Star in each of those seven seasons. He skated in Pittsburgh for 11 years, playing 806 games and scoring 439 goals, 640 assists to total 1079 points.
He left a city, an organization and thousands of fans feeling empty when they lost their hockey prince.
Which is why it was so much harder when the he and the Penguins flirted with a comeback over the years. It's always easier to give those we love a second, or even third chance and that came close to happening in 2011. The two sides came close to reconciliation, before hearts were again left broken. That pain was made even worse when Jagr opted to sign with Philadelphia and was part of a Flyers team that beat the Penguins in the 2012 playoffs.
But even after all of that, admit it, you still love Jaromir Jagr.
Jagr's hair blows in the breeze during the skills competition at the 1998 All-Star Game
He's been gone longer than he was here and that has allowed time for old wounds to heal. The Kladno Kid, as he was once affectionately called in local circles, has used the last 16 seasons to shoot up the all-time lists in almost every statistical category.
He's behind only Wayne Gretzky and Mark Messier in career points with 1,871. He scored his 750th goal last week, putting him behind only Gretzky and Gordie Howe on that list. He comes to Pittsburgh on Tuesday as a member of the Florida Panthers trying to add to those totals.
What once were boos have been replaced with cheers. Jagr is still very much himself and there is no doubt that he'll hit us all with some colorful commentary when he meets the local media.
Even the Penguins have seemingly begun the healing process, featuring him in video montages and intros over the past two seasons. He'll undoubtedly be a part of their 50th anniversary celebrations this season in some form, which is as it should be.
The Jagr of today doesn't seem so misunderstood. He is smiling a lot, just like the kid that arrived in Pittsburgh in 1990, and he's still lighting up scoreboards around the league.
Oh, and he's growing back that signature mullet, which has everyone feeling nostalgic. It was even immortalized with a bobble head at a recent Panthers' game.
The player has joked often about a desire to play until he is 50. Anyone who knows him doesn't doubt that he's fully capable of pulling off that feat, but you never know if it will actually happen.
So days like Tuesday should be celebrated.
Jagr might have left a void in our hockey hearts when his time here ended, but each return gets a little more special because you never know when it will be the last.
It's ok to throw a little adulation his way. He'll always be a little bit more ours than anyone else's.