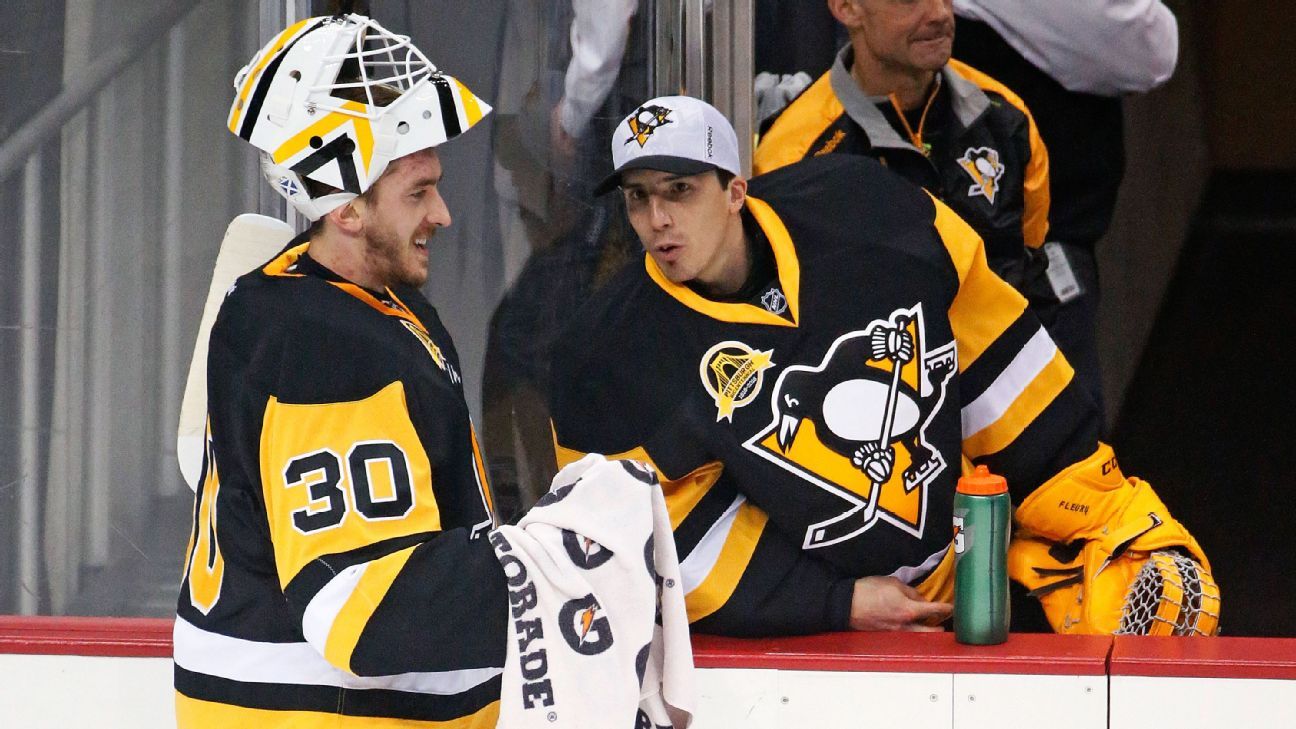 Even before Matt Murray raised his arms to celebrate winning the Stanley Cup on the ice in San Jose in June, the question of which goaltender would man the net for the Penguins in the 2016-17 season already had been raised.
General manager Jim Rutherford and coach Mike Sullivan bought themselves some time to answer when Murray was lost for 4-6 weeks with a hand injury. What looked like Murray's net will be Marc-Andre Fleury's to start the season. What the Penguins' other Cup-winning goaltender does with that chance could cloud future decisions.
Murray is set to miss all of October and potentially a week or two of November. If that holds up, Fleury will play the bulk of those games. He could feasibly play all nine October games because there are no back-to-back situations. They won't see one of those until Nov. 2 and 3 when the team embarks on a West Coast road trip to Anaheim, Los Angeles and San Jose.
The October schedule isn't an easy one by any means, but they will play six of the nine games on home ice. This team had an outstanding home record last season going 26-11-4, while Fleury went 21-8-2 in his home dates, winning roughly 65 percent of those games.
He wasn't much worse than that on the road and finished the season with a .603 winning percentage.
If he manages to that same thing through those initial nine games, he'd be entering November with a 6-3-0 record. Would those numbers be enough to keep Sullivan from automatically getting Murray back into the net on a regular basis upon his return?
If Murray needs an extra couple of weeks, it would put his return somewhere around the team's game in Washington on Nov. 16. There will have still been only one set of back-to-back games at that point, which means Fleury will have played something like 12-13 games. Sticking with last season's winning percentage, Fleury could potentially have nine or 10 wins when Murray returns.
Sullivan is not one to play favorites. He is more than comfortable sticking with what works, but he seems to have a bit of a soft spot for Murray. Not only did Murray backstop the team to the Stanley Cup, he worked with Sullivan in Wilkes-Barre/Scranton, and Sullivan has given players who have moved to Pittsburgh with him plenty of opportunities.
If Fleury performs as expected, it would allow Murray time to transition back into the lineup slowly. He wouldn't have to rush back and they could move into something of a timeshare down the line, if and when needed.
The elephant in the room, though, is Fleury's contract. He makes $5.75 million per season and will do so through 2018-19.
While it is a bargain in terms of others around the league, the Penguins call ill afford to live luxuriously. In a cap driven league, having two Stanley Cup-winning goaltenders is one of those luxuries, especially considering Murray is still on his entry-level deal and will be in need of a new one for next season. Murray will be arbitration eligible and the team could probably get him to sign a bridge deal, which has become the norm for second-contract players in the NHL, but his price is still going to go up.
Is he on par with Fleury? Maybe not, but he has already shown that he is capable of backstopping this team to a championship. He could regress or become exposed at some point, but that is a chance that the team may need to take.
Rutherford has said that he has a plan. He wants to keep both of these players long-term and that they can do that even in light of the expansion draft that will stock the roster of the incoming Las Vegas franchise next summer.
He could make a side deal to make that a reality. But it's not realistic that the team will continue to walk the tightrope that is the top-end of the salary cap.