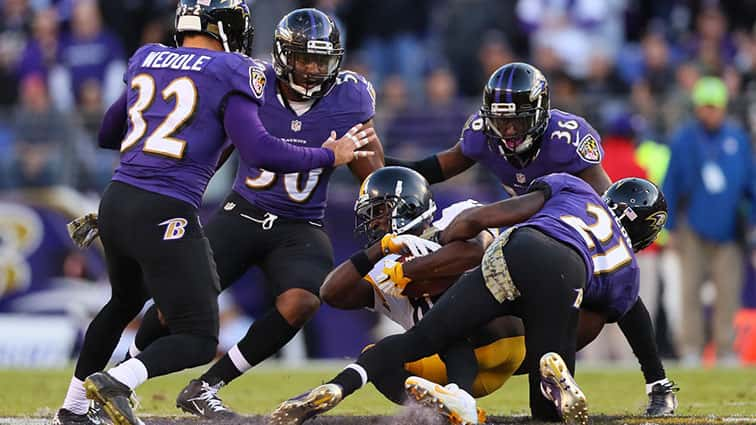 (Baltimore Ravens)
The Pittsburgh Steelers are due to beat the Baltimore Ravens. There, I wrote it.
It's a simple reason why I feel the Steelers will beat the Ravens Sunday, but it is true, nonetheless.
The way this series has gone, because these are two teams built to complete against each other, there hasn't been a lot of one-sided play. But Baltimore comes into this game having won the past four meetings and six of the past seven.
For two teams as close in talent as these organizations have been, that's too much.
What made this a great rivalry in the past was that both teams were good and you never knew which was going to get the better of the play when they got together.
But I feel the Steelers got a little too finesse-oriented, particularly on defense, in previous seasons. They just weren't very stout up front and there wasn't a lot of nastiness to the defense.
That has begun to change this year.
Now, they have a defense capable of matching the Ravens big play for big play.
And that could be the difference in this game.
That, and quarterback Ben Roethlisberger. Roethlisberger is 100 percent healthy for this game. And, at home, Roethlisberger might be the best QB in the NFL. In five home starts this season, he has 17 touchdown passes and three interceptions.
He's been phenomenal at Heinz Field.
And, despite the fact the Steelers won't have Ladarius Green or Sammie Coates in this game, they will still have Antonio Brown and Le'Veon Bell.
I heard a radio talking head who obviously doesn't, you know, do any homework, say Friday that Bell never has a good game against the Ravens. That's timply not true.
In 2013, his first Pittsburgh-Baltimore game, he had 93 yards on 19 carries. The next game, he had 73 yards and a touchdown on 16 attempts, adding seven catches for 63 yards in the rematch that season.
He had 129 yards rushing and a touchdown on 22 carries with Mike Vick at quarterback against Baltimore last season.
So he has had some success. In fact, in his career, he averages 4.4 yards per carry against the Ravens.
With Green and Coates out and Darrius Heywayrd-Bey still a question mark, I expect the Steelers to use Bell as a receiver a little more often, getting DeAngelo Williams, who will make his return in this game, in the backfield.
And I expect the Steelers to attack Baltimore's secondary, which will be without corner Jimmy Smith, with some quick passes to Eli Rogers and Bell.
The Steelers need to come out, play fast and get a lead to force the Ravens into a similar mode. Baltimore just isn't built to do that.
The Ravens are 2-4 on the road this season and Flacco has five touchdown passes and seven interceptions in those games.
If the Steelers can do that and force Flacco to beat them, they should be OK.
One player the Steelers need to do a good job of controling is rookie running back Kenneth Dixon. He's become more of a factor in recent weeks and Flacco loves to checkdown, much to the chagrin of his receivers.
Defensive end Stephon Tuitt will likely be a game-time decision for the Steelers in this one, which hurts, but defensive coordinator Keith Butler has done a masterful job of patching holes with his unit. They'll find a way to get it done at home.
The Steelers are 5-point favorites to win this game and I like the home team.
Take the Steelers to win, 24-17.