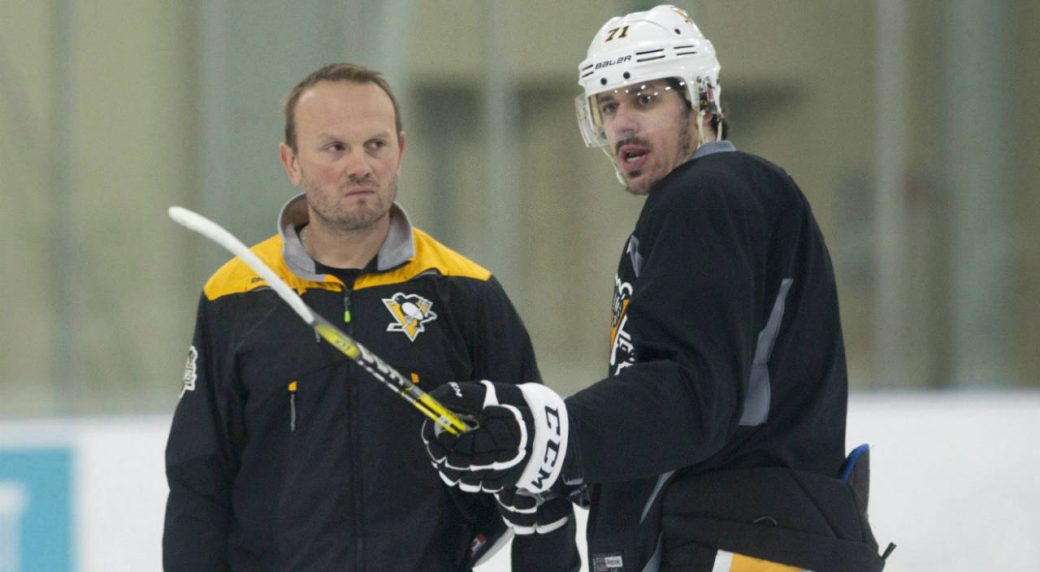 Pittsburgh Penguins center Evgeni Malkin speaks with Defense coach Sergei Gonchar during practice Thursday May 18, 2017 in Ottawa. (Adrian Wyld/CP)
Once Kris Letang had neck surgery in April, the Penguins knew it was going to require a six-man effort on defense to contend for a Stanley Cup championship.
That's really just a saying, though. It took more than the six men who played on the blue line for any given game.
It took depth players like Chad Ruhwedel and Mark Streit when further injuries struck. It also took a helping hand from the likes of coaches Jacques Martin and Sergei Gonchar.
"It was a great experience for me," Gonchar said. "It's something I'll always remember, the way everybody pulled together and started playing their best hockey when we needed it."
Gonchar's contributions were valued by the front office long before the back-to-back championship run, though. He had a standing offer to join the team as a full-time assistant coach for more than a year.
On Wednesday, he accepted the offer, becoming a full-fledged member of the coaching staff after acting as the organization's defensive development coach for the past two seasons.
Gonchar, who has two young daughters, said the decision to accept the promotion was made possible by his wife, Ksenia.
"She said we're going to try this, and she'll try to handle the kids on her own and we'll see how it's going to work out," Gonchar said. "The kids are growing up. They need their father around, but we're going to give it a try and I'm going to try to see them when I can."
Gonchar, 43, said he doesn't expect his role to change dramatically now that he's full time. He will watch games from the press box and communicate with the bench via a microphone, but that's something he's done previously.
"I'm sharing my observations from upstairs and telling them what I think," Gonchar said. "Sometimes we'll make adjustments, change our system a bit."
He will continue to offer one-on-one defensive instruction, as he notably did to help Justin Schultz rejuvenate his career after a trade from Edmonton in 2016.
"He's been huge to me personally, just getting my confidence back and focusing on the little details he always talks about," Schultz said last month. "He's so smart. He knows so much about the game. You just need to listen. You'll learn so much from him."
He also will work with the power play, which might be the most intriguing aspect of Gonchar's full-time arrival.
Gonchar had 427 power-play points in his 20-year NHL career, which included five seasons with the Penguins from 2005-10. Mark Recchi, who replaced Rick Tocchet on the coaching staff Tuesday, had 569 power-play points.
Add the five points Mike Sullivan scraped together during an 11-year career as a checking-line forward, and the Penguins' coaching staff will have 1,001 career NHL power-play points to its credit.
Gonchar said he helped with the power play fairly regularly during the previous two seasons, offering a different perspective because of his experiences as a teammate of Sidney Crosby, Evgeni Malkin and Letang.
"Mike and Rick were working on it together, and I was giving my input," Gonchar said. "Especially because I played with some of the guys, I knew their tendencies."
The Penguins don't necessarily need a major makeover on the man-advantage. They ranked in the top five in the league in power-play percentage in the regular season and playoffs last year.
Still, it's an area of the game where Gonchar has extensive expertise.
"You'd have to ask the players and coaches and see if I was making an impact or if my input was valuable," Gonchar said, "but I'm trying to share my knowledge and experience with the guys and help them in any way I can."
Note: The Penguins will host a massive junior hockey showcase Sept. 27-Oct. 1 at their practice facility in Cranberry. The USHL Fall Classic will include all 17 of the country's top junior hockey league's organizations as well as U14 and U16 tournaments.