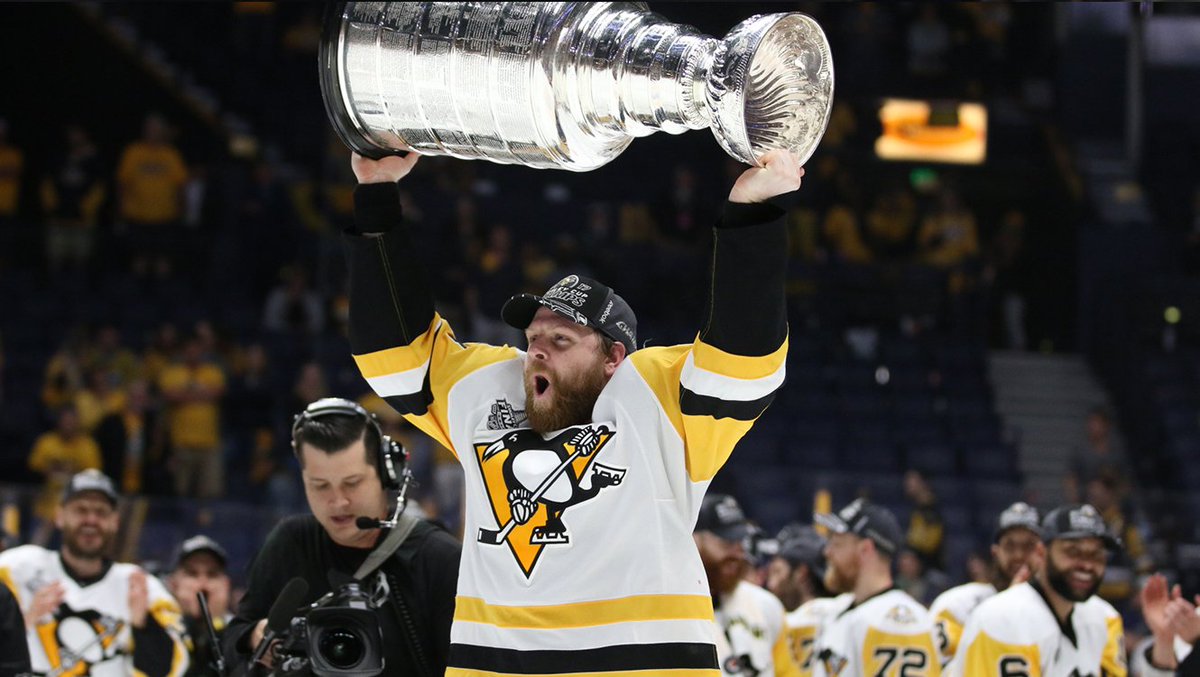 Since the Pittsburgh media is trying to run Phil Kessel out of town, here's a user's guide for the Penguins' No. 81.
Employ it while Kessel is still here. Enjoy Kessel while you can.
But no one is trying to run Kessel out of town.
Do you really think the sports media has that kind of power? If I had that sort of stroke, Antonio Brown would be long gone. Probably late to wherever he was headed. Parked in a handicapped space when he got there.
How would one even go about running somebody out of town?
Fact: If the Penguins hadn't won the Stanley Cup, Kessel would be actively shopped. Fact: The departure of assistant coach Rick Tocchet removes a significant buffer and conduit between Kessel and head coach Mike Sullivan, who is not a Kessel fan.
That's not indulging an agenda. It's just truth.
But the Penguins did win the Stanley Cup, so Kessel isn't going anywhere. For now and probably the length of 2017-18. Results change opinion, and that trickles down to decisions.
If Kessel finishes his career with the Penguins, it will be because of his onerous $6.8 million salary cap figure. He's been traded twice in his NHL career, and he's on a team with one absolute untouchable and 2-3 players not far below.
At some point, somebody's got to get dealt. Especially with Trader Jim at the helm. Maybe the Penguins keep some of Kessel's cap hit upon his departure, like Toronto did when Kessel came to Pittsburgh.
Here's a dirty little secret: If the Penguins were stuck on one Stanley Cup for the Sidney Crosby era, Evgeni Malkin would be trade bait (if not already gone). The two-star model would be viewed as a failure, and reloading would be at a premium.
But the Crosby era has produced three Cups, legitimately becoming the Crosby/Malkin era in the process.
The fanboy sludge that clogs so many brains keeps Kessel's flaws from being observed.
I like Kessel, too. Everything else being equal, I'm going to root for the guy who looks the most like me.
Kessel's strong points are many. Despite fading a bit in this year's Stanley Cup Final (one goal and four pointless games), his biggest strength is his production in the playoffs: 45 points in 49 games over the last two postseasons.
But Kessel is the kind of player almost no coach is going to like.
Sullivan doesn't. That's why one of Tocchet's jobs was to wrangle Kessel in. If that's not significant, why did GM Jim Rutherford address it when Mark Recchi was hired to replace Tocchet?
Kessel almost never hits and almost never blocks shots in an era where coaches see both acts as crucial.
This past season, Kessel posted goal (23) and shot totals (229) that were his lowest since 2007-08, his second NHL season. He had a career-high 47 assists, but he's not getting paid $8 million to reinvent himself as a playmaker at 29. Kessel is voluntarily corrupting his primary skill.
Kessel seems to function best when he's his line's primary threat. Remember HBK? You got the T-shirt.
But between that, never shooting one-timers on the power play, assigning an assistant coach to be intermediary and all the other quirks, that's a lot of micromanaging to do with one player.
Kessel isn't always terrific in practice, either, especially when it comes to system work.
There's also a mind that Kessel slowed down just a bit this past season. Because of conditioning, not age.
Winning covers for a multitude of sins. That's why Kessel stays.
But to a coach, he's a pain in the backside. Sullivan deals with it. Doesn't mean he's crazy about it.
Malkin doesn't hate playing with Kessel. Doesn't mean he's crazy about it.
If the Penguins are truly convinced that Kessel optimizes when he plays with neither Crosby nor Malkin, they might as well trade for Toronto center Tyler Bozak. He's got some history with Kessel. Bozak's cap hit is $4.2 million, but he's only signed through next season. Bozak could be shoehorned in.
But then you've made a trade complementing Kessel because he somehow doesn't quite mesh with either of two centers who are among the top five at their position (Crosby being No. 1).
Add that to the list of micromanaging. Kessel is a handful from every angle imaginable.
But Rutherford knew that when he got Kessel.
Right now, it's all meaningless fodder for the hot stove: We speculate about Kessel's long-term future, fret about the effect of Tocchet's departure and wonder who the third-line center is going to be.
But that's all overwhelmed by the fact that the Penguins have, by far, the best roster in the NHL. Their biggest challenge will be fatigue.
Mark Madden hosts a radio show 3-6 p.m. weekdays on WXDX-FM (105.9)