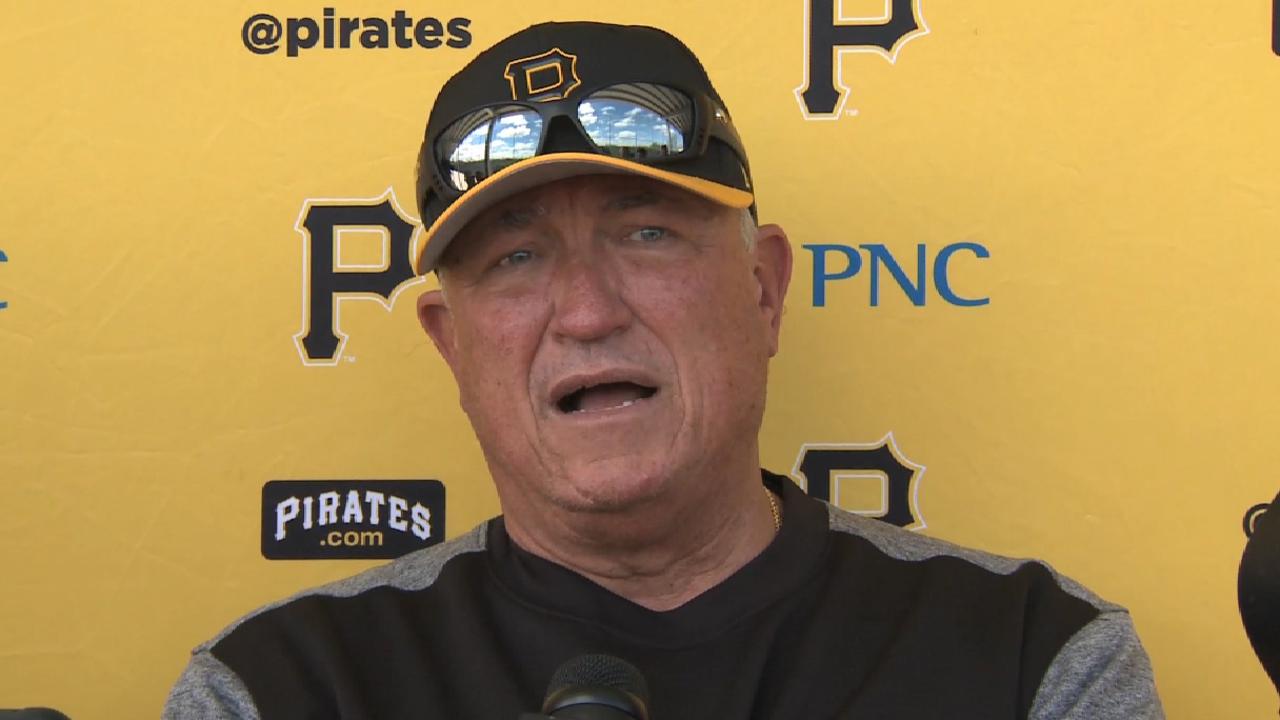 Clint Hurdle believes the Pirates will be better this season, and he doesn't care if you don't.
It's not that he doesn't hear the negativity in the aftermath of 78- and 75-win seasons the past two years, especially after trading the ace and face of the franchise.
That's nothing new for Hurdle, who enters his eighth season as Pirates manager when they open Thursday at the Detroit Tigers. He inherited a 105-loss team in 2010, one engulfed in a losing drought that would last two decades.
The Pirates were hopeless, and Hurdle brought hope.
That's something in short supply after the Pirates traded staff ace Gerrit Cole to the Houston Astros and five-time All-Star centerfielder Andrew McCutchen to the San Francisco Giants in a three-day span in January. But Hurdle believes the Pirates are closer to 2013 — when they won 94 games and a Wild Card playoff game — than 2004, when they followed a 75-win season with seven consecutive years of 90 or more losses.
"We have a better team, much better team than when I walked in the door," Hurdle said. "That being said, it depends on what circle you run in. I don't run in a circle where it's all negative."
"I have people that actually don't call into talk shows, that are baseball fans. I have people that don't write in and complain about what they don't like. They share what they do like. There's a lot of baseball fans in Pittsburgh that are excited about this season. You might not be in concert with them. The other people might not be. It depends on what pack you run in. If you hunt good, you'll find good. If you hunt bad, you'll find bad. You'll find a group of people who will do both."
A pack of Pirates fans felt so betrayed that they signed an online petition, collecting more than 60,000 signatures, for MLB to force owner Bob Nutting to sell the team.
But Hurdle opened spring training by saying he believed the Pirates would win a World Series.
Whether that's blind optimism or unwavering belief depends on your point of view, of course, and Hurdle never gave a timeframe for his prediction. But he isn't ruling out a winning season.
"It all depends on where you put your foundational belief. I believe we have a good team. I believe we're going to compete. I believe we have an opportunity to win our division," Hurdle said. "I'll say this (and) I get people that eye-roll me in public. I also get people who go, 'That's great to hear. I like it. I believe it, too.' It doesn't matter. What's important is, what (the players)believe, what they're hanging onto and what they're pouring into."
Now, I'm not ready to predict the Pirates are headed for a winning season, let alone the playoffs. Not after they traded Cutch and Cole. Not after the NL Central-champion Cubs added pitchers Tyler Chatwood and Yu Darvish, the second-place Brewers added outfielders Lorenzo Cain and Christian Yelich and the third-place Cardinals added outfielder Marcell Ozuna.
But the Pirates should be better than last season. Trading a leader like Cutch was a big blow to morale, but trading for left fielder Corey Dickerson was a boost to the lineup. Trading Cole rocked the rotation, but the return was a starting third baseman in Colin Moran, a starting pitcher in Joe Musgrove and a reliever in Michael Feliz.
With Dickerson, second baseman Josh Harrison, closer Felipe Rivero and centerfielder Starling Marte, the Pirates have four players who were All-Stars in 2016 or '17. In first baseman Josh Bell and new staff ace Jameson Taillon, they have a pair of future All-Stars. If right fielder Gregory Polanco ever realizes his potential, the Pirates could have another.
"If they all play up to their capabilities," Hurdle said, "we'll be right in the hunt all year long."
Hurdle believes the Pirates no longer have a glaring hole in their batting order, that they have experience at eight starting positions (Moran being the exception) and a deeper bench. The rotation returns four starters. Rivero brings starpower to the bullpen, where some serious question marks remain.
"I've seen enough to know that the club we're going to roll out there opening day is a good ballclub," Hurdle said. "Good ballclubs can win things. Good ballclubs can play late (into the season). Good ballclubs can win a World Series."
First, the Pirates have to prove it. Not just to the naysayers who see the Pirates were closer to last place than first, but to Bottom-Line Bob Nutting, who kept the management team of president Frank Coonelly and general manager Neal Huntington intact and extended Hurdle through 2022. They have promised to deliver a championship and haven't backed off that promise.
"They didn't want to talk about winning when I first got here," Hurdle said. "Then we started talking about winning, and I said we need to stop talking about winning and start talking about winning our division. We still haven't done that."
"I have people that question everything I do when we win a game. Truth be told, there's a lot of people that I did have feedback from go, 'How did he say this?' So, they have a better finger on the pulse? No, they have their finger on the pulse of the people they hang out with. I have a finger on the pulse of the clubhouse and the men who are going out and playing, which is a different perspective."
"Some of it is, yeah, to prove people wrong. Some of it is it's their opportunity to prove people right. That's the way I look at it. There's a lot of people that believe in this ballclub. I'm more out to prove people right."
Pirates fans hear Hurdle.
Only winning will make them listen.