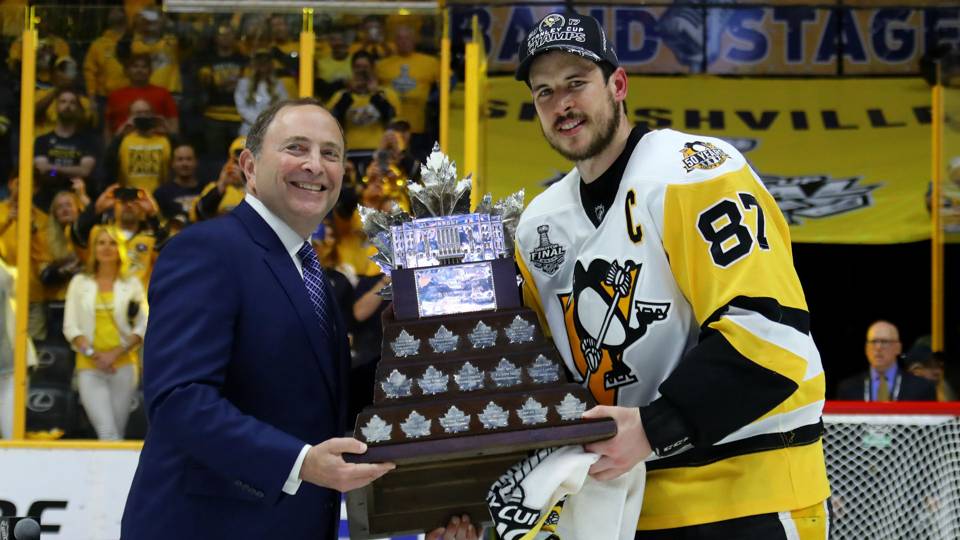 (Getty Images)
PHILADELPHIA – There's no one NHL players would rather go into battle with than Penguins captain Sidney Crosby.
As part of the NHL Players Association annual poll on hockey issues, more than 500 players were asked, "If you need to win one game, who is the No. 1 player (any position) you would want on your team?"
Crosby was the runaway winner with 43.7 percent of the vote, finishing ahead of Connor McDavid (15.3 percent), Carey Price (9.7), Patrick Kane (3.7) and Erik Karlsson (3.4).
The only more lopsided poll result regarding current events came when players were asked who is the toughest player in the league. Former Penguins winger Ryan Reaves took 44.7 percent of the votes, ahead of Milan Lucic (14.8).
Crosby was the top vote getter in a variety of categories, ranging from the most difficult to play against to best team player to best role model. He was also voted the player who would make the best coach once he retires.
In recognition of the 50th anniversary of the NHLPA, players were also asked some historical questions.
Wayne Gretzky was named best forward of all-time in a landslide (72.7), but the next three spots were filled by Penguins – Mario Lemieux (11.3), Crosby (4.9) and Jaromir Jagr (3.1).
For some perspective on the age of today's NHL, current players said their favorite players growing up were Peter Forsberg, Steve Yzerman, Joe Sakic and Nicklas Lidstrom.
Jonathan Bombulie is a Tribune-Review staff writer. Reach him at jbombulie@tribweb.com or via Twitter @BombulieTrib.