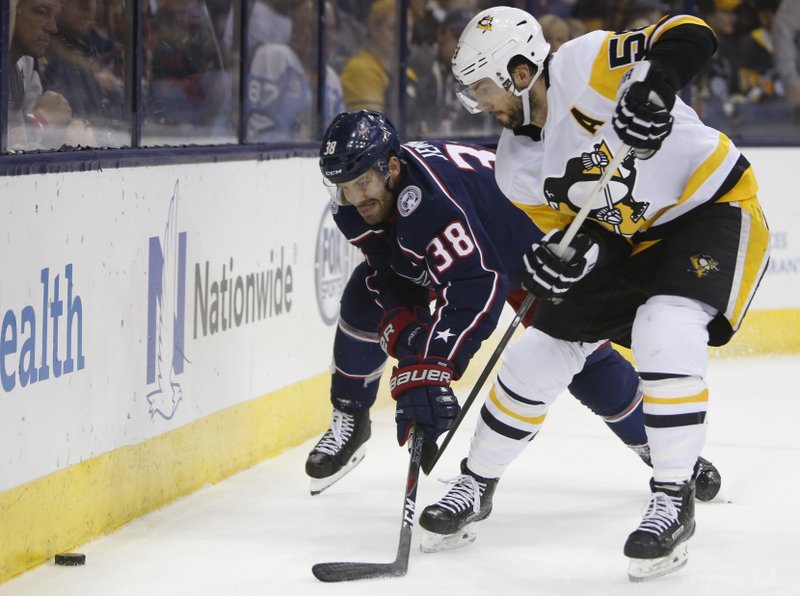 Boone Jenner and Kris Letang February 18, 2018 in Columbus (Jay LePrete/AP)
There is plenty on the line Thursday night as the Blue Jackets welcome the two-time defending Stanley Cup champions to Nationwide Arena.
Not only can the Jackets clinch a playoff spot with a point against the Pittsburgh Penguins, but a victory would give them a step up in securing home-ice advantage in the opening round of the playoffs, which begin next week. Even coach John Tortorella didn't try to sandbag how big Thursday's regular-season home finale is.
"It's Pittsburgh," Tortorella said after a spirited practice on Wednesday. "I mean, eventually, if you have an opportunity to get in, as we're still trying to fight, you're going to have to go through there. They're that good; two-time Stanley Cup winner. They're a really good team.
The Jackets will not need much motivation when it comes to the Penguins.
Although the Jackets are playing their best hockey of the season — they have won 13 of their previous 15 games — they have struggled against the Penguins in the past year.
Last spring, the Penguins knocked them out of the playoffs in five games. Pittsburgh has since won the first three meetings this season.
"Really, the urgency and desperation that is attached to this game is no different than what we have had for the past month," Jackets center Mark Letestu said. "I don't think our approach is going to change all that much. This is a rivalry game, we're close geographically. There are added elements to this game which make it bigger."
Blue Jackets defenseman Ian Cole knows all about this rivalry — and is not far removed from the other side of it. He spent parts of three seasons with the Penguins and was on the ice for Pittsburgh when it won at Nationwide 5-2 on Feb. 18.
That turned out to be Cole's final game with the Penguins, as he was sent to Ottawa on Feb. 23 as part of the Derrick Brassard trade — only to have the Jackets acquire him in a separate deal with the Senators at the trade deadline three days later.
Since that loss to Pittsburgh, the Jackets have reversed their fortunes by winning 16 of 21 as they added Cole, Letestu and Thomas Vanek while also getting Ryan Murray back from injury.
"There is certainly the rivalry of the team you came from, and a team that's certainly very good," Cole said. "You want to beat them. You want to compete against the best players in the league. You're certainly going to get that against Pittsburgh. We want to put ourselves in a great position come playoff time.
"Home ice is huge. If we can put ourselves down that road, it's very beneficial for us."
For the Jackets, a win in regulation does not guarantee home ice — but it would help its positioning. They still have to finish the regular season Saturday at Nashville, so even a win Thursday means their work is not done.
And then there is the matter of the hard-charging New Jersey Devils. Like the Jackets, the Devils have saved their best for last. After beating the New York Rangers on Tuesday, New Jersey has won nine of 12 and is one point behind the Penguins and Jackets, who have 96 points each.
Although Columbus and Pittsburgh are fighting for second in the division, one might not be in the top three come Saturday night when play is complete.
"When the desperation and the intensity gets ramped up, it just makes it more fun," Cole said. "Every play that you make has that much of a weight on it; it matters that much more. It's a scenario I've always liked to be in."