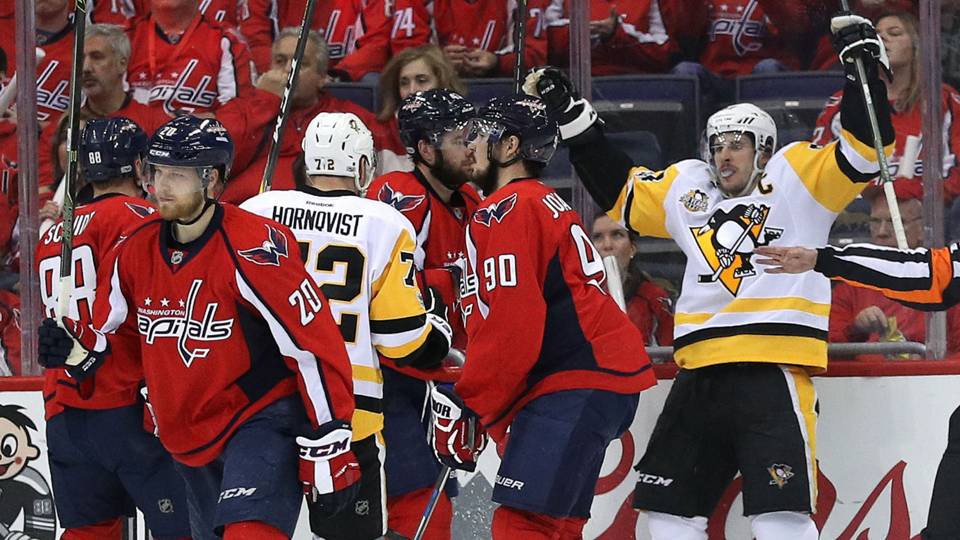 Sidney Crosby celebrates one of his two goals in Game One of the 2017 playoff series against the Capitals. (Getty Images)
Before Game 3 of a first-round series in Philadelphia, a Flyers fan placed pictures of Sidney Crosby in all the urinals at Wells Fargo Center. After the Flyers were eliminated in Game 6, fans pelted the ice with beer cans.
On Wednesday afternoon, as his Washington Capitals prepared to meet the Penguins in Game 1 of the Metropolitan Division finals Thursday night, Barry Trotz recalled an anecdote from when he coached Crosby for Team Canada in World Cup of Hockey before the start of last season.
"I know he gets pulled in a lot of different directions, but he's very personable. Very sincere in a lot of ways," Trotz said. "I remember sitting outside of a hotel, my son was on his iPad. I have a special needs son. He didn't know my son. He sat next to him and started talking to him and playing on the iPad with him. He's a solid guy."
In Philadelphia and Washington, Crosby and the Penguins will be facing their two biggest rivals in the first two rounds of the playoffs this season.
The matchup with the Flyers is about hate and one-upmanship. When Crosby scores in Philadelphia, he is taking the boos and jeers Flyers fans have heaped upon him since the day he was drafted and shoving them back down their throats.
The matchup with the Capitals is about one team asserting its supremacy over the other, but in a more respectful fashion. When Crosby scores against Washington, he isn't humiliating anyone. He's helping his team inch closer to a championship.
For the record, Crosby doesn't see any use in drawing lines between types of rivalries.
"When I think back to playing against Columbus and other teams in the playoffs, they were pretty intense and emotional too and had their points when they got ugly at different points," Crosby said.
"It's hard to compare, but when it comes down to it, you obviously have to find that balance and find that line of being engaged and intense but also being disciplined."
Teammate Olli Maatta doesn't think Crosby makes any distinction between Flyers-style hate and Capitals-style intensity either.
"I think everything you look at, even last series against Philadelphia, it's just about winning," Maatta said. "It's about nothing else. I think he's the first guy to say that. I don't think he bothers himself with anything else. He's focusing on the hockey and focusing on winning games and doing whatever it takes."
And sometimes, Capitals-style intensity can turn into Flyers-style hate.
Who could forget Matt Niskanen nearly decapitating the captain with a vicious cross-check in Game 3 of last year's meeting between the teams, leaving Crosby sidelined for a game with a concussion? Trotz, the man who now lauds Crosby's character, called it a "hockey play."
Regardless of the enmity the incident caused, Crosby said it's ancient history.
"It's a new season," Crosby said. "Things happen. Both of us I'm sure just want to win the series. As far as I'm concerned, I don't really give that a lot of thought."
What Crosby does give a lot of thought to is winning championships, and that's what facing the Capitals represents.
Over the past two seasons, a case could be made the real Stanley Cup Final was the matchup between the long-time Metropolitan rivals.
From his dueling hat trick game with Alex Ovechkin in 2009 to his two-goal performance in the opener last year in Washington, Crosby sees his best brought out with that type of competitiveness.
At the least, it's the style of pregame conversation he prefers.
"I'd much rather talk about that," Crosby said. "That's more hockey to me. I think everyone would agree with that."