By
Scott Brown
http://espn.go.com/blog/pittsburgh-steelers
August 14, 2014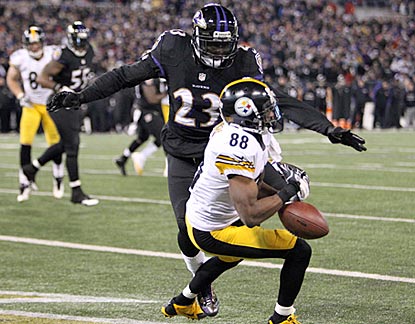 Emmanual Sanders (88) fails to catch a pass on a 2-point conversion that would have tied the game late in the fourth quarter.
(USATSI)
LATROBE, Pa. --
Broncos
wide receiver
Emmanuel Sanders
was always one of the better interviews during the four seasons he spent with the
Pittsburgh Steelers
. He almost always gave thoughtful and honest answers, and I don't want to bash him for his unvarnished take on
Peyton Manning
's leadership compared to that of
Ben Roethlisberger
.
Too often we, as in the media, complain that the players and teams we cover give responses to our questions that are as canned as they are clichéd. And then we club them over the head with their words if they ignite a controversy.
What I can't reconcile with Sanders' assertion that Manning is a "far better leader" than Roethlisberger is a scene inside a silent visiting locker room at M&T Bank Stadium late last November.
The Steelers had just suffered a crushing 22-20 loss to the
Ravens
after rallying back from a double-digit fourth-quarter deficit. They should have tied the game late when Roethlisberger put a two-point conversion pass right on Sanders' hands.
Sanders dropped the ball, bringing to a screeching halt the three-game winning steak and momentum that the Steelers had taken into the game on Thanksgiving night.
Inside the Steelers' locker room, just after the scab had been ripped off a team that had started the season 0-4, Roethlisberger put his arm around his crestfallen teammate and talked into the earhole of Sanders' helmet.
A little later Roethlisberger offered similar encouraging words when he spoke to reporters about Sanders -- as well as an endorsement of a wide receiver whose next 100-yard game will be his first in the NFL.
If what Roethlisberger did in that locker room when emotions were still so raw isn't leadership, I don't know what is. And I keep flashing back to that scene with Sanders standing by what he said on a Denver radio station a couple of weeks ago.
I applaud Sanders for owning his comments and not playing the taken-out-of-context card.
But he is off base, and not just because Roethlisberger was one of his biggest supporters when the two were teammates.
Sure, Roethlisberger doesn't throw to his wide receivers after practice as much as Manning does, but one of Manning's hallmarks is his obsessive attention to detail. How many quarterbacks wouldn't suffer in comparison to Manning when looking solely at the extra work they put in with their wide receivers?
Also, Sanders apparently hasn't kept up with what has been going on with the Steelers since he signed with the Broncos.
Roethlisberger has never been more engaged with his wide receivers, and he has been their coach as much as their quarterback at training camp.
This is clearly his offense.
And his team.
Sanders doesn't owe Roethlisberger an apology even though former Steelers running back Jerome Bettis was spot-on when he said there are different kinds of leadership.
Sanders truly believes what he said, and he has a right to his opinion.
He does owe his former quarterback a phone call, if only so Roethlisberger can ask a simple question: Why take a shot at a former teammate who picked up Sanders during one of his lowest moments as a professional?