By
Scott Brown
http://espn.go.com/blog/pittsburgh-steelers
August 1, 2014
LATROBE, Pa. -- Dick LeBeau's defense lost a step in key areas last season when he had to use 5-foot-10, 207-pound safety
Troy Polamalu
extensively at inside linebacker and when his players had trouble lining up for the first half of the season due to the loss of defensive signal-caller
Larry Foote
.
What is fitting as LeBeau nears the end of a coaching career that is every bit as distinguished as his playing one: the longtime Steelers' defensive coordinator will receive a serious boost from a fellow Buckeye as he tries to restore the swagger and fear factor to a unit that conspicuously lacked both last season.
[+] Enlarge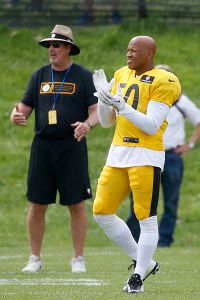 AP Photo/Keith Srakocic"I think he can shed blocks at this level," LB coach Keith Butler said of Ryan Shazier. "What he's got to do is pick his battles."
Indeed, there couldn't be a better pairing than LeBeau and rookie inside linebacker
Ryan Shazier
, and not just because each starred at Ohio State albeit in different eras.
Shazier's athleticism will stir LeBeau's fertile defensive mind, and Shazier playing alongside
Lawrence Timmons
gives LeBeau some serious speed -- and options -- in the middle of his defense.
"Those two are going to show up all over the field and that's going to help your defense," LeBeau said. "They can make a similar defense look different because it's just difficult to get them both blocked."
There are questions about whether Shazier will struggle to get off blocks his rookie season. The 6-foot-1, 237-pounder is not the biggest linebacker and he will have to add strength, like most young players, as his career progresses.
But the Steelers are not concerned about Shazier struggling to handle offensive linemen who are bigger and faster than the ones he usually beat in college.
"I think he can shed blocks at this level," Steelers linebackers coach Keith Butler said. "What he's got to do is pick his battles. If there's a big guy he's going to hit, get off him fast. Don't stay on him because the guy's going to win."
Where the Steelers really win with Shazier, if he proves to be as good as advertised, is he and Timmons will allow LeBeau to get creative in drawing up blitzes, which are his hallmark.
"We feel like we've got two good blitzing inside linebackers as well as two good blitzing outside linebackers," said Butler, who is the likely successor to LeBeau after the latter retires. "So there's things we can do to put pressure on offenses. We're changing some things and we're also adding to our package a bit. "
It's easy to be optimistic at this time of the year, as Butler pointed out, since every team is undefeated and feeling good about itself.
But it's hard not to notice the quiet confidence LeBeau has exuded, going back to last month when he said he had never seen the Steelers look better in offseason practices.
LeBeau essentially had to coach with one arm tied behind his back last season though that is something he would never say publicly.
This season will be a much better barometer of whether he still has it as a coordinator. It also has the potential to squelch the notion that the game has somehow passed by LeBeau.
"We're fast. Sometimes we do the wrong direction but we're getting there in a hurry and that's good defensively," LeBeau said. "We're really involved in getting everybody coordinated and communicated and getting these young guys going in the right direction. It's very encouraging. They've got a good work ethic and they've got tremendous athleticism. We're going to go through some growing pains because we're lacking some snap experience. But you get smart in a hurry in this league or you get out."