By
Scott Brown
http://espn.go.com/blog/pittsburgh-steelers
November 3, 2014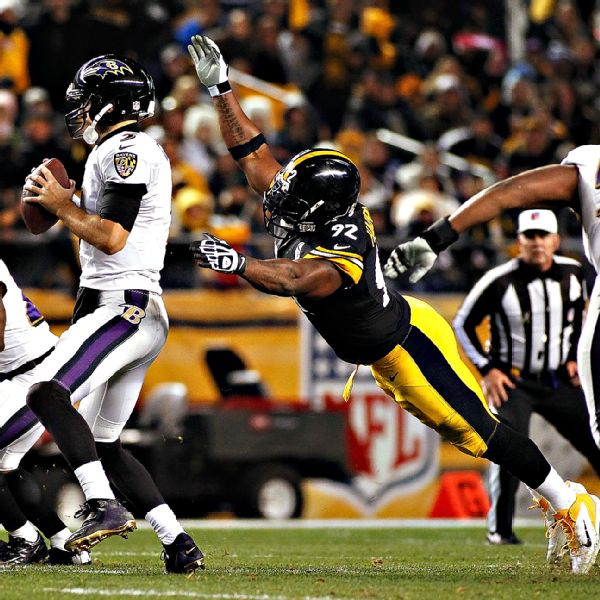 Justin K. Aller/Getty Images
PITTSBURGH --
Pittsburgh Steelers
linebacker James Harrison's birth certificate says he is 36 years old.
When reminded of that after Harrison played as though he were about 10 years younger in a 43-23 win Sunday night over the
Baltimore Ravens
, Cameron Heyward turned to the locker next to his at Heinz Field.
"Dang, you're old!" Heyward said.
But the fourth-year defensive end then added, "He's having fun out there."
Well, yes and no.
Harrison looked like he was having a blast while leading a defense that continually teed off on Baltimore Ravens quarterback Joe Flacco.
[+] Enlarge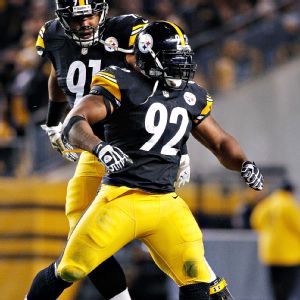 Justin K. Aller/Getty ImagesDon't let his enthusiasm on the field fool you: Steelers sack leader James Harrison didn't miss football when he decided to come out of retirement.
Harrison recorded two of the Steelers' four sacks and four of their 10 quarterback hits, leading a defense that kept Pittsburgh in the game until quarterback Ben Roethlisberger and his receivers started to have their way with the Ravens' depleted (and overmatched) secondary.
He earned a game ball for his efforts, and Harrison's performance was particularly apropos on a night in which the Steelers celebrated Joe Greene's career.
Harrison is on a short list of post-Steel Curtain players whose dominance and demeanor would have made them a good fit on the Greene-led defenses in the 1970s.
But after making sure the defense turned in the kind of performance that would honor Greene, Harrison had more of a grimace than a grin as he answered questions from the reporters who formed a semi-circle around him.
Perhaps Harrison, who was retired before re-signing with the Steelers six weeks ago, was already thinking about how much his body would hurt the next morning.
Or what a grind it will be for the five-time Pro Bowler to get ready for the Steelers' Week 10 game against the New York Jets at MetLife Stadium.
"I'm not going to lie and say I missed football. To be honest with you, I didn't miss football," said Harrison, who does not watch the sport at all for pleasure. "I was comfortable where I was at, being retired. I felt like I had an obligation to come back if my kids wanted me to. They were OK with it, and I came back because I didn't want to let the [Steelers] down and I felt like them guys are like my brothers -- [Brett] Keisel, Troy [Polamalu], Ike [Taylor]. Kind of hard to say no to them."
Harrison has four sacks in his past two games and now leads the Steelers in the category. He is looking a lot more like the player who dominated for five seasons in Pittsburgh than the one who looked out of place last season in Cincinnati.
And Harrison is still not where he needs to be from a physical standpoint, as the 12th-year veteran is in the process of dropping weight so he can move better on the field.
Not that coach Mike Tomlin is surprised by what Harrison already has given the Steelers since they coaxed him out of retirement Sept. 23.
"He is not a regular guy. He is James Harrison," Tomlin said after the Steelers won their third consecutive game and improved to 6-3. "He is getting up to speed and getting into shape and doing James Harrison-like things, which quite frankly is what we expect."
Some fans are so excited about how Harrison turned back the clock twice in one day -- daylight savings time ended early Sunday morning -- that they are already pleading on social media for him to play one more season after this one.
"I can't see another year," Harrison said. "The way my body feels after games, coming in Monday and working out, it's getting too hard. The workouts are harder than the games."
Yep, enjoy him now.
Harrison's second act, as good as it has been, will also be his final one.