By
Scott Brown
http://espn.go.com/blog/pittsburgh-steelers
November 20, 2014
PITTSBURGH -- He is an undrafted rookie running back who has played his way onto the
Pittsburgh Steelers
. He did not play as much at an ACC school in North Carolina as he had hoped because of differences with the coaching staff. He has the kind of speed that has already caught the attention of his teammates.
It is
waaaaaaay
too early to make any comparisons between Willie Parker, who is third on the Steelers' career rushing list, and
Josh Harris
, who has yet to play in an NFL regular-season game.
But there are undeniable parallels between the two -- Parker came out of nowhere after a nondescript career at the University of North Carolina -- which will make it interesting to see what Harris -- who attended Wake Forest University -- does with the opportunity in front of him.
[+] Enlarge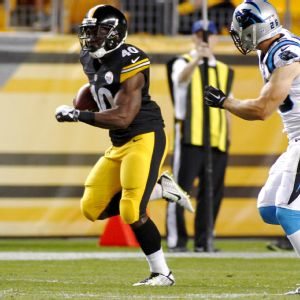 Justin K. Aller/Getty ImagesJosh Harris, above against the Panthers in the preseason, is being elevated from the practice squad.
Harris, who had been on the Steelers' practice squad, benefited most from the temper tantrum that drew
LeGarrette Blount
a
one-way ticket out of Pittsburgh
. The Steelers moved as quickly in promoting him as they did in getting rid of Blount. It says something about what Harris has shown since signing with the Steelers a couple of days after the start of training camp.
"He's a phenomenal runner," Steelers running back
Le'Veon Bell
said. "I'm excited for him."
The Steelers are excited to see what Harris can give them while providing depth with fellow rookie
Dri Archer
behind Bell.
Harris has good size, and speed apparently isn't an issue for the 5-foot-11, 230-pound player.
"I wouldn't say I'm as fast Dri," Harris said of Archer, who has world-class speed, "but I'm maybe one or two steps behind him."
Harris reportedly ran a sub-4.3 seconds in the 40-yard dash at Wake Forest University's Pro Day -- and in snow, no less -- and that is when he surfaced on the Steelers' radar.
How much of a chance Harris gets to showcase his speed remains to be seen since the Steelers had committed to Bell as their every-down back even before they dumped Blount.
But given how little Archer has played -- the third-round back is averaging a little less than a carry per game -- the Steelers will certainly give Harris a long look as they redefine the roles in their backfield.
"He is built well. He is quick. He has some speed," offensive coordinator Todd Haley said. "We are excited to see what he brings."
What might have the Steelers most intrigued about Harris: He is as driven as Parker was to prove people wrong after not fulfilling expectations in college.
Harris rushed for more than 2,000 career yards at Wake Forest but he never had a 1,000-yard season. And that, Harris said, is not the biggest reason why he went undrafted last May.
"I heard from my agent that there were some people at my school who now aren't at the school anymore that talked to scouts, talked to coaches, and told them certain things about me that kind of made them shy away from me," Harris said. "I think that one of things they said (was) I'm good but I don't work as hard as I should."
That -- and the path he has taken to the NFL -- has left Harris plenty motivated and looking ahead, not back.
"I'm just trying to put all of that stuff at Wake Forest behind me because now they have a new head coach there, a whole new staff," Harris said. "I feel like me going undrafted was actually a good thing because if not who knows what team I would have ended up on? Now I have the opportunity to play and show what I can do. I can't ask for anything more than that."