By
Rich Cimini
and
Scott Brown
http://espn.go.com/blog/pittsburgh-steelers
November 6, 2014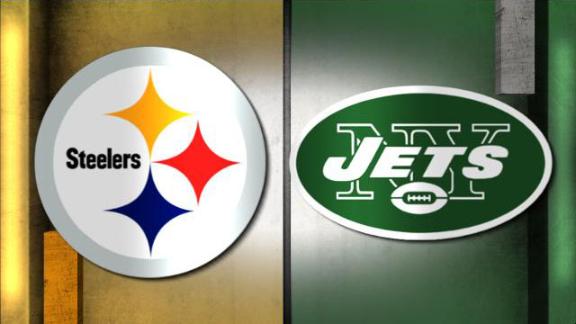 Sunday's meeting between the
Pittsburgh Steelers
and the
New York Jets
is a "have" versus "have-not" matchup at the most important position. The Steelers have a franchise quarterback, the Jets have no one who inspires hope for the future.
Ben Roethlisberger
is playing quarterback as well as anyone in the NFL, maybe the best he has ever done it. Twelve touchdown passes in the past two games is just ridiculous. For the Jets, a dozen scoring passes could wind up being a full year's work for their quarterbacks,
Geno Smith
and
Michael Vick
, who will make his second straight start.
Hurt by poor play at quarterback, the Jets (1-8) have dropped eight straight, one shy of the franchise record for a season. The Steelers (6-3) have won three straight, rallying into playoff contention.
ESPN Jets reporter Rich Cimini and ESPN Steelers reporter Scott Brown discuss the matchup:
Cimini:
Scott, to say Roethlisberger is hot is an understatement. How do you explain the past two games?
Brown:
I've seen Roethlisberger play great but I can't remember a stretch like the one he is enjoying right now. He is in complete command of his game and an offense that has averaged 41.3 points in the Steelers' past three games. He is making every throw and his touch on deep balls has been exquisite. Roethlisberger is improvising when the pocket collapses, but he is not playing the sandlot style that has come to define him as much as he is hanging in the pocket and taking advantage of the skill players around him, starting with Pro Bowl wide receiver
Antonio Brown
. Roethlisberger has thrown at least one touchdown pass to six different receivers in the past two games, which is a testament to how well he is seeing the field.
Rich, I know you have written a ton about this, but can you provide the Cliff's Notes version on the Jets' situation at quarterback?
Cimini:
Yeah, I can make it real simple: The organization served it up to Geno Smith on a silver platter -- the starting job without legitimate competition and a chance to become the long-term answer at the position -- and he dropped the ball. Well, let me rephrase that: He threw it away (see: 10 interceptions).
He made some gradual strides early in the year, but it was always one step forward, two steps back. Finally, after throwing three straight interceptions in Week 8 against the
Buffalo Bills
, Smith was benched. They'd like to see him again later in the season, but unless he turns into ... well, Big Ben overnight, it won't make a difference. The Jets will go into the offseason looking for a quarterback. Vick did a decent job last week, but he's not the future at 34. Oh, he's fun to watch -- he still plays like a video-game quarterback -- but he'll eventually get hurt or lose too many fumbles to stay in the job.
Let's talk about a great player: Antonio Brown. He's one of the elite receivers in the league, but I'm not sure he gets enough recognition. What makes him special?
Brown:
He has tremendous physical ability but I think his rise to elite status starts with his work ethic. It is off the charts and Brown is always trying to make himself better, whether it is staying after practice to hone his skills or leaving Steelers headquarters after a long work day and going to the gym for a night workout.
Brown also has a number of attributes that can't be taught and he is as good as any wide receiver after he gets the ball in his hands. Watching him run after the catch is like watching a fish in water. That is how natural and easy Brown makes it look. I keep waiting for an opposing team to take Brown out of a game, but it hasn't happened this season. And he is getting help from
Martavis Bryant
, who has been a revelation as a rookie, and
Markus Wheaton
. The Steelers have enough depth at receiver to burn opposing teams if they pay too much attention to Brown.
The Jets nearly beat the Patriots a couple of weeks ago. Why were they successful in that game, and can they use a similar formula to upset the Steelers?
Cimini:
Actually, they used the same formula against the
Kansas City Chiefs
, too, but to no avail. They played a conservative game, controlling the ball and the clock with their running game. One of the few things they do well is run the ball, minimizing the stress on the quarterback. They should've upset the Patriots, but it was typical Jets luck. In fact, they became the first team in history to lose a game with 200 yards rushing, 40 minutes of possession time and no giveaways. They also played a turnover-free game against the Chiefs and still lost because of breakdowns in other areas. The Steelers will have to pay attention to wide receiver
Percy Harvin
, who is coming off a Brown-type performance. He gives the Jets some hope because he's a playmaker.
Speaking of renewed hope, the Steelers were headed toward a mediocre season after a 3-3 start. What buttons did Mike Tomlin push to get it turned around?
Brown:
It's what he didn't push -- the panic button -- that has the Steelers riding a three-game winning streak and playing as well as any team in the NFL. Fans were livid after the Steelers lost by 21 points to the Browns in Cleveland to drop to 3-3. They wanted offensive coordinator Todd Haley fired yesterday and defensive coordinator Dick LeBeau ushered into retirement. Tomlin tuned out what he calls "elevator" music and largely stayed the course.
He has made a couple of changes that have paid big dividends, most notably getting Bryant involved in the offense after the fourth-round draft pick did not even dress in the Steelers' first six games. But the Steelers' recent success largely can be attributed to the players on offense finally starting to execute at a high level and some new and younger players settling in on defense. It also has helped that outside linebacker
James Harrison
has looked like his old self since the Steelers coaxed him out of retirement in late September.
From afar it seems like dysfunction is reigning at Jets headquarters. Is Rex Ryan coaching his final season for the Jets, and are the players still giving him everything they have?
Cimini:
The Jets became a laughingstock last week when general manager John Idzik, in his midseason news conference, started out by rambling for 19 minutes, covering everything, saying nothing. He got ripped like no GM I've ever seen, which was ironic. Since being hired two years ago, Idzik has tried hard to remove the "circus" perception of the franchise, but he unwittingly fueled it.
No, the players haven't quit on Ryan. They like him and they will play for him, but the focus and attention to detail has dropped off considerably. Yes, this probably will be Ryan's final season, and I think he knows it. This mess isn't all his fault, but they should be better than 1-8. In the end, he'll pay the price.