By
Scott Brown
http://espn.go.com/blog/pittsburgh-steelers
December 14, 2014
Pittsburgh Steelers wide receiver Antonio Brown (84) makes a catch against Atlanta Falcons cornerback Desmond Trufant (21) during the first half of an NFL football game, Sunday, Dec. 14, 2014, in Atlanta. (AP Photo/David Goldman)
ATLANTA --
Pittsburgh Steelers
quarterback
Ben Roethlisberger
's 27th and final completion in a second consecutive impressive performance -- and in December, no less -- may have been one of his easier ones Sunday.
It came right after the two-minute warning of a game in which the Steelers had controlled but also let the Falcons hang around until the end. With the Steelers facing a third-and-one from the Falcons' 39-yard line, Roethlisberger faked a handoff to running back
Le'Veon Bell
and rolled to his right.
[+] Enlarge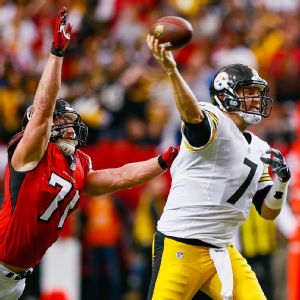 Kevin C. Cox/Getty ImagesBen Roethlisberger didn't throw for a single TD pass against Atlanta, but as long as Pittsburgh won the game, he says he's fine with that stat.
The Falcons had gone all in on stopping the run allowing
Heath Miller
to slip into the secondary. Roethlisberger hit the veteran tight end in stride for the catch that allowed the Steelers to run out the rest of the clock in a
27-20 win
at the Georgia Dome.
The play covered 25 yards but it was worth much more than that, even if it did give the Steelers a game-preserving first down, because of what preceded it.
At the two-minute warning with the Steelers needing to make one more play, Roethlisberger chatted with Todd Haley on the sidelines. The Steelers' offensive coordinator gave the veteran quarterback his choice of two plays and Roethlisberger opted for the one that closed out the Falcons.
That Haley did not insist on a run with the Steelers needing only a yard for a game-clinching first down or try to talk Roethlisberger into handing off to Bell shows how good of a good place the strong-willed offensive coordinator and equally strong-willed quarterback are right now.
The dynamic Bell has a knack for many things, especially showing both patience and power behind his underrated offensive line to get a yard seemingly whenever the Steelers need one.
Twice earlier in the game the Steelers had given the ball to Bell on third-and-one. Those plays netted a touchdown and a first down.
But Haley trusted his quarterback -- just as he had done the previous week in Cincinnati after calling for a deep pass with the Steelers backed up on their own 6-yard line in the fourth quarter of a close game.
Roethlisberger's 94-yard touchdown pass to
Martavis Bryant
broke open the Bengals game. His 25-yard pass to Miller kept the ball away from Falcons quarterback
Matt Ryan
, who overcame a slow start to throw for 310 yards and a pair of touchdowns.
"We anticipated them to really try to stop the run on third down and we had a good play," Roethlisberger said of his final completion of the game, "and I got outside of the pocket. I figured worse-case scenario I'd just go down and use up clock."
He didn't need to slide or curl up in the fetal position after Bell's presence allowed Miller a free run in the Falcons' secondary. And Roethlisberger made Atlanta's defense pay one final time for its aggressiveness, something he had done all afternoon.
The Falcons blitzed Roethlisberger on more than a third of his pass attempts. He responded by completing 12 of 14 passes for 191 yards on plays in which the Falcons rushed him with at least five players, according to ESPN Stats & Information.
It helped Roethlisberger that he has so many options as far as spreading the ball around.
"
Antonio Brown
gets a lot of recognition. Le'Veon Bell gets a lot of recognition but those guys are able to do what they do because when other guys are called upon they deliver," Coach Mike Tomlin said after the Steelers improved to 9-5. "We have a nice group of complementary guys that don't get a lot of volume in terms of opportunity but when they get the opportunity they deliver."
What also bodes well for the Steelers in their final two games is Haley and Roethlisberger operating on the same wavelength and both operating at a high level.
And then there is this: Roethlisberger could not have cared less that a big statistical game -- he completed 77.1 percent of his passes for 360 yards -- did not add any touchdown passes to his season total.
"That's what's special about this team," Roethlisberger said. "I don't care about stats. All I want to do is win a football game. I'm sure Le'Veon doesn't care if he gets 100 yards or not. [Antonio Brown] no touchdowns? Doesn't matter. We just want to win football games and by any means necessary."