By
Vaughn McClure
and
Scott Brown
http://espn.go.com/blog/pittsburgh-steelers
December 12, 2014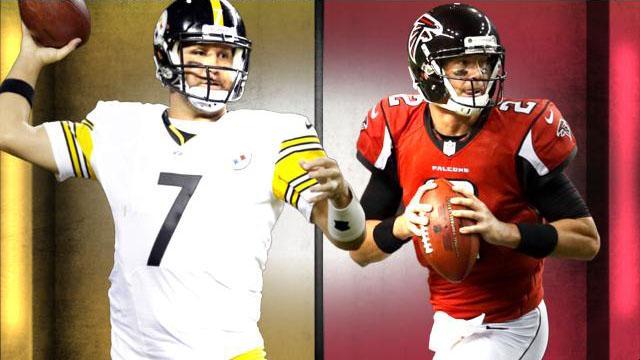 When
: 1 p.m. ET, Sunday
Where
: Georgia Dome, Atlanta
TV
: CBS
If the playoffs started today, both the 5-8
Atlanta Falcons
and 8-5
Pittsburgh Steelers
would be in, but nothing is guaranteed with three games left in the season.
That's what makes Sunday's matchup between the teams an intriguing battle. The Falcons have lost all three games against the AFC North this season, while the Steelers have dropped two of three games against the NFC South.
This could be a shootout considering the Steelers are the league's sixth-best scoring team at 27.8 points per game while the Falcons have averaged 40.6 points per game in three home wins. ESPN Falcons reporter Vaughn McClure and Steelers reporter Scott Brown break down the matchup:
McClure
: As you know, the NFC South hasn't had much success this year, especially against the AFC (2-11-1). That being said, both the Buccaneers and Saints knocked off the Steelers. What happened in those games and how do the Steelers avoid another letdown versus a third NFC South team?
Brown
:
Le'Veon Bell
has emerged as perhaps the best running back in the NFL.
Antonio Brown
is on pace to smash the numbers he put up last season when he had 1,399 receiving yards.
Ben Roethlisberger
already has a pair of six-touchdown games. Yet the epitaph for the Steelers' season may be that they fell on their face against the worst division in the NFL. Consider that the Steelers are 1-2 against the NFC South while the rest of the teams in the AFC North are collectively 10-0-1 against that division. If the Steelers don't beat the Falcons to finish 2-2 against the NFC South they don't deserve to win their division.
The Steelers came out flat against the Buccaneers, and then after gradually taking control of the game they couldn't protect a seven-point lead in the fourth quarter. At home. They started strong against the Saints but had to settle for two field goals after dominating the first quarter. Those early red zone struggles doomed them once
Drew Brees
heated up and started picking apart a suspect secondary. The Steelers' struggles against the pass are the biggest reason why they may just have to outscore the Falcons Sunday to avoid falling to 1-3 against NFC South teams.
Vaughn, it has, to borrow Mike Tomlin's favorite words, obviously been a strange, strange season in the NFC South. I wrote awhile back when I took a big-picture look at the rest of the Steelers' opponents that by the time they face the Falcons, Atlanta could be playing for both a division title and coach Mike Smith's job. Is Smith in trouble if the Falcons don't win a division that no one seems to want to win?
McClure
: Smith definitely is on the hot seat, and he knows it. But he's handled the whole situation with class and kept an even-keeled approach, at least publicly. There is no doubt, however, that owner Arthur Blank wants to ensure the Falcons have a winning culture moving forward with the new, $1.4 billion Atlanta stadium set to open in 2017. If the Falcons fail to make playoffs this season, it would be two years in a row without a postseason berth following an appearance in the NFC Championship Game. And it's already guaranteed the Falcons won't finish above .500. But it's not all on Smith. General manager Thomas Dimitroff has to absorb a bulk of the blame for the numerous draft picks that haven't panned out. However, the Falcons have an opportunity to salvage their season and make a playoff run.
They control their own destiny and just need to win their last two games against the Saints and Panthers to get in. But I think Smith would have to win at least one playoff game, if not two, to grab Blank's attention and get a chance to remain as coach. That's just my opinion.
I see Bell was named the AFC's Offensive Player of the Week. Every time I turn around, I'm hearing good things about him. Tell me what makes him such a dominant player?
Brown
: It probably starts with Bell's ability to do everything as a running back. He is an excellent receiver who runs pass patterns as opposed to the Steelers just using him in the screen game or as a dump-off option for Roethlisberger if he gets pressure. Bell is also so good at picking up blitzing that he earned Roethlisberger's trust in him doing that last season. That is rare for a rookie.
Bell has really been a revelation this season as a runner. I will admit that I thought he would be a good all-around back but I didn't see this coming because I didn't realize how special Bell is as a runner. He is unbelievably patient without dancing and his offensive linemen love Bell because he is so good at setting up blocks. Here is what Roethlisberger said about Bell earlier this week: "He's still young but the things that he can do in all three phases of the game are some of the most special things I've ever seen a running back do."
There has been a lot of talk among Steelers fans and the media that the Falcons are a bad matchup for a team that has played down to the level of opponents this season. But would it really be a bad loss if the Steelers fall to a Falcons team that has won three of its past five games and plays Pittsburgh at home?
McClure
: Listen, folks can say what they want about the Falcons. And they've been pathetic, at times, throughout the season. But when the offense is clicking, they can score with anybody. We saw that in the second half of Monday night's loss at Green Bay, when the Falcons outscored the Packers 30-12. We saw it in a victory over the 10-3 Cardinals, when they nearly put up 30 points against one of the top defenses in the league. When
Matt Ryan
and
Julio Jones
are clicking in unison, the Falcons can be unstoppable, offensively. Now it's just a matter of how healthy Jones will be coming off what is believed to be a hip pointer. So, to answer your question, I'd say beating the Falcons inside the Georgia Dome would be a tough task for any team coming in when the offense is at its best. The Falcons simply have made it easier on opponents with untimely turnovers, poor clock management and horrendous defense. And by the way, the Falcons are 39-15 (.722) inside the Georgia Dome under Smith (2008-14), which is the fifth-best home mark over that time span behind the Patriots, Ravens, Packers and Saints.
Certainly Roethlisberger has to be licking his chops when he looks at this Falcons defense, which surrenders a league-worst 410.8 yards per game. Is there any doubt about Big Ben throwing for 500 again this Sunday?
Brown
: Actually, there is. Roethlisberger has turned in several pedestrian performances or worse in games in which he had a favorable matchup. The best example of this came after he threw six touchdown passes in back-to-back wins earlier this season. The Steelers' next opponent was a one-win Jets team that had forced three turnovers all season and started a pair of backups at cornerback because of injuries.
Roethlisberger and the Steelers came out flat against New York and Pittsburgh lost to a team it should have beaten. Roethlisberger threw for 343 yards, but 80 of those yards came on a last-gasp touchdown after rookie wide receiver
Martavis Bryant
slipped behind the Jets' secondary. Roethlisberger threw two killer interceptions to a team that had been anything but opportunistic and he didn't play very well the next week against the
Tennessee Titans
, another bad team.
Roethlisberger's inconsistency this season is the biggest reason why the Steelers have been up and down. It is also why a matchup against the Falcons that looks great on paper won't automatically translate into a big game for Roethlisberger.
I guess I will ask for the CliffsNotes version of this: What are the Falcons' issues on defense and where are they most vulnerable against the Steelers?
McClure
: Everywhere. I'm somewhat joking, but the Falcons have way too many holes to fill. When I look at them, I see one truly legit high-caliber talent in cornerback
Desmond Trufant
, who can be a true shutdown corner and will be one of the best in this league for years to come. But the problems start up front, where the Falcons don't have a legit pass-rusher. They invested $25 million guaranteed in free agency and a second-round pick in the draft to land space-eaters up front in
Paul Soliai
,
Tyson Jackson
, and Ra'Shede Hageman but haven't gotten significant production from the trio. They should have targeted a pass-rusher or two instead. The linebackers have underwhelmed. And injuries to players such as
Sean Weatherspoon
(preseason Achilles),
William Moore
(separated shoulder/foot) and
Robert Alford
(broken wrist) haven't helped the cause. The Falcons have been susceptible to the big play because of the lack of a pass rush and poor communication on the back end. There have been signs of hope with aggressive, turnover-causing performances against the Buccaneers in Week 3 and the Cardinals in Week 13, but showing up a couple of games a year isn't going to get it done. The Falcons have been vulnerable in the middle of the field, so I can see the Steelers having success there, particularly when Roethlisberger dumps it off to Bell. And I wouldn't be surprised to see the Steelers connect on at least one deep shot against the Falcons, considering the Falcons have surrendered 15 plays of 40-plus yards this season for a total of 795 yards. It's no surprise the Falcons are ranked 32nd out of 32 teams in total defense, 32nd in pass defense, 31st in sacks per pass play and 30th in third-down defense.