By
Scott Brown
http://espn.go.com/blog/pittsburgh-steelers
November 30, 2014
Pittsburgh Steelers strong safety Troy Polamalu (43) pressures New Orleans Saints quarterback Drew Brees (9) in the first quarter of the NFL football game, Sunday, Nov. 30, 2014, in Pittsburgh. (AP Photo/Gene J. Puskar)
PITTSBURGH --
Pittsburgh Steelers
defensive end
Cameron Heyward
has too much youth and too much of a pleasant disposition when he isn't chasing quarterbacks to look as weary as he did late Sunday afternoon.
Then again, it has become all too common for one of the better talkers in the Steelers' locker room to have to answer questions about a loss as confounding as it is deflating.
[+] Enlarge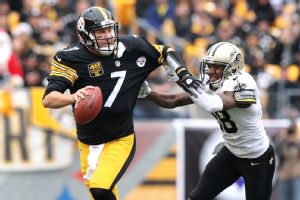 Jason Bridge/USA TODAY SportsBen Roethlisberger and the Steelers are hoping to keep control of their destiny for the last four games.
Another inexcusable loss on coach Mike Tomlin's watch happened after the Steelers played like a 4-7 team coming off a short week instead of a 7-4 team coming off a bye week
and
playing at home.
A 35-32 loss marked the seventh time, dating to the past season, that the Steelers have lost to a team with a losing record. Three times this season, the Steelers have lost to a team that was at least three games under .500.
True, the loss to the Saints wasn't quite as embarrassing as earlier ones to the
Tampa Bay Buccaneers
and
New York Jets
, but it continued a disturbing pattern for the Steelers of losing games they should win.
"It's got to stop," Heyward said. "We've got too many good guys, too many good players to not win these games. Top to bottom, we've got to stop doing this."
Blame for the Steelers' inconsistent playing has to start with Tomlin.
He did not coach one of his better games Sunday. He failed to use his timeouts at the end of the first half before the Saints scored a touchdown, something that cost the Steelers 30 seconds and at least three points.
The Steelers drove into field-goal range in 31 seconds, but they had to attempt a 53-yard field goal that fell short because the Saints left the offense with just 36 seconds in the second quarter after scoring their second touchdown of the game.
The biggest indictment of Tomlin, however, had nothing to do with game strategy and everything to do with the reality that the Saints lost to every other team in the AFC North but managed to beat the one that was better rested than they were and playing at home.
Tomlin said now is not the time to search for any common denominators in the seven losses to teams with losing records. Pressed for an answer as to how the Steelers that lost to New Orleans were the same team as the one that dominated Indianapolis and Baltimore in successive weeks at Heinz Field, Tomlin's frustration betrayed him.
"How many ways do I need to tell you in terms of my interpretation of how the game has unfolded? It's not going to change," Tomlin said while tapping the podium several times for emphasis. "I'd be happy to professionally answer any question you have, but I'm trying here."
So are the Steelers, a handful of players insisted before the home locker room at Heinz Field quickly emptied.
"We're in control of what happens from here on out, and we have four games left. What type of love do we have for each other? What type of brotherhood do we have?" free safety
Mike Mitchell
said. "In the short time I've been here, I know it's strong, so we've got to all rally together. It's not as much about talking about it -- it's about doing it."
The questions Mitchell posed also represented the message Tomlin delivered behind closed doors after the Steelers fell to 7-5 with two games against the AFC North-leading
Cincinnati Bengals
left on the schedule.
Tomlin made it clear to his players there is still time for the Steelers to define themselves as something other than what they are 12 games into the season: an unpredictable, underachieving team that cannot be trusted.
"If we win these next four, we'll put ourselves in great position," center
Maurkice Pouncey
said. "If we don't, we're going to have to sit around and hope somebody else does it for us again. I just wish we would stop losing to teams that don't have great records, but I think we're fine."