April 4, 2016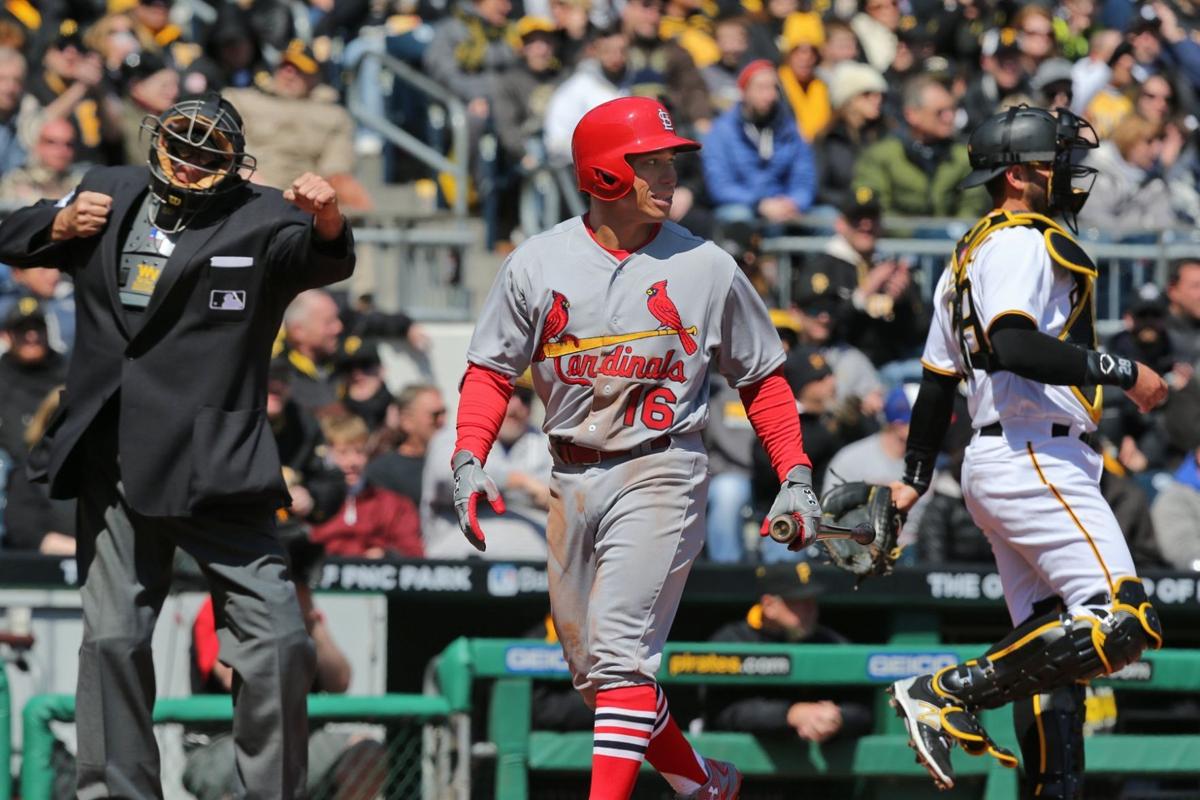 Kolton Wong walks back to the dugout after striking out in the fourth inning. (J.B. Forbes)
PITTSBURGH • Even before the Cardinals saw a pitch Sunday they were having trouble making a connection.
Manager Mike Matheny alerted the umpiring crew that the video replay system was uncooperative and then unavailable in the visitors' clubhouse at PNC Park, forcing a delay of the season opener and improvised replay rules by officials. Both teams were given an unlimited amount of challenges, and Matheny warned them that he would request replay if "anything I see doesn't look right." He didn't care how long it made the game.
They needn't have worried.
It's rarely the call that's missed in a strikeout.
Pittsburgh Pirates lefty Francisco Liriano made quick work of the Cardinals in an otherwise plodding season opener in 39-degree weather. Liriano struck out 10, bested Adam Wainwright, and the Cardinals fell 4-1 to one of the leading challengers to their three-year reign atop the National League Central. The Cardinals opened their 125th season in the National League and the Pirates began their 130th season with the first game of the Major League Baseball season. The made-for-TV opener pitted the teams with the two best records in baseball last summer. The glitches started early for the 100-win Cardinals – from trivial, like the blank replay screens, to trend, like the blank scoreboard.
"Missed opportunities," Matheny said. "What did we leave? Ten guys on base? Then we had guys in scoring position with less than two outs more than once. And that's something that we take a lot of pride in, figuring out how to get it done. It just didn't happen."
Shortstop Jedd Gyorko summarized: "It wasn't very good."
The Cardinals hid offensive troubles two years ago with sublime success with runners in scoring position, and they overcame chronic offensive woes last year with superb pitching. While they have universally insisted increased production is nigh, Sunday's opener was more a continuation of their consternation than an alteration. For the fourth consecutive opening day, the Cardinals struck out more than nine times, and they became the first team to strike out 14 times without an extra-base hit. The Cardinals' labor-intensive lineup teased the first opening-day shutout for the club since Albert Pujols' major-league debut in 2001, and then avoided it with Matt Carpenter's RBI single in the ninth inning.
The opener was a reminder of the traits the Cardinals had a year ago, when they struck out a franchise-record 1,267 times and didn't get the tradeoff in power. An exceptional Liriano (1-0) stirred familiar anxiety with five strikeouts in his first time through the order.
Liriano led all pitchers last season in whiff-rate, edging Clayton Kershaw by getting swings and misses on 32.6 percent of pitches opposing batters tried to hit. He was able to turn hitter's counts against the Cardinals with the command he had of his slider. By the end of the fourth inning, the Cardinals had four plate appearances with a runner in scoring position and had put the ball in play once.
That once became a double play.
Liriano got the grounder with a behind-in-the-count slider.
The Cardinals had one more ball in play (11) against Liriano than he had strikeouts, and four of his strikeouts came on called strikes. The Cardinals' Nos. 4-7 hitters went two for 10 with seven strikeouts against Liriano. Twice, No. 7 hitter Kolten Wong came up with the bases loaded, and each time Liriano retired him without the ball surpassing the reach of an infielder.
"As a team we usually put the ball in play well," said center fielder Randal Grichuk, who struck out three times. "Today was just one of those days. Opening day, trying to do too much. We had a lot of looking (strikeouts), so not trying to do enough. Who knows? That's not normally our team."
While the Cubs, the other contender for the NL Central crown, offset their strikeout ways with power, contact is all the craze in baseball after the Kansas City Royals hit-and-run for a World Series championship last year. The Pirates gave the Cardinals a tutorial, in part because Wainwright (0-1) felt he was a tick off. In his fifth opening day start, Wainwright allowed three runs on six hits and three walks in six innings. He struck out three and got better as the game went on, but a bloop here and a grounder there had already given the Pirates only lead Liriano needed.
Wainwright said his curveball was "just kind of rolling in there" and his cutter was "bigger and a little sloppier than I want it." The cutter usually gets grounders, and instead it got fly balls. The curveball usually gets strikeouts, and instead it got taken.
In the second inning, the Pirates got three hits to pull ahead 2-0. One of the hits was an RBI single by Liriano that scooted between two infielders, and the other was John Jaso's flare to center field.
"That whole inning they had a bloop and a couple ground balls that get through," Wainwright said. "That's the way the game goes. You find when you do make quality pitches more often than not those pitches go to people, rather than find holes. You can look at the ground balls or the bloop hit but when I start making those good quality pitches time after time that's a pop up to second and that's a ground ball to first and that's a ground ball to short. Those grounders end up going to people."
Wainwright portended elements of his start with his final appearance of spring. After it, he disclosed how he was a few inches off with his command, and that he had elements of his delivery that he needed to tighten up. He was closer Sunday, he said, but not complete.
Likewise for the Cardinals.
The Cardinals opened the season a lot like they hinted all spring, steps shy of precision and peppered with injury. By the end of the fourth inning, the Cardinals had whiffed on a chance with two on and less than two outs; they had fallen behind; and Tommy Pham had left the game with a strained side. Matheny had also used one of his unlimited challenges though the call was not overturned. That described the day: occasional challenges, but unsuccessful.
"I'm not anywhere close to being excited about that stuff out there," Wainwright said. "When you pitch against a quality pitcher like Liriano, you've got to have your stuff rolling. I was the definition of average, I think. Which is the opposite of what I expect to be."
And the same could be said of his team.