April 25, 2016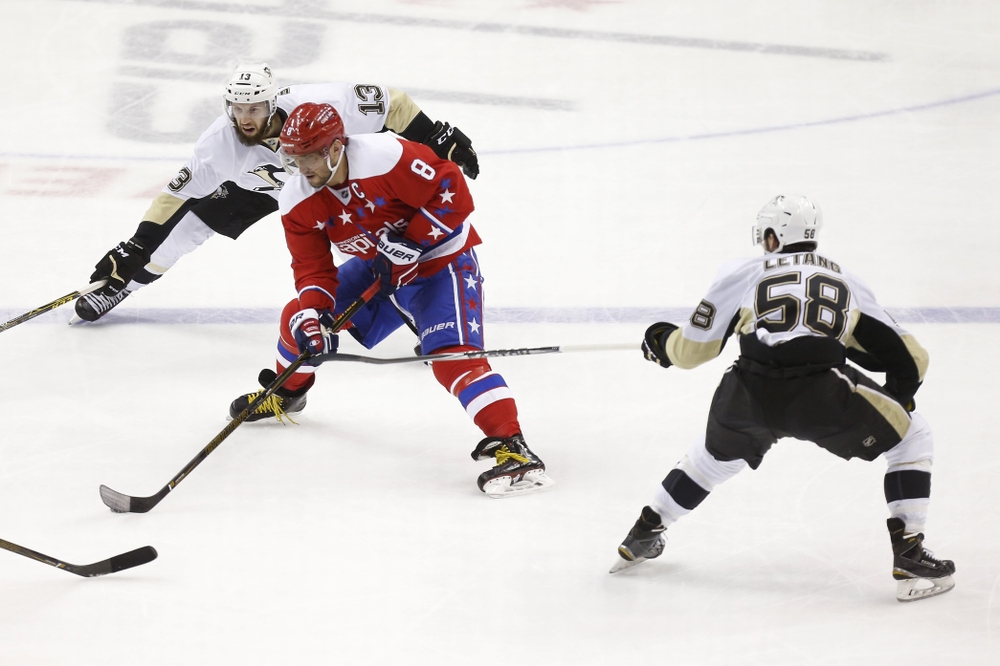 Apr 7, 2016; Washington, DC, USA; Washington Capitals left wing Alex Ovechkin (8) skates with the puck as Pittsburgh Penguins defenseman Kris Letang (58) defends in the second period at Verizon Center. Mandatory Credit: Geoff Burke-USA TODAY Sports
Penguins fans found a target in Round 1 — guy by the name of Henrik — but let's be honest: It's pretty hard to identify an epic villain on the New York Rangers.
That won't be an issue in Round 2.
The '8' Train is coming.
Love him or loathe him, Alex Ovechkin is one of the more unusual and powerful forces in NHL history.
Clearly, he ranks among the greatest goal scorers of all-time and has done all of his damage in the dead-puck era. Four times Ovechkin has been the only player in the league to score 50. Plop him back in time, into the 1970s, '80s or early '90s, and it's a pretty good bet he'd own the only 100-goal season. His career best is 65. Imagine him in 1981-82, when defensemen trained with 12-ounce curls, and Wayne Gretzky scored 92.
Assists? What are assists? Ovechkin's 21 this season were a career low, including the lockout-shortened year. He shoots first and takes questions later. He has led the NHL in shots every year of his career but one. His release and velocity are the stuff of goalie nightmares.
Somebody asked Marc-Andre Fleury on Monday if he'd given Matt Murray an Ovie scouting report.
"I could tell him Ovie likes to shoot," Fleury said. "But I'm sure he knows that."
How many times have you watched Ovechkin plant himself on the left side of the power play and make it his personal firing range? I remember then-Penguins goaltending coach Gilles Meloche, during the 2009 series, telling me that even when they ran slow-motion clips of Ovechkin scoring one of his eight goals, they had trouble detecting the puck.
But it's not the flash that makes Ovechkin historically unique among great goal scorers. It's the crash.
Scan the all-time leaders in goals-per-game, and you'll see names like Bossy, Gretzky Lemieux, Bure, Hull (two of 'em), Esposito and Richard. Some were known for pure artistry, others for a quick release or a howitzer shot or an unmovable net presence. All engendered fear in their opponents.
What makes Alexander The Irate different is the freight-train aspect of his game: He is just as likely to decapitate somebody as to score on him. And while he isn't quite the runaway locomotive he used to be — he's 30 now — he still packs a wallop.
You could ask Penguins defenseman Brian Dumoulin about that. Ovechkin hit him clean in the March 20 meeting, leaving him woozy.
"You can't get away from him sometimes," said Penguins defenseman Ben Lovejoy. "He's able to catch d-men and forwards. He's a really good hitter. It's part of what makes him unique. You gotta have your head up and know when he's coming, 'cause he can hurt you."
In 44 games against the Penguins, Ovechkin has 27 goals (14 on the power play), 46 points, 240 shots and seemingly twice as many devastating hits. Some of which the Penguins deemed highly questionable.
One was a knee-on-knee hit that knocked Sergei Gonchar temporarily out of the '09 series. Another was that strange, two-handed whack to the back of Kris Letang's skate last season, a play the Capitals claimed was a shot attempt. Letang lost an edge and went careening into the boards.
The incident produced two wonderful quotes a day later:
• "Apparently," Letang said, "my leg was a puck."
• "I know they're from Washington," said GM Jim Rutherford, "but I didn't realize they used the same spin the politicians use."
Ovechkin also attempted several hockey-style assassinations of country mate Evgeni Malkin early in their careers. One theory was that something had gone awry in 2007 at a Moscow nightclub, where Ovechkin allegedly punched out Malkin's Russian agent, Gennady Ushakov.
Ovechkin denied the story. Malkin didn't. Back in 2008, I asked Malkin if Ovechkin punched Ushakov.
"Yes," he said. "Bad situation."
Since then, the two seemed to have patched things up — and the Penguins this season seemed to have found a way to contain Ovechkin. He had no points in five games. Using a more aggressive penalty kill, the Penguins held the Capitals' power play to two goals in 16 chances and refused to let Ovechkin set up camp near the left circle.
The only thing missing from Ovechkin's resume: a Cup. Or even a trip to the conference final. I asked Penguins winger Eric Fehr, who played for the Capitals, if that weighs on Ovie.
"He's one of the top players in the league, so obviously he wants to make his mark and win the Cup," Fehr said. "You can't blame the guy. I think he thinks about it every year, just like everybody else thinks about it every year. He's going to be determined, and we have a determined group in here as well."
Let the trains begin.