BY
JAY JAFFE
http://sportsillustrated.cnn.com/mlb/
February 12, 2014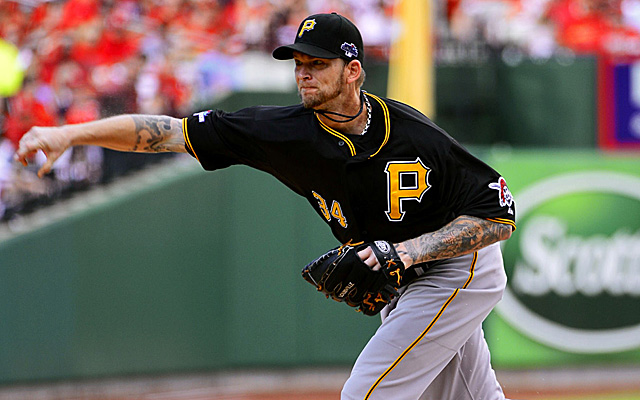 A.J. Burnett will not retire after all.
(USATSI)
Ubaldo Jimenez and Ervin Santana remain unsigned, but one big-name free agent pitcher has finally found a home. According to multiple reports, A. J. Burnett has agreed to
a one-year, $16 million deal
with the Phillies. It's a curious landing spot for the 37-year-old righty, who is fresh off helping the Pirates to the postseason for the first time in 21 years. This could be Burnett's final season, but he's starting it with a team that has little realistic hope of returning to the playoffs.
Though he missed four weeks in June and July with a calf strain, Burnett replicated that role while improving his performance in 2013. He pitched to a 3.30 ERA while striking out a league-high (and career-best) 9.8 per nine in 191 innings. His 209 strikeouts were his highest total since 2008, while his 3.1 strikeout-to-walk ratio was another best for his 15-year major league career. Beyond his individual accomplishments, he reprised his role as the staff mentor, and helped the Pirates not only to their first winning season since 1992 but an NL wild card berth.
After playing such a critical role in helping Pittsburgh get over the hump, Burnett's lone postseason start last October was a dreadful one. Facing the Cardinals in the Division Series opener, he allowed 10 of the 14 hitters he faced to reach base and wound up being charged for seven runs in two-plus innings.
On the other hand, such a move would have had a much greater impact for the Pirates, whom FanGraphs projects to finish 84-78 (the spread on those projections is so narrow that the top teams come in at 89 wins); even a two-win gain would improve their postseason chances exponentially. While the team can hope for full seasons from the front four of Gerrit Cole, Francisco Liriano, Wandy Rodriguez and Charlie Morton, that quartet totaled just 77 major league starts in 2013 due to injuries and the rookie Cole's midseason arrival. Jeff Locke, the only Pirate besides Burnett to make 30 starts last year, is also on hand, as is reclamation project Edinson Volquez, who was torched for a 5.71 ERA for the second year out of the last three. It's possible that top prospect Jameson Taillon could provide a midseason boost, as Cole did. But even given his steep price tag, not re-signing Burnett is a lost opportunity that could cost the Bucs.
What remains unknown is whether Burnett's deal includes either a full or partial no-trade clause that would allow the Phillies to flip him at midseason if they're not contending. Lee, Hamels, Ruiz and Howard all have limited no-trade clauses that allow them to block deals to most teams (via Cot's Contracts, 21 seems to be the recurring number) while Utley has a full no-trade clause. The presence of a similar clause in Burnett's deal wouldn't preclude him from a midseason move if the Phillies are again in sell mode, but it would give him the leverage to remain with a contender on the East Coast, if he so desires.