February 11, 2014
Team Canada's head coach Mike Babcock, right, speaks with Sidney Crosby during practice at the Sochi Winter Olympics Tuesday Feb. 11, 2014, in Sochi, Russia. (Adrian Wyld, AP / CP)
SOCHI, Russia -- If you needed any early evidence of who is wearing the "C" for Team Canada this time around, the first few minutes before practice Tuesday told you all you needed to know.
Sidney Crosby
sought out head coach Mike Babcock and perhaps the two most serious men in hockey chatted for a good five-plus minutes as they skated around the ice, Crosby seemingly asking lots of questions.
Turns out he was.
The Penguins superstar wasn't totally sure about a defensive-zone video the coaching staff had showed before practice and wanted clarification, not just for himself, but for the rest of the players.
"That was really good because if he thought [that's] what I said, well, probably someone else also did," Babcock said. "So there was a little confusion there. We sorted it out. That gives me a chance tomorrow to sort it out with the group."
Crosby said afterward of his chat with the coach that he "was just making sure I'm on the same page as far as what he expects and what he wants," said the world's top player. "The offensive part and the skill that we have, I think that will come quicker than some of the adjustments we might make in the defensive zone."
Step back, however, and this was more than just X's and O's. This was the 26-year-old Crosby quickly asserting himself as the leader of the team, the Olympic captaincy a first for him, an honor that means the world to him and one that he takes on very seriously.
As if Crosby does anything less than serious.
He takes over as captain from
Scott Niedermayer
, whose example in Vancouver four years ago left a clear impression on Crosby.
"The biggest thing I learned from a guy like Scotty is that he didn't really say that much, he just said the right thing at the right time," Crosby said. "The way he carried himself and his whole demeanor that he had, his quiet confidence, it was really something that was felt throughout the whole room."
If Niedermayer and
Chris Pronger
were the two clear leaders on Team Canada four years ago, that mantle has been passed on to Crosby and
Jonathan Toews
here in Sochi. There's so much respect between Crosby and Toews that the Penguins captain, when offered the captaincy by Babcock last month, wanted to be assured the Blackhawks captain was OK with it.
"That was something for Sid to do, for sure," Toews said Tuesday. "Even though we know it was a formality he'd be captain."
Maybe, but perhaps that was Crosby's first move as 2014 Olympic captain, identifying the other guy he knows will have a huge impact as a leader on this team.
Since being a wide-eyed kid taking the Olympics by storm in 2010, Toews has done a lot of winning, two Stanley Cups in the bag, and built a reputation as an unrelenting star whose skills are matched by his work ethic.
[+] Enlarge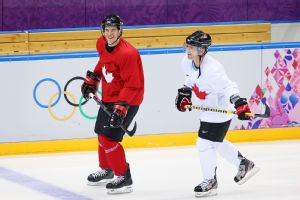 Bruce Bennett/Getty ImagesSidney Crosby has Martin St. Louis to lean on when it comes to leadership.
"It's crazy to come into that position so quickly," Toews said of wearing an "A" on his Olympic uniform. "But I'm here, and I'm going to use that experience to my advantage. I've got to do what I can to make sure I'm ready and make sure we're ready as a team. We can't waste a shift, we can't waste a period, we have to get better as the tournament goes along."
Canada has a one-two punch in the leadership department that appears very much ready to fill the void Niedermayer and Pronger left behind.
"I don't think you really know that until you get people in competition," said Canadian assistant coach Ken Hitchcock. "Niedermayer never said anything until it was right on the line, then he said a lot. He held back. He let other people take the verbal [lead] during the competition, but when it was on the line, in the final game, he was very vocal. He spoke up at the right time. So I think if you've learned anything, timing is everything in this type of competition.
"It's very similar to 2002. We waited right until the end and then Mario [Lemieux] and Steve [Yzerman] and
Rob Blake
and
Al MacInnis
spoke up at the end, when we needed it the most. Sid doesn't say a lot, but what he says makes sense. And I think he's got similar personalities in support. Jonathan's the same way. He's a quiet guy, very sincere. What these guys do is, they bring a seriousness to the way we go about our business. So they're the ones asking all the questions at practice. They're asking all the questions post-practice. They want all the details in place before we play. That's what brings a seriousness to our business and makes it really professional. That's what Niedermayer did. That's what those guys in '02 did. And that's what it looks like Sid and Jonathan are going to do here."
It's a lot to ask, perhaps, for two players in their 20s to carry the weight of Canada's leadership, given how in years past more veteran players have handled that duty, thinking back to
Joe Sakic
in 2006 and Lemieux in 2002.
But given what Crosby and Toews have already accomplished, their pedigree makes up for the absence of gray beards.
"The more success you have, it helps you," Babcock said. "Jonathan Toews has done a lot of winning, two Cups, and that shows his ability to lead. Sid has been through it and has an ability to lead. The guys feel he's the right guy. Has he been around as long as Scott Niedermayer was at the last Olympics? No. But he has been around a lot of success and a lot of good things and he is more than capable."
And fact is, Crosby and Toews aren't alone.
"We've got a lot of guys who have played together not just the last Olympics but going back a ways, I think there's some trust there," Crosby said. "And for the new guys coming in, you try to make them feel as comfortable as possible. We're trying to do that. That's the strength of Canada, guys always come together pretty quick. That's instilled in us at an early age. I like that side of things for sure."